I received this book for free from the library in exchange for an honest review. This does not affect my opinion of the book or the content of my review.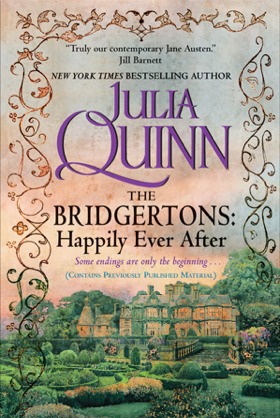 The Bridgertons: Happily Ever After
by
It is part of the , , , , , , , , series and is a
historical romance
,
short stories
in
Paperback
edition that was published by
HarperCollins
on April 2, 2013 and has 384 pages.
Explore it on
Goodreads
or
Amazon
.
Series:
These are all Epilogue 2. The first set of series numbers relate which full-length stories they follow while the second number is the publication order.
"The Duke and I", 1.5 or 9.1
"The Viscount Who Loved Me", 2.5 or 9.2
"An Offer From a Gentleman", 3.5 or 9.3
"Romancing Mister Bridgerton", 4.5 or 9.4
"To Sir Phillip, With Love", 5.5 or 9.5
"When He Was Wicked", 6.5 or 9.6
"It's in His Kiss", 7.5 or 9.7
"On the Way to the Wedding", 8.5 or 9.8
"Violet in Bloom", 9.9
The Bridgertons: Happily Ever After is a series of second epilogues to eight of the full-length stories in the Bridgerton Family historical romance series, giving us an update on what's been happening in their lives. The ninth short story is a series of snapshots of Violet, Lady Bridgerton's life.
The Stories
"The Duke and I" finds Daphne and Simon Bassett, the Duchess and Duke of Hastings unexpectedly expecting. They have four children to date: Amelia, Belinda, Caroline, and David.
This is fun with a couple married for years and still so very much in love. Colin and Penelope come to visit with their children: Agatha, Thomas, Jane, and Georgie. And it's lovely to see how all their children have turned out, with all the problems and joys that ensue. The true purpose of it is Georgie and his problems. One that appeals to Simon's heart and encourages him to finally read those bloody letters from his father.
"The Viscount Who Loved Me" finds Kate and Anthony battling, sneaking, and conniving. It's the annual croquet match, and each is determined to win. And winning means "owning" the black mallet!
Naturally the entire family turns out for the game: Colin and Penelope, Daphne and Simon, Edwina (Kate's sister) Bagwell. It's tradition. And tradition requires every dirty trick in the book.
"An Offer From a Gentleman" is Miss Posy Reiling's story. Eligible enough as the stepdaughter of the late Earl of Penwood, her mother, Araminta Gunningworth, has always been a hindrance to Miss Posy's success. It's a determined group of Bridgertons plotting and planning to find her a husband she deserves.
"Romancing Mister Bridgerton" is a mad race to get Eloise married off to Sir Phillip when she's about to cause a scandal. Colin, Hyacinth, and Violet play the supporting parts in this while the true point of this short story is revealing the truth about Lady Whistledown, the gossip columnist.
"To Sir Phillip, With Love" takes place years later and revolves around Amanda Crane, the other half of Sir Phillip's twin children. The Broughams are the Cranes neighbors with four dimwitted daughters and one extremely spoiled son, which makes having to take tea with them an ordeal. One which only gets worse when Eloise promises Amanda's company to a nephew about to visit, Charles Farraday. The same one who used to cut the heads off dolls!
This was a treat! I love that Amanda is intelligent and not angling for marriage. Interested, but not obsessed. And Charles…well, he's too open and refreshing to not appreciate Amanda's rescue, LOL! Later, they have some interesting games they play. It's enough to bring up yet more smiles and chuckles.
"When He Was Wicked" addresses Francesca's misery at not being able to conceive, and Michael's growing misery at her unhappiness. It takes baby Isabella's christening, Hyacinth's latest, to bring Francesca to terms with her lot — a difficult visit with so many new pregnancies.
Oh, I did love Francesca's thoughts about the Fragonard painting, what it said to her about her parents' marriage. Only two of Anthony and Kate's children are mentioned: Miles is their second and Charlotte is the youngest.
"It's in His Kiss" reveals a secret treasure for which Hyacinth has been searching for years and years. Mothers will enjoy this one, as Isabella turns out to be just like Hyacinth was when she was a girl. It's partly Hyacinth's fault since she has encouraged her children to have opinions. And Gareth St. Clair is happy with his success in all things.
I suspect this story is the one for which I would have preferred reading the full-length novel first as it would make events more meaningful.
"On the Way to the Wedding" is the saddest, although "Violet in Bloom" comes awfully close. Gregory and Lucy are quite prolific — seven children! — and Lucy has just given birth to twins! Childbirth, well, it wasn't easy and mothers had a bad habit of dying from it…
Gregory cracks me up with his comments to Hyacinth:
"Your husband is a saint," Gregory remarked…"Or perhaps merely insane. Either way, we are eternally grateful to him for marrying you."
"Violet in Bloom" is a series of snapshots of Violet's life from childhood when she first met that nasty Edmund Bridgerton, to meeting him all over again, their marriage, and her life without him. I do hate it when a good man dies young…
The Cover and Title
The cover is all soft pastels in a range of pinks, blues, and peach with a distant view of a glowing Aubrey Hall, its gardens perfectly manicured with grassy swards, flowering shrubs, and clipped bushes and hedges. A frothy curlicued border runs up the sides and across the top.
The title is what its all about, The Bridgertons: Happily Ever After.
Related Posts