I received this book for free from the library in exchange for an honest review. This does not affect my opinion of the book or the content of my review.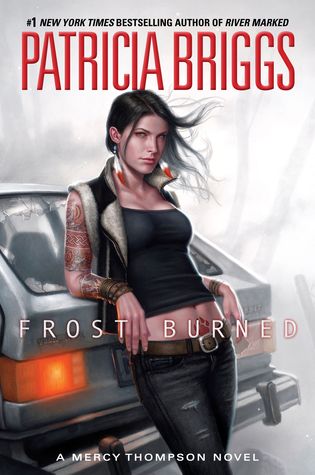 Frost Burned
by
It is part of the , series and is a
urban fantasy
in
Hardcover
edition that was published by
Ace Books
on March 5, 2013 and has 340 pages.
Explore it on
Goodreads
or
Amazon
.
Other books by this author which I have reviewed include
When Demons Walk
,
Steal the Dragon
,
Home Improvement: Undead Edition
,
Fair Game
,
Night Broken
,
Shifting Shadows
,
Dead Heat
,
Bone Crossed
,
Silver Borne
,
River Marked
,
Hunting Ground
,
Iron Kissed
,
Cry Wolf
,
Fire Touched
,
Silence Fallen
Seventh in the Mercy Thompson urban fantasy series revolving around a shapeshifting coyote/mechanic married to the alpha wolf of the local pack, with references to the Marrok and other characters in the Alpha & Omega series. Based in the Tri-Cities in Washington.
If you're interested, there is a chronological listing of the Mercy Thompson books at KD Did It Takes on Books.
In 2013, Frost Burned was nominated for the Goodreads Choice Award for Paranormal Fantasy.
My Take
Thank god, the old Mercy is back! Although I do have some quibbles. The feds and police are just too easy on the battle's aftermath, and what was with the mercenary leader? That was also way too easy, especially considering his own stance about werewolves. The silver absorption routine and Marsilia's reactions to her Mercedes were too convenient. For all the warnings about Asil, he wasn't very scary. Lastly there's Mercy's crying out at the final battle…nah…doesn't ring true for me. This feels more like lazy writing. Wulfe's behavior was…interesting. At first I thought it was a triple-cross, but after I read it the second time, I picked up on a bit that changed my mind. It should be interesting to see how Wulfe's behavior(?) continues to develop.
Don't get me wrong. I still enjoyed this quite a bit — although, I suspect it's more because we're back in the Tri-Cities with the Pack and Mercy's friends around. I do like Zee!
Mercy learns more about her bond with Adam — and uses it! To her detriment, although the solution was another one of those too-easy bits.
I do love hearing how much Adam loves Mercy.
"We're the good guys. That we're scary doesn't mean we're the villains."

– Darryl
Gerry Wallace is still making his presence felt with his silver/DMSO/ketamine cocktail, and a nasty PTSD revisit of a spell that blocks Mercy's will.
Why is Adam sending everyone home when it's not done yet?
Interesting bits of foreshadowing for stories to come: the fae fed up with their current status, Bran negotiating with the fae, and Adam warning CNTRP about future fed visits.
The Story
It's Black Friday and Mercy and Jesse are hunting down their Christmas bargains. Only, trouble finds them before they're finished. For all the horror Mercy has endured with all this shopping, it's what has saved her and Jesse from the Pack's fate.
Events in Fair Game (Alpha & Omega, 3) have angered too many people — terrified, stupid, bigots who get played.
Together, Mercy, Jesse, Ben, and Kyle battle the forces against them in an attempt to save Adam and the rest of the Pack.
The Characters
Mercy Thompson is a coyote shifter, a walker; she can see ghosts and is almost entirely resistant to vampire magic. Her father was Joe Old Coyote, that Coyote.
Adam Hauptman, a former army ranger, is the Alpha of the Columbia Basin Pack mated to Mercy. He also serves as the public face for werewolves. Jesse is Adam's precocious daughter. Jim Gutstein works for Adam at Hauptman Security.
The Columbia Basin Pack
The foul-mouthed Ben Shaw; Darryl is Adam's second, and Auriele is his mate; Paul; Honey and Peter Jorgenson, the Heart of the Pack; Mary Jo is a firefighter; Warren is Adam's third, and Kyle Brooks, a divorce lawyer, is Warren's human boyfriend; and, Elizaveta is a witch under contract to the Pack.
Bran Cornick is the Marrok, ruler of all the werewolves, and Mercy's guardian for years. Samuel is one of Bran's sons; a doctor, he's living as a loner wolf in Richland across the river with Ariana, his fae mate. Phin is Ariana's "mostly human descendant who sold used and collectible books". Charles Smith is Bran's scary assassin son.
Gabriel Sandoval is the teen mechanic who used to work for Mercy before he went away to college. He's still in love with Jesse. Sylvia who works as a police dispatcher is his mother, and she hates werewolves. His cheeky sisters are Rosalinda, Tia, Sissy, Sofia, and Maia.
Marsilia is Mistress of the seethe in the Tri-Cities; Wulfe, a.k.a., the Wizard, is an unstable vampire, who may not be on Marsilia's side. Stefan Uccello, a.k.a., the Soldier, is a loner vampire, still angry with Marsilia for what she did to his people in Bone Crossed, 4. Thomas Hao is a temporary vampire ally from San Francisco with a guilty conscience — who knew? Iacapo Bonarata is the Master of Milan is the Lord of Night, a former lover of Marsilia's.
Tony Montenegro is with Richland PD and Mercy's friend; he'd like to be Sylvia's friend too. Loren Hoskins is a lawyer Kyle recommended for Mercy and Ben.
Zee, a.k.a., Siebolt Adelbertsmiter, a.k.a., the Dark Smith of Drontheim, a.k.a., Loan Maclibhuin, is the fae mechanic who took Mercy in and taught her everything he knew. Tad Adelbertsmiter is Zee's half-fae son. Zee and most of the rest of the fae are holed up on their reservations. The ones that disappeared after events in Fair Game. Sliver is a spriggand and works with Spice, another fae.
Cantrip (Combined Nonhuman and Transhuman Relations Provisors) is a federal agency made up of the cast-offs from other federal agencies — most of 'em are anti-nonhuman zealots; we encountered them in Fair Game. Mr. Jones is a vicious paper pusher playing at being the leader. Agent Lin Armstrong, a troubleshooter for CNTRP, shows up with Asil (from the Alpha & Omega series), who is playing at being a CNTRP agent, is the Moor, a werewolf out of legend. Alexander Bennet is a rogue agent.
U.S. Senator Campbell is anti-fae and anti-werewolf and targeted for death.
Gauntlet Boy, a.k.a., William Frost, has returned to take over. He's got powers of his own. Shamus is a collared vampire, the former Master of Reno.
The Cover and Title
The cover has a silver metallic background with the back end of a gray Rabbit, its back window broken out, with Mercy leaning against it. Relaxed, confident, Mercy's hair is tied back with strands swirling in the wind along with her long, dangling feather earrings, black jeans and a black, cropped, scoop-neck top cover most of her bits while the black shearling vest does its best to keep her warm.
The title incorporates a bit of slang, for Gauntlet Boy has returned, and it's a toss-up as to who will be Frost Burned.
Related Posts