I received this book for free from the library in exchange for an honest review. This does not affect my opinion of the book or the content of my review.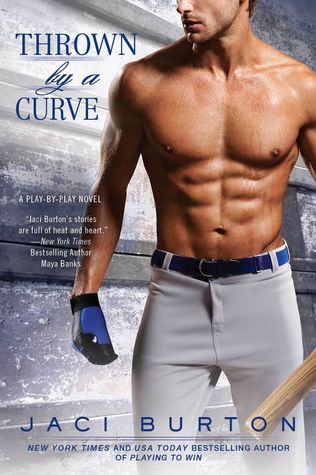 Thrown by a Curve
by
romance
that was published by
Berkley Trade
on March 5, 2013 and has 340 pages.
Explore it on
Goodreads
or
Amazon
.
Other books by this author which I have reviewed include
Mountain Moonlight, Unlaced, Riding on Instinct, The Perfect Play, Riding the Night, Fall Fury, Changing the Game, Heart of a Killer, Forbidden Fantasies, Taking a Shot, Playing to Win, Nautier and Wilder, Wild, Wicked, & Wanton, One Sweet Ride, Straddling the Line, Melting the Ice, All Wound Up, "Hot Holiday Nights", Unexpected Rush
Fifth in the Play-by-Play sports romance series revolving around family and friends of the Riley family. The couple focus is on Alicia Riley and Garrett Scott.
My Take
The best of this story is how Alicia works with Garrett, and the lengths to which she goes to force him to work through his therapy and his issues. The second best is watching the two of them try to be professional: Alicia doesn't want to be involved with one of the team's players, and Garrett wants to relieve that itch and doesn't see the problem. It turns into give-and-take, backing off, and some unexpected internal revelations.
I love that Alicia uses a radical approach to his therapy, changing it up and making it interesting. She makes me think of my therapist sisters…just the kind of thinking they'd do for a patient, and with just as much patience as Alicia…ouch!
It was sweet how Garrett's friends all took to her. It was an obvious ploy to push Garrett harder into seeing her as a romantic interest. …loved that poker game, snicker.
Oh, man, then that betrayal. It's a small thing, and it leads to the wreck of this story. The "rebound" from this is too easy and "solves" everything too quickly. I was disappointed. On a personal level, I did love how Garrett took on the contract problem that could destroy their chances of being together.
Okaaaay, then. After the fairly regular sex, these two have enjoyed up to now, Burton is suddenly popping in some spanking, and it feels out of place. More as if someone told her oh, spanking is popular now, so you'll have to swat some in. Another dip in the ratings as far as I'm concerned.
The Story
Garrett's arm isn't getting any better, so when Alicia Riley steps up and baldly states what's going wrong with his therapy, he's interested.
It's a radical change-up, and the team's ruling medical personnel are not happy. But it's not their happiness that's important…
The Characters
Alicia Riley is a sports therapist for the St. Rivers baseball team with decided opinions and a strong desire to keep her job! And, yeah, she's a member of the extended, sports-obsessed Riley family, LOL.
Garrett Scott is a pitcher for the St. Louis Rivers, who is hampered in his recovery from an injury incurred by ignoring the pain. I like his stance on travel and other cultures. Friends and roommates from college include Gray Preston drives race cars and is the son of a senator; Trevor Shay plays football, baseball, and models underwear…damn they never have pictures!; and, Drew Hogan plays hockey; all of whom take an instant liking to Alicia. Gotta wonder if Burton is setting them up as future love interests… Victoria Baldwin is Garrett's agent.
Manny Magee is the St. Rivers coach. Max is head of the sports medicine team. Phil is the team doctor. Annamarie is the only other female therapist on the team. Bobby Sloane is the pitching coach. Fellow players include Tommy Maloney and Walter Segundo as pitchers, Dedrick Coleman, Stan, and Jeff Cleron.
Mick Riley is her cousin, and he's married to Tara (Perfect Play, 1). Sam is Mick and Tara's new, very-much loved baby; Nathan is their oldest. Jenna and Ty Anderson (Taking a Shot, 3) are finally opening the karoke bar, Riley's Club. Aunt Kathleen and Uncle Jimmy are Mick and Jenna's parents. Cole Riley and Savannah Brooks are engaged (Playing to Win, 4), and Gavin and Liz Riley (Changing the Game, 2) make an appearance as well.
Lucas Birdwell is the attorney who represents Alicia.
The Cover and Title
The cover is an interesting contrast in a spare and grotty concrete background with a clean and focused Garrett in uniform pants, a blue belt and glove with just a hint of bat — and all that lovely naked chest gleaming with sweat.
The title is very appropriate and can be applied to both Alicia and Garrett. It's Garrett's arm and Alicia's expectations that are Thrown by a Curve.
Related Posts