I received this book for free from in exchange for an honest review. This does not affect my opinion of the book or the content of my review.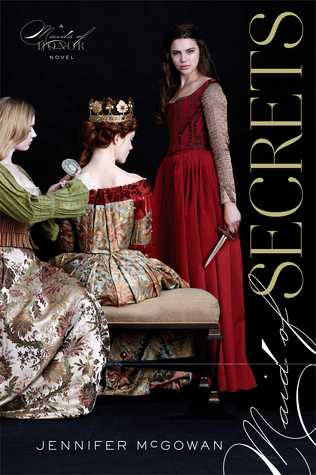 Maid of Secrets
in
Hardcover
edition on May 7, 2013 and has 416 pages.
Explore it on
Goodreads
or
Amazon
.
First in the Maids of Honor historical fiction series for Young Adults set during the reign of Elizabeth I and revolving around Meg Fellowes, a pickpocket with an unexpected past.
My Take
If only Meg hadn't been so cocky. Of course, then we wouldn't have had this story! Chapter two is a crack-up. Surprising and full of suspense! I do love Meg's quick thinking and the surprise it provided me. She really did deserve for that act to work.
Oh, it's a horrible life for Meg. She must learn Latin, French, Spanish, court manners, strangling, poisons…she has no choice if she wants her friends to live. But she can choose to be slow about it! She eventually learns that it does not matter how much or how little power one has, there are chains on everyone.
Clever Anna! I love the rainproof cloaks. Then there's the snatch-and-grab game Meg and her quarry play throughout…too funny.
Whoa…the Queen's comment that Meg does not know who she is has a lot more meaning behind it than you would think. Speaking of meanings, I'm beginning to wonder about Master James.
Meg's hero worship of the Queen grates a bit, but I did enjoy the progression of the spying Maids as they melded from enemies into friends who stand by each other.
It's tense, dramatic, and full of intrigue as these young ladies do their best to protect each other — to varying degrees, depending upon the stage in their friendship — and fulfill the Queen and Sir William's demands. Both of whom have their own ideas of accomplishment just as they are both ruthless.
McGowan does a lovely bit of work in recreating this period in history. I felt as though I were there, and it was quite believable that Elizabeth would have used young girls to do her dirty work.
Then there's Meg's romance…ooh-la-la… I can't wait for the second book to see what happens next for the girls and Meg in terms of love, family history, and the theater troupe.
The Story
Meg's job is to pick the watchers' pockets, since she can't act on the stage. Only she picks the wrong pocket and gets hauled in for the queen to use as a spy, along with a group of other girls.
It's blackmail that holds Meg at Court and forces her to hone the skills Sir William requires of her. And it's the contradicting orders she receives from the Queen and Sir William that has her conflicted, but a conflict that she turns to her own hopes of freedom.
The Characters
Meg Fellowes, nicknamed Rat, is a seventeen-year-old pickpocket associated with the Golden Rose theatre troupe, currently run by Master James McDonald, who took over when Grandfather died. Turns out Meg has an amazing skill for mimicry and total recall.
The rest of these Maids include:
Sophia Dee, a.k.a., the Seer and the fifteen-year-old ward and niece of Dr. John Dee, is expected to have the gift of the Sight, and she's already betrothed. Jane Morgan, a.k.a., the Blade, is the resident thug. Beatrice "Belle" Knowles is the resident mean girl, and I don't understand why she's in with these girls, well other than her temptress ways. Hmm, seems Beatrice's father has some issues. Anna Burgher is the Scholar; and, Marie Claire is the maid who was murdered.
Elizabeth I is the new young queen beset on all sides by the Spanish, the French, and the Scots. Her more visible Maids of Honor include Kat Ashley, the Queen's oldest friend; Blanche Perry; Lady Knollys; Lady Amelia; and, Mathilde. Sir William Cecil is the Queen's Secretary of State. Sir Francis Walsingham is the Queen's spymaster.
Lord Brighton is Sophia's betrothed. Lord Cavanaugh, the Marquess of Westmoreland, is interested in Beatrice. Christopher Riley, a scholar, is the son of a vicar and has caught Anna's attention. Robert Dudley is seducing the Queen.
The Spanish delegation includes:
The risk-taking Rafe Luis Medina, the Count de Martine, and the religious Nicolas Ortiz are probably spies for King Philip. Don Gomez Suarez de Figueroa, le Conte de Feria is the about-to-be-former ambassador with Bishop de Quadra the new.
Alasdair MacLeod is part of the Scots delegation.
The rest of the Golden Rose theatre troupe includes:
Meredith the cook; Matthias is her husband; Geoffrey is the best bard; Tommy Farrow is very young and absolutely hopeless as a pickpocket; and, Mary is not as good a pickpocket as Meg.
The Cover and Title
The cover features a very saucy Meg bejeweled and begowned…and holding a sharp-looking knife!
The title is all about Meg, a Maid of Secrets, and just one of a cadre of secretive maids of honor.
Related Posts