I received this book for free from in exchange for an honest review. This does not affect my opinion of the book or the content of my review.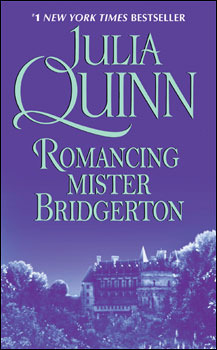 Romancing Mister Bridgerton
in
Paperback
edition on August 25, 2009 and has 460 pages.
Explore it on
Goodreads
or
Amazon
.
Fourth in the Bridgerton Family historical romance series set in post-Regency England. The couple focus is on Penelope Featherington and Colin Bridgerton.
My Take
I think this one is my favorite if only because it's about a pair of writers with their particular fears and the drab hen who finally catches the eye of one of the ton's beloved sons by simply being herself.
I like this whole series. It's true enough to the time period that I'm not snorting in dismay, and the primary characters, the family, are such a treat. They're loyal, interesting, intelligent, and full of love for each other and hapless others.
I find it very odd that Francesca was married off, and we never got a story about it. I keep looking and nothing's there. This is the first mention of the Smythe-Smith family (a new series by Quinn). And we learn a very considerate fact about Penelope AND Lady Danbury.
Ooh, Colin is a hypocrite. He is amazingly generous in so many ways for the typical gentleman of his time period until it touches on his own interests. In that he is so dizzyingly jealous, ripping up at Pen, making her cry. And then he does does a turnaround, demanding respect for Pen from her family…oh…
The Story
Penelope Featherington has been in love with Colin Bridgerton for years and years and the closest she's come to him is her friendship with his sister, Eloise. Until bit by bit, day by day, Colin comes to realize he is in love with her. Her intelligence, her humor — she's beautiful. And he so desperately doesn't want to love her.
The Characters
Penelope Featherington has been in love with Colin Bridgerton for years, never expecting it could ever be returned. Portia, Mrs. Featherington, is her match-making mama and as flighty and idiotic as Penelope's sisters, who insists on dressing Pen in everything that is wrong for her. Prudence and Phillipa are her older sisters married to Robert Huxley and Nigel Berbrooke, respectively; Felicity is the youngest sister.
Eloise Bridgerton is Pen's best friend. Violet, Lady Bridgerton is their mother and a lovely lady; she takes Pen under her wing.
Colin Bridgerton is the third child in the Bridgerton family. A plain mister, but wealthy enough that he can travel as he wishes, keeping a journal on his trips. Anthony Bridgerton is the oldest, Viscount Bridgerton, married to Kate Sheffield (Viscount Who Loved Me, 2); they have a two-year-old, Charlotte. Benedict Bridgerton has married Sophie (An Offer From a Gentleman, 3) and has pursued his art. Daphne married Simon Bassett in The Duke and I, 1. Eloise, Gregory, and Hyacinth are the remaining unmarried children. Francesca evaded having an installment and is now widowed. That'll teach her…!
Lady Danbury (she's something of a dragon lady) lays down a challenge: £1,000 for the first person to lay proof of Lady Whistledown's identity before her. Cressida, Lady Twombley is one of Penelope's enemies. She's a nasty girl, er, widow, who's gotten what she deserves, but she still tries spreading her evil, the blackmailing bitch.
Lady Whistledown is a gossip columnist who has been writing Lady Whistledown's Society Papers for years. It's a scandal and morning entertainment for the ton and has been for years. Mr. Lacey is her publisher.
The Cover and Title
The cover is a silent night of deep blues as evening settles over their country home.
The title is odd as Penelope may be fantasizing about Romancing Mr. Bridgerton, but she never truly believed it could happen.
Related Posts