I received this book for free from the library in exchange for an honest review. This does not affect my opinion of the book or the content of my review.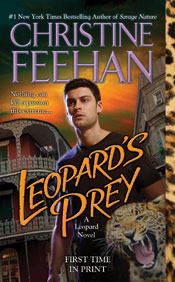 Leopard's Prey
by
paranormal romance
in
Paperback
edition that was published by
Jove
on May 28, 2013 and has 366 pages.
Explore it on
Goodreads
or
Amazon
.
Other books by this author which I have reviewed include
Dark Predator
,
Savage Nature
,
Spirit Bound
,
Darkest at Dawn
,
Samurai Game
,
Dark Storm
,
Air Bound
,
Hot Blooded
,
Viper Game
,
Power Game
,
Earth Bound
,
Spider Game
,
"Dark Crime"
Sixth in the Leopard People paranormal romance series. This story is set in the bayous of Louisiana, and the couple focus is on Bijou Breaux and Remy Boudreaux.
My Take
This one was weird. I liked the story idea, but I don't know what Feehan was thinking when she was writing as there were so many lame, oddly worded sentences, some of which have extra words that don't fit. Then there's that "accent" Feehan has written for her characters. It's not ringing true for me. I suspect I should go back and re-read Savage Nature, 5, and see if Feehan used the same styling.
If you're thinking of becoming a star in any field, read this. It may well turn you off the whole idea.
As I said, I like the story even if it does use the poor little rich girl cliché. Bijou does learn from past mistakes, and she takes a good man as her role model. I also appreciated that Feehan didn't stoop to the newly-deflowered-virgin who runs after her first time with a man. Although I am getting a bit tired of the conflict always having to be the age gap between two people.
I understand Bijou not wanting Remy to see her all messy, but is it really worth her life?? Then there's the tried-and-true "conflict" of not telling one of the protagonists information that can save her life or change the kinds of decisions she makes. Dorky and stupid. The invasion by Dion and Robert is clumsy. Loose thread about Bijou's mama's death. If Bijou never took anyone home due to embarrassment, then how did her daddy still manage to seduce them?
I'm getting bored…
The Story
Saria and a friend found a tortured body in the swamps and Remy is quickly called in. It's a double whammy for Remy as the killer is a serial killer who had disappeared four years ago. Now he's back. And so is Bijou, the girl-woman Remy has been obsessed with for years.
Being with her, protecting her, loving her, Remy learns too much about himself as well as the horrors of Bijou's life.
The Characters
Bijou "Blue" Breaux is the poor little rich girl with the daddy I'd'a like ta have strung up by his balls: Bodrie Breaux, the most famous rock star in history. Bijou inherited her daddy's talent, but not his morals. Arnaud Lefevre is Bijou's best friend and an incredible artist. Rob Butterfield is Bijou's manager; Jason Durang works for him and has been following Bijou.
Remy Boudreaux is a homicide detective in New Orleans with a well-deserved reputation. With sixteen years between him and Bijou, he's holding off. Saria is his little sister; his brothers include Gage, a sheriff of the parish, and Mahieu.
Angelina is one of the NOPD cops, and she's doing research for Remy. Dr. Louis LeBrun is the medical examiner. Judge Thomasson is corrupt.
Fellow leopards in the bayou include:
A newly pregnant Saria, who is gaining a name for her photography and still roaming the swamps, is happily married to Drake Donovan, who is bringing order and rules to the leopard clans. And they're happy with their B&B, the Lafont Inn (see Savage Nature).
Joshua Tregre and Elijah Losposts are both leopards and working as bodyguards at Bijou's club. More leopards are Logos, Dash, and Dion and Robert Lanoux who are brothers.
Pete Morgan is/was a shrimper, loyal to wife, family, and friends. Eulalie Chachere is a voodoo priestess whom Remy has consulted in the past. Thereze and Emile run a simple cafe with fabulous food.
Ryan Cooper insulted Bijou at the cafe when he tried to get her phone number; his friend, Brent Underwood was with him. Tom Berlander and Robert Lanoux, one of the leopards, are more of Ryan's friends. They hang with Jean and Juste Rousseau, a couple of criminal ringleaders on whom the police can't find anything. Bob Carson is a photographer from her past and a real scum bucket.
Catching up…
Emma Bannaconni is pregnant again and Jake is terrified.
The Cover and Title
Between the threatening green and orange sky hovering over New Orleans architecture and the hologram title, the cover is a bright flash sandwiching Remy and his leopard.
The title could refer to the serial killer Remy is hunting, or it could focus on the woman he wants for his own, for both are Leopard's Prey.
Related Posts