I received this book for free from the library in exchange for an honest review. This does not affect my opinion of the book or the content of my review.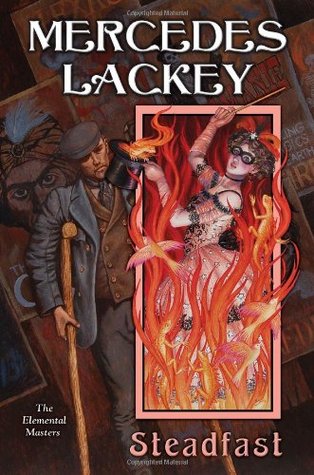 Steadfast
by
It is part of the
Elemental Masters #9
series and is a
fantasy
that was published by
DAW Books
on June 4, 2013 and has 298 pages.
Explore it on
Goodreads
or
Amazon
.
Other books in this series include
Elementary: All-New Tales of the Elemental Masters
Other books by this author which I have reviewed include
Unnatural Issue, "The River's Gift", Finding the Way and Other Tales of Valdemar, Foundation, Intrigues, Gwenhwyfar: The White Spirit, Owlknight, Charmed Destinies, Changes, Beauty and the Werewolf, Invasion, Home From the Sea, Dead Reckoning, Conspiracies, Bedlam's Edge, Crown of Vengeance, Redoubt, Harvest Moon, World Divided, Elemental Magic: All New Tales of the Elemental Masters, Sacrifices, Burdens of the Dead, Bastion, Victories, Blood Red, The House of the Four Winds, Games Creatures Play, Closer to Home, Born to Run, Wheels of Fire, When the Bough Breaks, Chrome Circle, Changing the World: All-New Tales of Valdemar, Under the Vale and Other Tales of Valdemar, Arcanum 101, A Tangled Web, Winter Moon, Moving Targets and Other Tales of Valdemar, Elementary: All-New Tales of the Elemental Masters, No True Way: All-New Tales of Valdemar, From a High Tower, Hunter, Closer to the Heart, Silence, A Study in Sable, Elite, Closer to the Chest, Tempest: All-New Tales of Valdemar, A Scandal in Battersea
Ninth in the Elemental Masters fantasy series and set in Brighton, England after King Edward VII's coronation in August 1902.
If you're interested, there is a chronological listing of the Elemental Masters books at KD Did It Takes on Books.
My Take
This was a switch! Up to this point, Lackey has been writing of elemental masters who are more upper class. This time around, it's a despised subclass of the lower classes: a magician, assistants, dancers, and a doorman!
The underlying conflict in this story is the law of the land that insists a woman is the property of her husband and he can do whatever he likes to her. The resolution is the choice Katie will need to make about how she uses her Elementals. And I couldn't help but love this story.
It's a caring friendship between two men who, in turn, care for those around them, and they're determined to get to the bottom of Katie's troubles. Well, once they find out what those troubles are and who caused them. I just adored that Jack finally understood the Suffragette movement!
For all the drama of this story, it's also too easy and comfortable, and still, I would definitely buy it precisely for its cozy read.
I liked the realism of Katie's learning of her power. Total denial and a desperate scraping of any reason why she imagined it! Although, once she does begin to understand, it makes me a bit nuts that she keeps resisting that understanding inch by inch, step by step. Jack's experience in Africa during the Boer War and the British concentration camps was also realistic…and much less nice.
It was annoying how easily Katie slipped into thinking she deserved how Dick treated her, but then again, in real life, women do become so subjugated that they believe it and don't believe they're worth anything. But did Lackey have to keep pounding away on this theme…? I was starting to feel abused.
Another few issues I wonder about is how did Dick find her in the first place? If he thought she was such a loser, why did he come searching for her? Why would Ball allow him to leave in the circus? How did the stagehand know who she was and who Dick was?
It is fun to see behind the scenes of an early twentieth-century dance hall: the work involved for the dancers and Lionel, Mayhew's worries, the crazy variations on that new Russian ballet fad — I want to see the comic version of the Dying Swan!
Hmmm, I do wish Lackey would make up her mind on how to address Lord Peter.
The Story
There are pluses and minuses to not moving on, and Lionel feels the permanence is enough to make up for those negatives. If only it weren't so difficult to keep on a decent magician's assistant.
It's lucky for Katie that Lionel and Jack are good men otherwise their sylphs and sprites would not have picked her out. She'll need their help when the fireworks bring her magic to the fore. Just as she'll need help to raise the sums necessary to buy her divorce.
Fortunately, need and goodness can be a mighty force.
The Characters
Katie Langford is part-gypsy with an unknown talent for Fire who will become the famous Natalya Bayonova. Her acrobatic parents are dead, and the owner of Ball's Circus, Andy Ball, pushed her into marriage with the circus strongman, the brutal and vicious Dick Langford.
Jack Prescott is the doorman with a gift for Fire who lost part of his leg in the Boer War. Lionel Small is a Air magician who has a permanent slot as a magician's act in Brighton at the Palace Music Hall. Suzie is the assistant who's getting married. Mrs. Buckthorn has a wee bit of magic and is Lionel's housekeeper. Paddy is Lionel's Connemara pony.
Barnaby Shen is the theater manager; Charles Mayhew is the owner with a huge problem. Pretty Peggy Kelly is one of the permanent acts, a singer, and the woman Katie talks to about divorce. Davey is the piano player; Mrs. Littleton is the brilliant seamstress; Bessie Taylor is one of the dancers; and, Oscar Nathan is a new stagehand overly interested in Katie.
Mary Small is the leader of this Traveling group and has insisted on taking Katie in. The clan consists of Joe, who plays guitar, and Celia, the lone Gitano of the girls and dancer; Bert, a fiddler, is married to Sally; Beth and Robert (Joe's father). The single men are Harry and Paul (Mary's sons) and Charlie, Fred, George and Jack who are Mary's grandsons.
Alderscroft gets a mention. Mrs. Baird runs the boarding house at which Katie occasionally rooms. Lord Peter Almsley will be appealed to for aid.
The Cover and Title
The cover is our focus couple: the crippled doorman and the flaming gypsy assistant against a darkened backdrop of the magician's posters.
The title is all about Jack Prescott, for he is a Steadfast man.
Related Posts