I received this book for free from in exchange for an honest review. This does not affect my opinion of the book or the content of my review.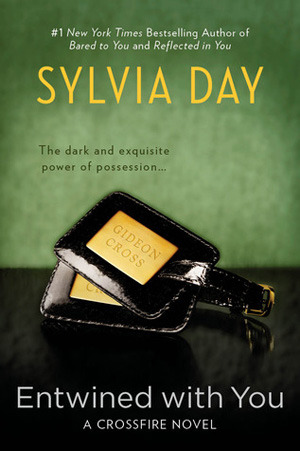 Entwined with You
in
Paperback
edition on June 4, 2013 and has 356 pages.
Explore it on
Goodreads
or
Amazon
.
Third in the Crossfire erotic romance series revolving around Gideon Cross and Eva Tramell.
My Take
Okay, compared to the previous two books, this merits a "4", however, compared to most books, it drops to a "3". Why you may ask? Well, it is my favorite of the three in this series (so far): Eva isn't going for the gold in Whining nor is she being as dumb a twit as in the previous two stories. I also like the psychological exploration that's happening in this. Yes, the interaction is tamer and with less of the BDSM than the previous two as well, mostly because Day has toned down some of the excessive melodrama, thank you, God. It's not to say there isn't any conflict, however. Eva still has her past and present problems while Gideon has his own nightmares. And I am just so grateful to be free of the mass blocks of whining!
Eva keeps almost dropping into stupidhood, but then she recovers, most of the time. At times, it's Gideon's turn to push back at her, to force her to continue what she starts. She also looks back at past events and realizes that her original interpretation was so wrong. The story is a great example of how couples could (or should) be talking to each other.
The trauma and nightmares that Gideon suffers makes him an Everyman. However successful, however gorgeous, the man is suffering, and yet he continues to work and live his life.
I love the lengths to which Gideon goes to try and make Eva comfortable.
Nice bit of insight from Eva about Gideon's torment: "You didn't enjoy it. You felt pleasure and that's not the same thing." It goes with so many of the rape-type romances in which the man forces a reaction from the woman's body, but her mind keep saying no.
Naturally, there has to be conflict, and Gideon pushes Eva about coming to work for him. A natural no-go for Eva, a woman who wants to make it on her own merit and have no one dispute her skill or ability. There's also the question of Nathan's murder and Gideon's culpability that hangs over the couple.
Okay, if Cary's normal reaction is to be affectionate when he's pulling away and wanting to distance himself, why would Eva interpret Cary being openly affectionate with Trey as wanting to pull him closer? I mean, it's what I'd like to see happen, but Eva has too much history with Cary and his reactions to actually believe this.
Oh, brother, I see it as a misstep, that scene on the plane where Eva pushes too hard. And the whole scene feels manufactured by Day as she struggled to get one last major conflict in, although I did like the prenup.
Oh, wow, I feel so sorry for Jean-François. To be hit over the head like this.
I can see why Day needs to take this further than a trilogy. It's like they say in writing school, ya gotta listen to the characters and just follow the story where it goes. And it is a reasonable continuance. Sure, the idea probably occurred to Day, and she took a look at the book sales and thought oh, mama, how can I resist stretching this trilogy for a couple more books, and why not?
The Story
After events in Reflected in You, 2, Eva must stay away from Gideon. It's essential to his freedom and her happiness. Her eventual happiness anyway.
As far as the public knows, Gideon used Eva to make his former mistress jealous. A necessary deception if Gideon is to stay out of jail. There are, however, unfortunate side effects, namely friends encouraging her to find a rebound guy. And Brett insisting she be his date for Golden's debut. A video with too many repercusions.
Then everything truly falls apart when Eva's dad finds out about Nathan, with her dad about to fall even further.
The Characters
An advertising assistant at Waters Field & Leaman, Eva Tramell works in the Crossfire Building within arm's reach of Gideon Cross, an incredibly gorgeous billionaire running Cross Industries with his own traumas to cope with. He's also obsessed with Eva, her safety, her existence, her loving him back. Angus McLeod is Gideon's driver and a witness. Ireland is Gideon's half-sister, and she worships him.
Cary Taylor is Eva's best non-sexual friend. He's gorgeous, a model, bisexual with a very wandering eye, and lousy impulse control. He and Trey, a part-time photographer's assistant pursuing a degree as a veterinarian, are trying to make it work. As long as Trey doesn't mind an opportunistic Tatiana Cherlin in bed as well. Ian was part of an orgy in Reflected in You, and Gideon "explained" to him what Eva's no meant.
Gideon's family includes:
Chris Vidal, Jr., is Gideon's nasty half-brother. His dad, Christopher Vidal, Sr., is Gideon's mother's husband, and he runs Vidal Records in which Gideon has a majority share. Elizabeth, both boys' mother, is determined that Eva won't take her son from him. Why this concerns her has me clueless…
Arnoldo Ricci owns Tableau One, a restaurant, in partnership with Gideon. Dr. Terry Lucas and his wife, Anne, are Gideon's enemies. Magdalene, a former hopeful of Gideon's, has a new man in her life, Gage. Corinne Giroux is an old flame of Gideon's: his former ideal, only she just hasn't gotten the message. And Corinne will do anything to get him back. Jean-François Giroux, Corinne's husband, loves her, but he only seems to understand being rude.
Eva's Co-Workers at Waters Field & Leaman
Megumi is the receptionist and one of Eva's friends. She's falling for her blind date, Michael, a commitment-phobic guy. Mark Garrity is her boss, a junior account manager, and he's facing karma over his no to his life partner, Steven Ellison, a contractor. Shawna Ellison is Steve's sister. Will Granger is a new hire whom Eva is helping with lunch. Lacey goes along with the girls on their girls' night out and whom Eva hooks up with Martin. Christine Field and Walter Leaman are the principals.
Eva's Family
Victor Reyes is an Oceanside, California, street cop, Eva's dad, poor, and still in love with Eva's mother, Monica. Monica Tramell Barker Mitchell Stanton, however, refuses to live without money; love just won't keep them together. The money helps her to set all sorts of seriously intrusive security on her daughter. Richard Stanton is her third — and very wealthy — husband. Martin is Richard's son, and he goes clubbing with his friends: Kurt and Andre. Benjamin Clancy is her stepfather's personal bodyguard, and Eva finds out just how concerned the married Clancy is. Nathan Barker is a former stepbrother who molested Eva and was murdered in Reflected in You.
Dr. Lyle Petersen is Eva's mother's therapist and now hers and Gideon's. Parker Smith is a Krav Maga instructor with whom Eva trains.
Brett Kline, the lead singer for Six-Ninths, is an old boyfriend of Eva's, and he wants her back. I love how Day describes his voice: S-E-X rolled in chocolate…yummy… He and his band are signed with Vidal Records and have a video coming out. Darrin is part of the band. Sam Yimara was the band's videographer; it seems he's been a naughty boy.
Detectives Shelly Graves and Richard Michna of the NYPD may well be setting traps. Andrei Ydemsky is a Russian mobster wearing incriminating evidence.
Deanna Johnson is a freelance reporter much too interested in anything Gideon, especially if Eva will dish the dirt on the guy who dumped her.
The Cover and Title
The cover is black and muted greens with a pair of patent leather luggage tags and Gideon's name.
I suspect the title is a reference to the ending in this story, one in which each of them is Entwined with You.
Related Posts