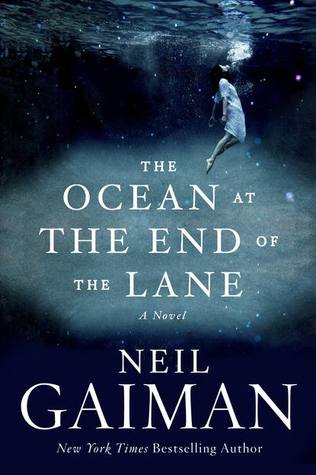 The Ocean at the End of the Lane
in
Hardcover
edition on June 18, 2013 and has 181 pages.
Explore it on
Goodreads
or
Amazon
., 
Barnes & Noble
, 
Kobo
.
A little bit metaphysical, a little bit fantasy, and a whole lot real.
In 2014, The Ocean at the End of the Lane won the Locus Award for Best Fantasy Novel and was nominated for the World Fantasy Award for Best Novel and the Mythopoeic Fantasy Award for Adult Literature. In 2013, it won the Specsavers National Book Award for Book of the Year and the Paris Review Best of the Best; it was also the Goodreads Choice for Best Fantasy and nominated for Nebula Award for Best Novel.
My Take
WOW! This is fabulous!! It's a buy in my book.
I fell in love with it when the protagonist confessed his love for books: "books were safer than other people…" It may be a sad occasion, but he is okay with it, as he retreats to his room with that boxed collection of Narnia books.
I will confess for myself…it's an odd story with contentment and sad events. It's through the perspective of a bright boy with compassion, a kid who lacks experience or a sense of other — and it's this point of view that gives it its charm.
"I was a normal child. Which is to say, I was selfish and I was not entirely convinced of the existence of things that were not me … There was nothing that was more important to me than I was."
It's a slow build and an enjoyable read with characters who retain their mystery. Gaiman drops bits and pieces along the way and we slowly learn how different the Hempstocks are, but we never do know just what or who they are for sure. And the idea of them…I want it to go on.
I love the sense of the old farmhouse that Gaiman creates. It's a place I want to visit, to spend some time, to eat some fresh baked bread with blackberry jam, and drink milk fresh from the cow. It's a cozy place with cozy characters, strange but welcoming. The Hempstocks themselves are who I think of as salt of the earth. Basic, practical, with the essentials of living in mind and magic at hand.
His own place, with all the land around it, is also fantastical with all sorts of possibilities to explore.
When Lettie first mentions the ocean and her mother calls it the pond, my first reaction was skepticism. I mean, how can you mistake a pond for an ocean and then I immediately thought ah, she's a little girl, and it's her fantasy, calling the pond her ocean with dreams of going beyond perhaps? It was a thought, an oh, brother that didn't leave my mind, but Gaiman slowly changed my mind, bringing me to realize the magic at Hempstock Farm.
"I liked myths. They weren't adult stories and they weren't children's stories. They were better than that. They just were."
Crack me up! It was so gruesomely enjoyable to read as he does surgery on his foot, poking away, pulling along, snapping! Ick!!!
This is also a story on listening to your children. Pay attention to them. Don't dismiss what they have to say without exploring what they are trying to tell you. And don't make adults who are supposed to be responsible around children into gods. Don't expect your child to want what you want. They are their own person with their own passions and preferences.
As much as I wanted to know more, I was satisfied with what I was allowed to know — although I do wish Gaiman had given out more names! It was complete with a sense of mystery.
The Story
It begins in memory. A thought of those long ago days when first he met Lettie and through her, Ursula. A bad economy and a man's sense of honor that makes it possible for him to meet a special friend who opens him to a spiraling path.
Both bright and a child, he's a contradiction whose frustrations quickly escalate with the new threat. One with which his friend can help him.
It's a bugaboo that will change his perspective and his life. If only he could remember…
The Characters
He's seven in the memories of his thoughts, and it's forty years later when he remembers. Fluffy is his new black kitten who seems to think he's a dog. Monster is the replacement. But only physically. His parents and sister are typical for a family. Ocean is the kitty he plucked. Mr. Wollery is the ancient gardener; Mrs. Wollery comes into clean.
Lettie Hempstock is the "little" girl who lives down the lane and offers to keep him occupied while the police investigate. Mrs. Ginnie Hempstock is her mother and Old Mrs. Hempstock is hers. There were Hempstocks at the farm since before the Domesday Book.
Ursula Monkton is the new nanny with her own agenda.
There's the opal miner from South Africa with several problems: a lack of control and a lack of empathy.
The Cover
The cover is Lettie Hempstock, floating in the deep dark waters of the "ocean", the pond at the end of the lane as she heals.
The title is too literal, for The Ocean is at the End of the Lane at the Hempstocks' Farm. Of course, Ocean the cat could well be at the end of the lane as well…
Related Posts