I received this book for free from in exchange for an honest review. This does not affect my opinion of the book or the content of my review.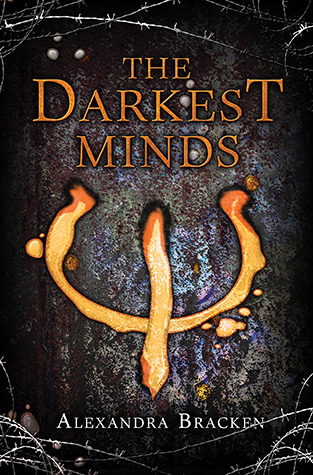 The Darkest Minds
in
Hardcover
edition on December 18, 2012 and has 488 pages.
Explore it on
Goodreads
or
Amazon
.
First in the The Darkest Minds dystopian, young adult series. Ruby is the primary focus with Liam secondary.
My Take
This is a clever twist on a dystopian theme, but Bracken has too many loose threads in this, and it drove me batty. For one, why is IAAN considered so horrible? Why didn't the government simply come up with programs to re-educate or train the kids in how to "use" their powers? Why was it necessary to destroy their spirits, their souls, their lives? Why was it such a boogeyman? Why do they treat the kids so badly? Bracken doesn't give any reasons for this and this whole issue spoiled the story for me.
She compounds it with the economic meltdown in which the government defaults on its loans — which isn't explained. In less than six years, the U.S. is so bad off that it's as though a major depression, one even greater than the Great Depression of the 1930s, has hit and a huge war broke out with nukes used. At least that's the feel I get from this story. There is very little population and too many deserted towns. It doesn't make sense.
Why doesn't Grams come for Ruby? It's one thing about her parents, but it didn't affect Grams. Why does Ruby think her true classification will scare the other three off? It never appeared to scare the kids at camp?
Jesus, the Children's League sounds like a terrorist organization, sending children out to be killed to fulfill their own dreams.
It doesn't make sense that the kids making hits to re-supply the camp are doing it so nearby. How can the government possibly miss figuring out where the camp is?
Bracken does well in stringing us along, teasing us as to what Ruby is referring to, what happened to her parents. And if I could get my mind around those inconsistencies and holes, I would have enjoyed it tremendously.
Oh, wow, the ending. Oh, it made me cry so hard. And it's the ending that will make me read the next in the series because I gotta know what happens next. It is not, however, a buy for me.
The Story
Kids between 10 and 14 are dropping dead. Some falling "ill" with IAAN, their psychic powers coming to the fore. It's an unknown and terrifies the government so badly that they lock their own children away and treat them worse than regular prisoners.
Five years later, Ruby's ruse that allowed her to be classed as a Green is at risk and one of the doctors offers to help her escape. But, there are strings attached. It's just another side to those who want to use the children and their powers.
Yet another escape finds Ruby entangled with another group of escapees, who are searching for the psychic children's promised land. Suzume wants Ruby with them. Liam is willing to drop her at a bus station. Chubs wants her gone. Now. Meanwhile, the skiptracers, Psi SF, the Children's League, and more are all after them.
The Characters
Ruby Daly is only ten when they take her away. Samantha Dahl is her first and only friend at Thurmond. Both are classed as Greens. Vanessa and Ashley are some of their cabinmates. Martin was another child passing as a Green.
Liam Stewart is Blue and a big picture kind of guy, Charles Carrington Meriwether IV, a.k.a., Chubs, is more focused, and Suzume is Yellow with a desperate need to connect. They've escaped a camp in Caledonia, Ohio, together, and now they're desperately searching for their particular Shangri-La. Black Betty is Liam's name for the minivan they stole. Jack Fields was their friend who didn't make it out; George Fields is his father to whom they need to deliver Jack's letter.
Harry is Liam's stepdad. Claire was his little sister. Cole is the brother who joined the Children's League. Greg, Kyle, and Kevin have set up camp in the Wal-Mart.
The Slip Kid has set up a haven for escaped kids, where they can contact their parents and be safe with food and a roof over their heads. He's excited about training Ruby to use her power. Mike remembers Liam. Others include Hercules, Olivia appears to be the Kid's second-in-command, Hayes, Pete, Hina is Zu's cousin, Lizzie, Kylie, Talon, and Lucy are some of the other kids in the camp.
Clancy Gray is the president's son, an Orange, and a poster child for how well the camps rehab the kids. President Gray has turned dictator. Psi Special Forces are really thugs with jackboots who brutalize the children. Joseph Traylor is their commander.
Dr. Cate Begbie, a.k.a., Cate Connor, is a volunteer with the Leda Corporation which does research and sends doctors in to help with the children. The Children's League is an anti-government group trying to take down the camp system. It's led by John Alban, a former intelligence advisor to President Gray. Rob is one of their operatives.
Lady Jane is one of the more persistent skip tracers.
Michael Everhart was the first teen to die from IANN, Idiopathic Adolescent Acute Neurodegeneration disease. Their psychic powers are classed from weakest to strongest: Blues, Greens are smart with good memories while the Yellows destroy, Oranges can make others think and do what they want, and Reds are the most feared and make up Project Jamboree, the president's special army.
A number of prison camps for the children are built — most by the children themselves in concentration camp-like conditions. Thurmond is one of the more notorious camps with a reputation for creating FrankenKiddies.
The Cover and Title
The cover reminds me of Veronica Roth's Divergent with its dark background and the flaming mass in the center — in this case a flaming pitchfork with embers floating in the background.
The title could apply in three ways: the mind powers the children realize, the paranoid reactions of the adults, or the minds of people who need to control others. It's up to you to decide which are The Darkest Minds.
Related Posts