I received this book for free from the library in exchange for an honest review. This does not affect my opinion of the book or the content of my review.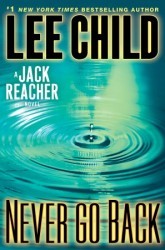 Never Go Back
by
It is part of the , series and is a
thriller
in
Hardcover
edition that was published by
Delacorte Press
on September 3, 2013 and has 400 pages.
Explore it on
Goodreads
or
Amazon
.
Other books by this author which I have reviewed include
Killing Floor
,
Die Trying
,
"Second Son"
,
Tripwire
,
Running Blind
,
Echo Burning
,
Without Fail
,
Persuader
,
The Enemy
,
One Shot
,
The Hard Way
,
Bad Luck and Trouble
,
Nothing to Lose
,
Gone Tomorrow
,
61 Hours
,
Worth Dying For
,
The Affair
,
A Wanted Man
,
"Deep Down"
,
"High Heat"
,
Personal
,
Make Me
,
"Small Wars"
,
Night School
,
MatchUp
,
The Midnight Line
Nineteenth chronologically in the Jack Reacher thriller series and eighteenth publication-wise. This story starts in Washington D.C.
In 2014, Never Go Back was nominated for the TW Thriller Award for Best Hardcover Novel and in 2013 for Goodreads Choice Award.
My Take
Reacher is definitely an odd duck, out of step with the majority of society with his preference for his aloneness. I was going to say lonely life, but he's not. He's quite happy to be a rolling stone, and I have to admit that I worry about him. I know. He's fictional. And I do worry what'll happen to him as he gets older, less able to swing those mighty, meaty arms.
It's certainly one way to know if your character is hitting the mark, LOL.
Story-wise, it started out ham-handed, heavy with suspicious encounters. Reacher being himself, there's no way he'll back down now. And it's a very confusing start. It takes a page before we find out where he is, but still with no idea why anyone is dumping him in a crappy motel room or why he's being harassed. On the plus side, I suppose this does help us understand Reacher's mindset, having us as confused as he must be with the parking lot encounter.
Someone should'a done their homework. I think Child should have done his homework as well. Reacher is finally in Virginia to meet Susan whom he met in 61 Hours, 14, and there have been three books in between 61 Hours and this one. Not a big deal, you think? Well, Child gave me the impression later in Never Go Back that it had been a few days between the call and now. Nuh-uh, it's a few days between 61 Hours and Worth Dying For, 15. Okay, The Affair, 16, is actually a prequel for the series in chronological time. Then A Wanted Man, 17, picks up right after Worth Dying For and must take a few days. Compared to the timeline as to what happens to Susan in this one…nope, just doesn't work for me.
Lord, I do love the analyses we get when Reacher is planning his moves. Do all fighters think this way? I'm curious.
I do love it. Reacher follows the letter of the law, in his own way, and until he decides to "re-write"that law.
What is with those lawyers?? Aren't they supposed to at least pretend to believe their clients? If this is how the military "helps"their own, god help 'em. No due process. No investigations. Makes ya wonder how closely or fantastical this is to real life…scary…
Oh, oh, I love it. Morgan's recalling Reacher is gonna bite him bad, and I love that Reacher takes full advantage. Lord knows someone has to take the reins!
Child racks up the tension and my anger and frustration. Arghhh. The biggest problem with it is that you can see the opposition's point, how they can think what they do. After all, isn't that what all criminals say: not me?
It's pure Reacher after they throw him in jail. It's not where he wants to be, and not where he wants Susan. So, just like that…they're gone.
I love how Reacher pulls it together. Tiny details that don't escape his notice. Details that add up to some mighty big questions.
I do not love the ending. Yeah, it was justice, but why would they do this? They've pulled so much else together, why do they just give up?
The Story
It's bullshit. Absolute bullshit. Reacher's been recalled, and they've given him two lawyers to defend him. Lawyers who refuse to defend him, and he's stuck with them. Now it looks like he'll need a third for that assault rap the D.C. cops want to throw at him. As for Major Turner…she's incommunicado. In jail and refusing to speak to Reacher.
Well, there's only one thing to do, and it's Reacher at his finest, LOL.
The Characters
Jack Reacher has been roaming the U.S. for years now. Righting wrongs, fighting the good fight, and some bad. He's a superman with a strong sense of justice, and right now he's aching to meet the woman behind the voice whom he "met"over the phone in 61 Hours. Major Helen Sullivan is the lawyer assigned to "defend"Reacher for the Rodriguez charge. Captain Tracy Edmonds works with HRC, and she'll "defend"Reacher on the Dayton charge. Captain Don Granger was with the 135th MP. General Leon Garber went to bat for Reacher.
Major Susan Turner is that voice as well as the commanding officer for the 110th MP Special Unit, the group that Reacher originally put together. And she's been disappeared. Sergeant Leach is the sympathetic one. Colonel Moorcroft is Turner's lawyer; Colonel Temple is the replacement lawyer. Natty Weeks and Duncan Edwards are the men in Afghanistan.
Lieutenant Colonel Morgan is temporarily in command at the 110th. He's a troubleshooter sent in to clear up messes. Uh-huh… Captain Weiss is on duty at Fort Dyer. Warrant Officer Pete Espin is with the 75th MP.
Detective Podolski of the Metro PD is investigating the beating. Crew Scully is Deputy Chief of Staff with the Department of Defense. His best friend is the army's Deputy Chief of Staff for Intelligence, Gabriel Montague.
Juan Rodriguez, a.k.a., Big Dog, has died and the army claims it's Reacher's fault. Martin Ballantyne is a disbarred lawyer, the Dog's lawyer back in the day. Candice Dayton is another "victim"of Reacher's along with her daughter, Sam. I do like Sam; she's quick, fearless, very precise, and very observant. Arthur runs the diner where Sam eats a lot of her meals.
Romeo and Juliet are working together to bring Reacher and Turner down. And they're totally baffled by this one-man wrecking crew, LOL. A.M. 3435 is the code name of an informant in Afghanistan, which, naturally, Reacher just has to play with mathematically, *grin*. Active duty soldiers in a logistics battalion in Fort Bragg: Paul Lozano ends up with finger issues, Ronald David Baldacci has elbow problems, Jason Rickard's problems are more permanent, and Staff Sergeant Ezra Shrago has hexadecimal ears.
Billy Bob Claughton won't be needing his 'Vette anymore, but his cousins disagree.
Emal Golam Zadran is a family failure who managed to get caught at just the right time. For himself. Emily is a talented hook…er, actress, who helps them out.
The U.S. Army's Fort Dyer has been merged with the Marines and houses high-status prisoners. Dove Cottage is a private club. Rock Creek is where the 110th is stationed in D.C.
The Cover and Title
The cover is pretty with its turquoise waters and yellow highlights as a drop of water disturbs the reflection of the Senate building in the waters of the Potomac.
The title is odd as it seems to echo that old saying about how you can't go home again. But while Reacher is going back to his old stomping grounds, I didn't get the impression that he saw the place as home. It was instead an opportunity to meet a woman to whom he was attracted. So, I'm clueless. I'm not sure what Never Go Back is supposed to be about.
Related Posts