I received this book for free from the library in exchange for an honest review. This does not affect my opinion of the book or the content of my review.
This book may be unsuitable for people under 17 years of age due to its use of sexual content, drug and alcohol use, and/or violence.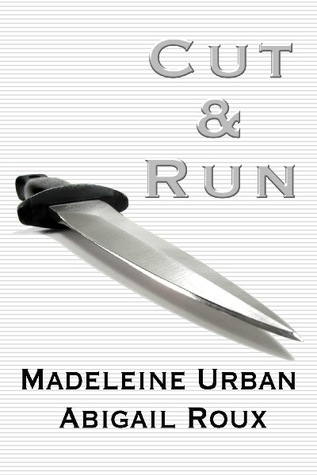 Cut & Run
by
erotica
,
romantic suspense
that was published by
Dreamspinner Press
on September 1, 2008 and has 348 pages.
Explore it on
Goodreads
or
Amazon
.
Other books by this author which I have reviewed include
Sticks & Stones, Fish & Chips, Divide & Conquer, Armed & Dangerous, Stars & Stripes, Touch & Geaux, Ball & Chain, Shock & Awe, Cross & Crown
First in the Cut & Run romantic suspense series revolving around two FBI agents: Ty Grady and Zane Garrett. The majority of the story is set in New York City.
This is a male-on-male romance.
My Take
Excellent! It took a long while to get to the actual sex, but the suspense part was great with these two oddball FBI agents hunting for a serial killer whom they believe is one of them — definitely NO insta-love here. Meantime, between the snark, the insults, and the frustrations of hunting a serial killer, they slowly come to realize they want each other. LOL, who knew it could be such an effective deterrent for an addict?
The groan from Zane had sent an odd jolt through his body, and he wasn't sure he liked it. He needed … to shoot something, maybe."
When they meet, it's the Odd Couple with Grady as Oscar Madison and Garrett as Felix Unger. Mutt meets Finicky Cat. And the snarling commences immediately. Grady sees him as a bookkeeping babysitter while Garrett saw it as more of a clusterf**k, a punishment for doing the job well. Even their boss sees it as a nasty trick to play on Garrett.
"Are you getting hysterical?" Ty asked eagerly. "Can I smack you?"
Jesus, Roux and Urban (R/U) suckered me right in with that initial scene. It was warm and inviting; it felt safe. Right up until that paragraph when R/U pulled the rug out from under me.
"You say that like you think I listen to you," Ty responded instantly, a smile pulling at his lips.
Part of what I loved about this was, okay, an excellent suspense story. That's a basic requirement and should be part of a good story. But what really revved me up was the intelligence in this. The banter between these two was quick and witty. Yeah, mostly cartoonish or in the gutter, but it was smart in several definitions of the word.
Can you tell yet how much fun Ty has in being a jerk?
Both men are burnt out, just not on the job. Which is a unique tactic to me. And R/U keeps the truth hidden, dribbling it out in bits and pieces, torturing you into flipping those pages to find out the why, who, and what.
We get deep into these two from a man's man perspective. How a guy copes with the grief of losing a beloved wife. The anger about being forced out of the military. The danger of the job they both love with the typical male reactions to injuries. Then we drop into touches of sensitivity as when Ty admits that his room is making him nervous, acknowledges that his partner is strong, and then R/U hit on the military's don't-ask-don't-tell policy and how it affects a man.
LOL, I love it! Ty freaks because he's never actually been picked up before.
Whoa. It's not until I went back and sorted through my notes that I found those red herrings. No wonder I believed.
R/U certainly didn't end this in any expected way. Instead it's readus interruptus as both men get pulled from the case and the partners are split up. It's that blending back together that gets interesting as each learns more about the other. Not always in a positive way.
Neither man is the stereotypical gay. Both men are tough, men's men. It gives this story a greater realism as it brings their relationship into the average reader's world where we expect the romantic male lead to be a grim, capable man, able to handle himself in any violent situation.
Aiyee, I love it! Zane is a bookworm!
That bit at the end. When Zane goes crazy and overdoses. I just wanted to cry at the sacrifice he was willing to make. And his reasoning? "You were in the dark."
The Story
Alison McFadden didn't stand a chance.
And the Tri-State killer continues merrily on, taking out men and women, civilians and FBI agents.
The Characters
Special Agent B. Tyler "Ty" Grady, from coal mining territory in West Virginia and based in Baltimore, is an ex-Force Recon Marine and a college graduate with a collection of "naughty" FBI T-shirts I lust for (ExFed; You Have the Right to Remain Silent … So SHUTUP; Camp Runamuck; and lots more…LOL). He also has a way with the ladies. He's not good at following the rules, and he dresses like a slob, but he does get the job done.
Special Agent Zane Z. Garrett, from Texas with degrees in statistics, Spanish, and law, is the epitome of the stick-up-his-arse FBI agent, for he's determined to unblot his copybook and move out and up to better cases. Becky is the wife he mourns.
Assistant Director Richard Burns is Grady's supervisor in Baltimore; he and Director Radshaw agree on the general identity of the killer. The New York agents sent to babysit include Mark Morrison and Tim Henninger; George McCarty is the Assistant Director in Charge; Special Agents Marian Sears and Gary Ross are two of their tails and the leads on the case; Karen Bryce is the medical examiner and Mina Holmes is her assistant; and, Jack Tanner is an ex-SEAL employed by the FBI to teach agents hand-to-hand combat.Serena Scott is a profiler with the New York Behavior Analysis Unit; both agents have a history with her. And I hope these guys quickly learn the truth about her…!
Special Agents Sanchez and Reilly were trained, ex-military. Isabelle St. Claire is a stewardess who enjoyed her night with Ty.
Detectives Steve Holleman and Steve Pierce are NYPD and in charge on that end.
The Cover and Title
The cover is spare with a thin gray horizontal line crossing the white background with a very sharp double-edged knife pointing at us.
The title doesn't really fit. At least not in the usual sense of Cut & Run referring to leaving quickly. If anything, it's just the opposite with both men willing to see it out.
Related Posts