I received this book for free from the library in exchange for an honest review. This does not affect my opinion of the book or the content of my review.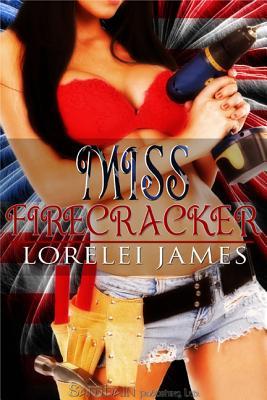 Miss Firecracker
by
contemporary romance
that was published by
Samhain Publishing
on June 2009 and has 95 pages.
Explore it on
Goodreads
or
Amazon
.
Other books by this author which I have reviewed include
Corralled, Saddled and Spurred, Rode Hard, Put Up Wet, Wrangled and Tangled, Long Hard Ride, Cowgirl Up and Ride, Rough, Raw and Ready, Tied Up, Tied Down, Wild Ride, Branded as Trouble, Shoulda Been a Cowboy, All Jacked Up, Raising Kane, Cowgirls Don't Cry, Chasin' Eight, One Night Rodeo, Casanova Cowboy, Kissin' Tell, Gone Country, Mistress Christmas, Bound, Redneck Romeo, Unwound, Turn and Burn, Hillbilly Rockstar, "Schooled", Wrapped and Strapped, Unraveled, What You Need, Just What I Needed
Second in the Wild West Boys romance spinoff series from the Rough Riders with this story based in Broward, Nebraska. The couple focus is on Blake West and Willow Gregory.
My Take
This is strictly romance for those of you expecting the erotica from a James story. And it's sweet, cute, and very, I dunno, metrosexual?? Is that a word I can use for a guy who is sensitive, sweet, concerned with his health without being obsessive, trying to find himself — and very considerate of the woman he's with…oh, yeah.
He also takes on the negative characteristics attributed to women: he's pissed that he might just be a one-night-stand. Even though that's all he had been looking for.
It's rare to find a romance in which the guy is the softer, gentler half, and this one is it. Blake is amazing in his understanding, in being such a gentleman (when a woman needs him to be), and such a lover when she needs that.
I loved the twist James put on this right from the start with a naughty Willow waking up in a strange guy's bed. Combine it with Blake's reaction, and I'm all over readin' it. James also stretched Blake's reasons for being in Nebraska out nicely. All those hints and reflections had me wondering what he'd done wrong.
There were a few places where Blake took umbrage, and I didn't understand why. Seemed out of character for him. The fact that Dreyfuss was the only person to talk about how attracted all the men in town are to Willow was annoying. Why weren't there at least other indications for the readers to be aware of that an obtuse Willow could have not seen?
Okay, for all my moaning and whining, I liked the honest communication between Willow and Blake. I did not appreciate Dave's entry into the scene. That was clumsy and seemed more mean than anything.
LOL, I did like Mandy's ploy! And I liked that Willow caught on, to the learning part, and then eventually the truth. Then there was the scene between Blake and Willow's dad…ROFLMAO funny.
Yeah, who knew? Who knew that a McKay cousin could be so comfortable and attuned to a woman's needs out of bed, LOL.
"I call you sunshine because you light up my world."
The Story
Too caught up in proving herself, Willow Gregory finally realizes there's more to life than work…thanks to so-called friends standing her up.
It's that humiliation that sets this story crackin' as Willow lashes out, and the sheriff lashes back. It's a week of payback with the ultimate in payoff when Willow meets Blake West, an all-around nice guy who seems to have picked up some ideas from those rowdy, rough McKay cousins.
The Characters
Willow Gregory is so not a girl's girl and heads up a construction team for Gregory Construction and constantly feels the need to prove herself. Jackson is her younger brother who's away at college. Big Kenny is her dad…and they ain't kiddin'…he's BIG. Cerise was her best friend, but she's married to a soldier and living in Germany.
Blake West is at loose ends, trying to find himself, and when his friend, Dave LeRoy, asks for help with his bar, LeRoy's Tavern, Blake jumps. Darren West is his dad, and he's in rehab for a stroke.
Mandy is a hardworking waitress at the bar with a four-year-old daughter, Anya, and a fifteen-year-old sister, Roxy, to take care of; Ginny is not. A hardworking waitress that is.
Norbert Fossum is a dirty old man who finally got his comeuppance. Sheriff Mayhew has an unusual approach to mayhem. Destiny is the not-friend who put Willow's name up for the pageant. Paul Shulman is a Gregory electrician and the company's biggest gossip. Don Dreyfuss owns the International Harvester dealership in town, and knows Willow's daddy. Gloria is Dave's significant other, if the break-up isn't permanent.
Catching up…
This takes place about a year after Nick and Holly marry and they're expecting a child (see Mistress Christmas, 1).
Chronologically, it fits in the Rough Riders series about two weeks after Indy has baby Hudson.
The Cover and Title
The cover is cute with its subtle patriotic colors in Willow's sexy, white short shorts along with the blue drill and the red bra top. I do love the tool belt that almost obliterates those shorts! All up against a backdrop of red and white fireworks bursting from a deep blue background.
The title is an inciting incident in this story, for it's the end of Miss Firecracker's reign, and she's lettin' loose!
Related Posts