I received this book for free from the library in exchange for an honest review. This does not affect my opinion of the book or the content of my review.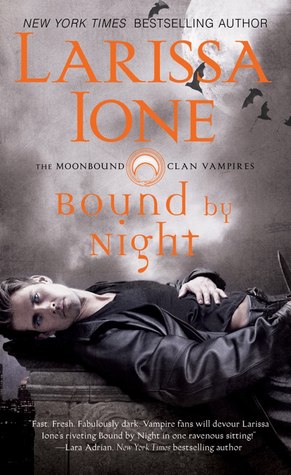 Bound by Night
by
paranormal romance
in
eBook
edition that was published by
Pocket Books
on September 24, 2013 and has 400 pages.
Explore it on
Goodreads
or
Amazon
., 
Barnes & Noble
, 
Kobo
.
Other books by this author which I have reviewed include
Desire Unchained
,
Pleasure Unbound
,
Passion Unleashed
,
Eternal Rider
,
Immortal Rider
,
Lethal Rider
,
Supernatural
,
Rogue Rider
,
Reaver
,
Revenant
,
Snowbound
First in the MoonBound Clan Vampires paranormal romance series set in Seattle. The couple focus is on Dr. Nicole Martin and Riker.
My Take
If it weren't for Ione's name on the cover, I wouldn't have believed it was one of hers. It's certainly not the Demonica nor is it the Lords of Deliverance. It's full of clichés and does not read like an Ione. It's more like too many of the B-grade melodramatic vampire stories with a touch of the mad scientist that reminds me of Christine Feehan's Ghostwalkers series.
The unique twist in this is that vampires are the underdogs…who knew?…made slaves by the humans. So, there's no love lost between the two. No holds barred either. This particular tale involves a small, but influential group of people, and events that will destroy everything that Nicole believed. The melodrama of it all will make you dizzy with all the eyerolling.
Ione has a new tale to explain the origins of vampires. Not much of one, as there are only bits and pieces until the truth finally emerges.
An old colleague's notes, Dr. Fraser's, lead to a breakthrough on vampire conception for Nicole.
Personally? It's kind of interesting and kind of hokey. Borrow it from the library.
The Story
Neriya's capture by humans sparks threats of war between ShadowSpawn and MoonBound. MoonBound's best chance lay in recovering her from Daedalus, which means kidnapping their CEO, Nicole Martin.
The Characters
Dr. Nicole Martin became a scientist who specializes in vampire physiology. Her parents founded Daedalus Corporation, a company whose bedrock is acquisition, training, and sales of vampire servants in addition to medical and scientific experimentation. Charles is her illegitimate half-brother, who has been working temporarily as the CEO of Daedalus. Jonathan is Chuck's longtime vampire servant. Roland Altrough is the executive vice president in charge of Daedalus' Lifeblood Supply division.
Riker was betrayed and turned into a vampire. Terese was Nicole's pregnant vampire nanny, and Riker's mate. Jesse and Steve had been his army buddies who were betrayed at the same time. Subject One is discovered in a Daedalus lab.
Hunter is MoonBound clan's leader: a born vampire and a full-blooded Cherokee. Baddon is a third-generation born vampire along with Myne, a vampire who escaped slavery and is nicknamed Ginsu-Fang AND is a full-blooded Nez Perce; Wolfgang and Jaggar (former CIA) are vampire warriors; Katina is the only senior-level female warrior; then there's Zara; and, Tena. Lucy is simple and cared for amongst the clan. Grant is their resident scientist. And a real nutjob, and in some ways, Nicole's match. Danneca and Tena are servicing Hunter, trying to anyway. Takis and Aiden are gay vampires; a useful pair of characters as they provide an opportunity to explain the full- and new-moon biological imperatives. Benet is hoping to snag Riker's interest.
ShadowSpawn is a vicious vampire clan that follows the way of the Raven with no code of ethics or honor. The Wendigo legend is based upon them. Kars is their leader. Fane. Neriya is one of them and possesses a rare gift, that of usdida, the ability to ease labor and deliver vampire babies safely. Aylin is the nicer of the twin vampire daughters of Kars; Rasha is definitely the worse. Brick. White Fox is one of the females.
Samnult is a demon posing as a god who promised the chiefs of 12 tribes the power to repel the white men.
VAST is Vampire Strike Force, a specialized group of law enforcement agents whose mission is to kill or capture every nonenslaved vampire on the planet. Sabbat is a hunter who takes out problem vampires.
The Cover and Title
The cover has a cloudy grey and white sky with a full moon and bats with an angsty Riker in black leather lying on a stone sarcophagus. Very teen Angel.
The title is a description of vampires, Bound by Night.
Related Posts