I received this book for free from in exchange for an honest review. This does not affect my opinion of the book or the content of my review.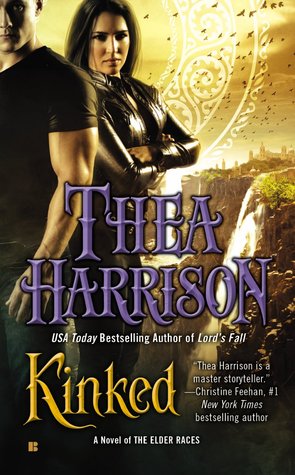 Kinked
in
Paperback
edition on November 5, 2013 and has 294 pages.
Explore it on
Goodreads
or
Amazon
., 
Barnes & Noble
, 
Kobo
.
Sixth in the Elder Races paranormal romance series and revolving around the Wyr based in New York City. The couple focus is on Quentin Caeravorn and Aryal.
My Take
I do like Aryal, even if she obsesses way too much about Quentin.. She's primal, woman, and knows her own mind. She's tried everything — and I mean everything. I like Quentin too. I like the his regret, and that he's trying to make amends for what he set in motion. What I didn't care for was the attempt to drag in the readers with the BDSM angle. It felt half-baked.
"Behold the Power of the peanut."
The funny part is the quick confession and immediate release that follows that angers Quentin. All that and this is all that happens?
It's an odd courtship, betting against each other that they'll never last 15 minutes, half an hour, half a night, giving in, being submissive. I have to confess it was funny to read. And the BDSM is still pretty vanilla.
The journey through Numenlaur to the city felt like a walk down memory lane. A little bit Hobbit, a little bit Anya Bast's Dark Magick, a touch Mercedes Lackey, and a little bit Tairen Soul.
I absolutely loved their particular joke of it always being all about Quentin. Too, too funny.
Oh, boy. Now Aryal's gonna have to accept Pia! After that particular miracle? LOL. Okay, the crop thing? I don't get it.
It's an okay story and has its bright spots. I love Aryal's openness and Quentin's honesty. The exploration through Numenlaur and checking the houses was interesting, even if I did cry at some of what they found. The first encounter with Gayla and her wolves was dramatic and tense, and that was about it. There were a number of points when it could have gotten really tense, but Harrison kept it fairly low-key.
The Story
She's hated him forever, so much that she's invested years in investigating him, hours in trying to follow him. It's when she spies him playing bondage games with a woman that she starts to think of him in other terms.
Caught brawling inside Cuelebre Tower by Dragos walking Liam, Dragos has had enough and banishes Aryal and Quentin until they work their issues out. Or they won't be Sentinels any longer.
It's a pair of brawling, arguing children set loose to check on the abandoned Numenlaur lands. After events in Lord's Fall, 5, Dragos is concerned about looting and anything dangerous. He figures two Sentinels bent on violence are perfect for the job. Aid that Ferion appreciates as he hasn't heard from the guards he sent weeks ago.
The Characters
Aryal is a harpy and one of Dragos' Sentinels. And she is desperate to dig up the dirt on Quentin.
Quentin Caeravorn is a new Sentinel who won his place by winning at the Games in Lord's Fall, 5. He's what Aryal calls a "triple threat": a mixed-breed who is part Wyr (he shifts into a panther), part Elven, and part Dark Fae. Aryal is positive he's also a thief. He also owns a popular bar, Elfie's, where Pia used to work.
Dragos Cuelebre is a dragon and Lord of the Wyr. Pia is his mate and they've just had Liam, their baby dragon son in Lord's Fall. Pia is also a former employee of Quentin's. It was his idea for Pia to steal from Dragos in Dragon Bound, 1. Eva is one of Pia's new full-time bodyguards. Kris is Dragos' assistant.
Dragos' other Sentinels include:
Former Sentinels who re-won their places are the gryphons — Bayne, Constantine, and Graydon (he's the new First Sentinel); Grym, a gargoyle; and of course, Aryal. Quentin and Alexander Elysias, a pegasus, are the new Sentinels.
Others within Cuelebre Tower
Talia Aguilar is a Wyr selkie and the new head of PR for Cuelebre Enterprises. Kathryn Shaw is the Wyr falcon and physician Dragos keeps on retainer for all high-level staff.
Ferion is the new Elven High Lord; it was his arrow in Dragon Bound that endangered Pia's life.
Numenlaur is the first and oldest Elven land from which they all came. The guards Ferion sent are Linwe, a young firecracker with a love of teasing; Caerreth is shy and bookish; Cemalle; and, Aralorn.
It's dangerous to meet Galya Andreyev of Russia. A very powerful witch with wolf shadows. Pyotr is the alpha shadow.
Amras Gaeleveal was one of the ancient Guardians of Numenlaur who went mad and almost destroyed the Elves in Lord's Fall.
The Cover and Title
The cover is a collage of events within the story: a cliff-hugging fairyland city, a leather-clad Aryal standing slightly behind Quentin. It's a beautiful rune-like circle in a pale yellow against a more golden sky.
The title is trying too hard. It's accurate enough, for they do have a Kinked relationship, but I wish Harrison had put a bit more effort in this.
Related Posts