I received this book for free from the library in exchange for an honest review. This does not affect my opinion of the book or the content of my review.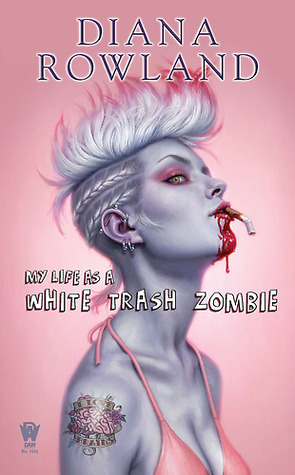 My Life as a White Trash Zombie
by
horror
,
urban fantasy
in
Paperback
edition that was published by
DAW Books
on July 5, 2011 and has 310 pages.
Explore it on
Goodreads
or
Amazon
.
Other books by this author which I have reviewed include
The Wild Side: Urban Fantasy with an Erotic Edge
,
Mark of the Demon
,
Blood of the Demon
,
Secrets of the Demon
,
Sins of the Demon
,
Touch of the Demon
,
Dangerous Women
,
Even White Trash Zombies Get the Blues
,
White Trash Zombie Apocalypse
,
Fury of the Demon
,
How the White Trash Zombie Got Her Groove Back
,
White Trash Zombie Gone Wild
First in the White Trash Zombie horror series and revolving around Angel Crawford, a pill-poppin' loser.
My Take
I suspect this is supposed to be one of those terribly funny horror stories, but I'm afraid I'm too horrified by Angel's white trash life. And yet oddly enough it does make for an interesting story that I couldn't put down. Heck the cover will pretty much tell you everything you need to know. And the cover is very funny.
If I only remember the start and the middle of this story, it would be sad. However as I read along with Angel and her life, I found myself pulling for her. She's slow, but she's never had good role models, and she's having to figure it out as she goes. It sure ain't likely she'll find tips for how to live her current "life" in Cosmo!
Rowland writes Angel's progress well. It starts with what you'd expect — heck, it's probably how I'd react — and as life ticks on at the morgue, as murders occur, and Angel gets to know her colleagues, she begins to find value in herself. It's wonderful to watch as she begins to have pride and find the truth in those around her.
Dang, that ER nurse needs to find another job!
Her previous life experience does come in handy when a dealer tries to screw her over. It's just a sideways application, LOL. It's added fun as Angel tries to reconcile her past encounters with the cops with her new relationships with them, the opportunity to see how the "other half" struggle to make it too. Who knew?
Oh, man, that closure scene…it was beautiful. Angel is a smart girl and just needed a second chance. I'm not sure where she will continue on to, but I know I want to go along for the ride.
The Story
Waking up from a drug overdose, Angel Crawford finds a cooler and a demand that she go to work on the morrow for the Coroner's Office. It's that or jail, and Angel knows a break when she reads one.
Now if only she could understand that craving she has for body parts…!
The Characters
Angel Crawford is a loser on probation, who takes drugs to forget, to not care about her life, and throws up at the sight of blood. Her dad is another loser, an unemployed alcoholic who beats her once he's had x number of beers. Mom is a nutcase who died in prison. Randy is her drug-using, laidback, sort of boyfriend who repairs cars, doesn't particularly care, and isn't above using her. Clive is his drug dealing friend.
The St. Edwards Parish Coroner's Office in Tucker Point
The jerky Nick Galatas is one of the van drivers, he's pre-med, and he's bucking for death investigator; Jerry Powell is the third van driver. Dr. Leblanc is the parish forensic pathologist. Dr. Duplessis is the coroner, the head dude. Derrel Cusimano is Angel's partner on the job and a death investigator; the other death investigators are Monica Gaudreau and Allen Prejean, the chief investigator. Ed Quinn is the paramedic who helped bring Angel back to life on that lonely road. Marianne is his girlfriend who trains a cadaver dog, Kudzu.
Officer Marcus Ivanov is the cop who arrested Angel for the stolen Prius and found her on the side of the road. Detectives Ben Roth (he's the kind one) and Mike Abadie (would get on well with that first nurse) are investigating a series of headless murders.
Zeke Lyons worked at Billings Funeral Home before he got fired. John Kang works at the Scott Funeral Home and claims he's the main distributor. Peter Plescia is a pizza delivery zombie. Adam Campbell was a technical writer who lived out in the swamp. Herbert Singleton had a Porsche.
The Cover and Title
The cover has a "pretty-girl" pink background with a really pale white girl with a pink-tinged blonde mohawk, braided sides, and a pink tipped blonde tail at the base of her neck. The eye makeup is fuchsia which goes well with the blood dripping down her chin as she barely keeps a broken cigarette in her mouth — I suspect cocking her head in that upward angle helps! She's wearing what appears to be a pink bikini top with sagging breasts and a pretty pink and gold tattoo of brains with an arrow through them and a top and bottom banner declaring her love for brains. Add in the nose stud, and the three rings and a barbell in her right ear…and you've got the picture.
The title is the truth. You're reading about Angel, My Life as a White Trash Zombie.
Related Posts