I received this book for free from the library in exchange for an honest review. This does not affect my opinion of the book or the content of my review.
This book may be unsuitable for people under 17 years of age due to its use of sexual content, drug and alcohol use, and/or violence.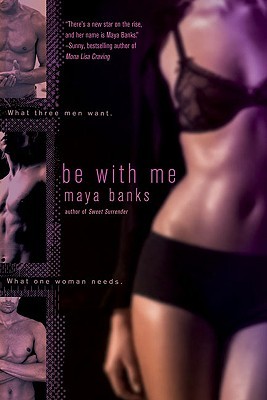 Be With Me
by
erotica
in
eBook
edition that was published by
Berkley HEAT
on November 4, 2008 and has 376 pages.
Explore it on
Goodreads
or
Amazon
.
Other books by this author which I have reviewed include
Sweet Surrender
,
Colters' Woman
,
Sweet Persuasion
,
Sweet Seduction
,
In Bed with a Highlander
,
Darkest Hour
,
Seduction of a Highland Lass
,
Colters' Lady
,
No Place to Run
,
Hidden Away
,
Men Out of Uniform
,
Red-Hot Summer
,
Never Love a Highlander
,
Brazen
,
Sweet Temptation
,
Whispers in the Dark
,
"Colters' Wife"
,
Colters' Promise
,
Echoes at Dawn
,
Undone By Her Tender Touch
,
Four Play
,
Cherished
,
The Tycoon's Pregnant Mistress
,
Never Seduce a Scot
,
Highlander Most Wanted
,
"Softly at Sunrise"
,
Shades of Gray
,
Rush
,
Fever
,
Forged in Steele
,
Burn
,
Colters' Daughter
,
Colters' Gift
,
When Day Breaks
,
After the Storm
,
Taking It All
,
Keep Me Safe
,
Darkest Before Dawn
,
Enticed by His Forgotten Lover
,
Sweet Possession
,
Sweet Addiction
A cozy romance that just happens to be a foursome. In 2009, Be With Me won the DABWAHA Romance Tournament for Best Erotic Romance; god knows how.
My Take
Truly this is one of those cozy sort of romances full of smalltown heroes who all get the girl! It's also a bit whiny on Reggie's part with a side dish of melodrama and manufactured events. Drove me a bit nuts.
It does have a different twist to it: the boys would much prefer to each have her to themselves, but none of the others will give her up to only one of them. Banks doesn't dig very deep on this one, hence the cozy…*grin*…!
What's the point of the company's permit problems? It doesn't go anywhere. Michael and the security issues? Nothing much here either. It doesn't hold together too well with the bad guy either. Surely there must have been some questions about where the boys each came from? Some sort of investigation into why they needed to go into fostercare?
Cam makes a good point that Reggie doesn't have to try and be all things to each of the boys all at the same time. She only has to be herself. It's the best of this story.
The Story
A trap results in Reggie having to confront her fears, to face events of a year ago, and come to terms with her own desires.
The Characters
Regina Fallon, a.k.a., Reggie, is a policewoman fleeing her own desires. Peter Fallon, the mayor of Beaumont, is her incredibly wealthy, full-of-himself father who only worries about how anything will reflect on him. Her mother, Lydia, is more concerned about her beauty appointments. There was an opportunity for Banks to provide mom with some depth, but it got bypassed.
Juvenile delinquents Cam Douglas, Sawyer Pritchard (he's the rough-and-ready one), and Hutch Bishop were in foster care together and became brothers. Now they're partners in their construction company. Birdie Michaels is their beloved foster mother. Loved by the entire town, er, county, it sounds like. Virginia is the friend with whom Birdie will take refuge; Kyle, Virginia's son, is a county sheriff's deputy whom Virginia taught how to handle a gun. Daniel Bishop is Hutch's brother.
Jeremy is a fellow cop. Michelle is his wife. Greta is the police dispatcher. Carl Perkins will head up the investigation. Brett is another cop. Chief Witherspoon is quite broadminded. David Conley is the district attorney.
Misty Thompson once dated Hutch. Michael Harvey is a friend of Reggie's who runs a security company.
The Cover and Title
The cover is dark with an out-of-focus, large-scale shot of Reggie, from neck to thigh, in a sexy black bra-and-panty set while the men in her life form a border along the spine in film-strip-like frames.
The title is the hopes that all three boys—Hutch, Sawyer, and Cam—have of Reggie, that she'll Be With Me.
Related Posts