I received this book for free from in exchange for an honest review. This does not affect my opinion of the book or the content of my review.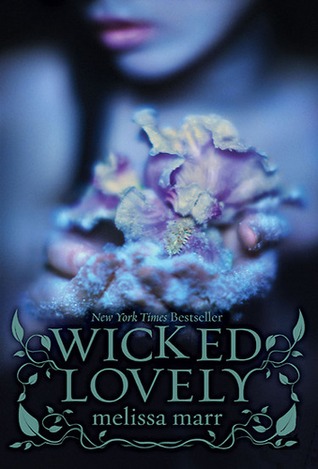 Wicked Lovely
on June 12, 2007 and has 328 pages.
Explore it on
Goodreads
or
Amazon
., 
Barnes & Noble
, 
Kobo
.
First in the Wicked Lovely urban fantasy series for Young Adults and revolving around Keenan, the Summer King. The couple focus is on two couples: Keenan and Donia and Aislinn and Seth in Huntsdale.
In 2008, Marr won the RITA® Award by Romance Writers of America for Best Young Adult Romance and the DABWAHA Romance Tournament for Best Young Adult.
My Take
It's a game of cat-and-mouse as Aislinn tries to avoid the fae, to retain her independence, to see Seth.
Seems Seth is worried that if he pushes too hard, she'll run. This is one of the parts I am not buying. If Seth is such a ladies' man, why he is being so patient? And if Grams is so cool about Seth, then why does Aislinn worry that Grams won't let her see him? At least that's the impression I get. Wouldn't Grams appreciate that he lives in a steel house? I want to know what happened with Moira. Was Keenan hunting her back then? Is Aislinn Keenan's daughter? How will this affect the three-way that seems to be developing?
I love and hate that Keenan is so cocky. He's despicable in his faking to be what he thinks the girl wants, especially since he plans to revert once he has her. The one-way track that any girl he's interested in has no real choice. But I also feel for his position. He wants to do right by his people, by humans, and get out from under his mother. It's a tricky two-step.
It's an intriguing fae culture Marr has created. Just enough information to terrify, and not enough to inform. I want to know more about that binding. Why was it done? What kind of king is Irial? What's his stance in all this?
I can understand the events at the carnival, but I would have thought that Aislinn would know enough not to eat or drink anything from a fairy.
In spite of all men whining, I like the twist in this. Aislinn doesn't like Keenan and is determined to keep Seth. But she's changing, she has no choice. As for Keenan, he's so desperate for a Queen, for freedom and power. He has to love her. She has to be his Summer Queen.
The Story
It's been years and she's never let on to anyone. It's too dangerous, but it's getting worse. They're starting to track her, follow her, sniff her. And she caves, confessing what she can see to Seth. The man she loves whom she knows she can never have.
It's a confident, domineering Keenan who doesn't intend to change, not permanently anyway, and he's determined that Aislinn is his Summer Queen. She has to be. He needs his powers.
The Characters
Aislinn Foy, a.k.a., Ash, has the Sight and can't let a fae suspect it. Nor can she let her Grams suspect or she'll lose her freedom. Grams, Elena, is furious over Moira's death. Her daughter. The one who chose death over becoming a Summer Girl. Does this mean that Keenan is Aislinn's father?
Seth is very, very patient and lives in a series of train cars. Boomer is his boa constrictor. Glenn, Jimmy, and Mitchell are some of his friends.
Fellow students at Bishop O'Connell High School
Leslie, Rianne, and Carla are Aislinn's friends. Father Myers insists that Aislinn guide the new student around.
Keenan is the bound Summer King, looking for his true Queen. The Summer Girls are the humans who fell in love with Keenan but didn't want to take the test and include Eliza. His advisers: Niall is cunning and Tavish is the oldest.
Queen Beira is the Winter Queen, Keenan's mother, and a major bitch; she bound his powers and delights in tormenting him any way she can. She also murdered his father. Irial is the Dark King, and he's complicit for some reason in binding Keenan's powers.
Deadgirl is Donia, the Winter Girl, the last human who thought she was Keenan's queen. Sasha is the white wolf who protects Donia. Liseli and Rika are former Winter Girls. Evan is the rowan-man who so carefully guards Donia. The Eolas tell Keenan Aislinn is special.
Denny is a friend at the bar with whom she plays pool. Rabbit owns the tattoo shop.
The Cover
The cover is a very hazy gray with a clutched handful of pink and yellow pansies nestled in ice, the perfect blend of Summer and Winter. The title is a low-key green with vines sprouting from the letters, a metaphor for emerging summer.
The title is Keenan — he's Wicked Lovely with no morals.
Related Posts