I received this book for free from in exchange for an honest review. This does not affect my opinion of the book or the content of my review.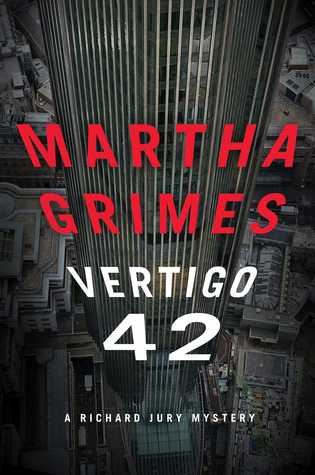 Vertigo 42
in
Hardcover
edition on June 3, 2014 and has 336 pages.
Explore it on
Goodreads
or
Amazon
., 
Barnes & Noble
, 
Kobo
.
Twenty-third in the Inspector Richard Jury cozy mystery series rotating between London and Long Piddleton.
Disclaimer: Somehow, even though I had written my full review, it appears that I didn't save it. Which doesn't make sense. Anyway, my notes turn out to be incomplete and the book has gone back to the library, so there are missing bits. I do remember, though, how disappointed I was in this installment.
My Take
I was disappointed. Sure the primary characters of the series are here, but it's different. Jury — Grimes — has gotten complacent. What makes this series for me was simply missing. It was flat with only bits of fun.
There was barely any Carole-Ann. His relationship with Malcolm?? Has changed with Jury getting accustomed to living as Malcom does. There's none of the angst. There's no Racer. It's something of an old home week in that Grimes makes sure we visit almost everyone who's ever been in the series, however briefly.
The actual mystery, solving the today crime of the red-dressed woman who "falls" out of the tower is part of the big mystery of what happened to Tess Williamson who died / was murdered / committed suicide all those years ago., was a mess of clues that barely make sense and we still get no real closure, but are left to assume what we like at the end.
I think Jury was on vacation; he certainly spent enough time swanning around, using Wiggins to work his "case", and diving into other people's cases. Why the inspector didn't object to Jury horning in, I'll never understand. He practically laid down the welcome mat.
It was sad. Such a waste of lives, and it did make me cry.
On the whole, if you collect the series, what the hey. If you don't collect them, get it from the library. It's probably the worst I've read in this series.
The Story
Questions still exist in Tom's mind about his beloved wife's death all those years ago, and he finally reaches out for help. It's Fate, and she steps in to destroy and inform.
The Characters
Superintendent Richard Jury works for Scotland Yard, and I think he's on vacation. Carole-anne Palutski is his upstairs neighbor, flighty, insightful, and absorbed in fashion with a care for others. Dr. Nancy is a medical examiner and Jury's girlfriend. Sergeant Alfred Wiggins is Jury's other half. Aunt Agatha pops in with a con man friend, Lambert.
Vivian Rivington, Marshall Trueblood is the flamboyant antiques dealer, Diane DeMorney makes up astrology columns, and Theo Wrenn Browne is a jerky bookstore owner. Together they're friends of Plant's, and they meet up at the Jack & Hammer.
Dick Scroggs owns the Jack & Hammer, a pub in Long Piddleton where the gang gathers while Mrs. Withersby is the whacky cleaning lady
The former Lord Ardry, Melrose Plant, is a friend of Jury's, and he floats through. Ruthven is his long-suffering butler; Martha is his cook. Yep, Melrose's hermit is still here and improving his lot in life. Now if only he can get that telly!
Tom Williamson is a widower, a rich one as it was his very wealthy wife, Tess, who died and left it to him. He once worked for the Government Code and Cipher School. Sir Oswald Maples is a friend of his from those days. Andrew Cleary, Tess' Angel Clare, was a photographer with whom she had spent some time.
The children in whom Tess was interested
Hilda Palmer was hated by all and died that day. She set her death and those to come because of her own actions. Kenny decided it was him. Wrong. He killed Tess but we never learn why. He killed Tess and the woman in the red dress. There were five other children: Kenny is appeasing his father, Mundy is pining away for love as she models designer gowns at Harrod's, Veronica still lives with mum as she tries to make it as an actress, Belle is single again and finally getting her dream come true, and the most important child whose name I can't remember (argh!) who went on to become very successful in his field if not his life.
Elaine Davies was a friend of Tess'.
Commander Brian Macalvie is still with the Devonshire and Cornwall Constabulary and appears briefly. Chief Inspector Bishoff was the one in charge when Tess was found. Jury's boss, Racer, gets a glancing mention. Harry Johnson (see The Old Wine Shades, 10), makes his appearance with a clue for Jury. Plant visits the Crippses: Ash the Flash, White Ellie, Piddling Pete, and the rest.
The Cover and Title
The cover definitely conveys the feeling of vertigo with its sky-high view looking down onto a cityscape — it's a close-up perspective from top-down and close to the top of a very high building, looking down to its narrowed base. And it's a false depiction of actual events, so perhaps it's a metaphor for the concept. The illustrator has contributed to the effect of vertigo by tweaking the author's name and the title.
The title is both a reference to Alfred Hitchcock's movie and the relevant clue in Vertigo 42.
A much later thought as I was doing some clean-up, I looked at this graphic, and it doesn't suit the story at all. Sure, it does give a good impression of scary heights, but it was an old tower in the story that was not in the middle of a big city. Nor is it consistent with what Grimes has been doing with previous covers with the old pub signs. This…this just doesn't fit.
Related Posts