I received this book for free from in exchange for an honest review. This does not affect my opinion of the book or the content of my review.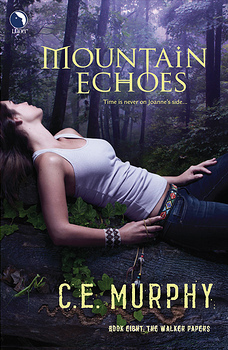 Mountain Echoes
It is part of the
Walker Papers #8
series and is a in
eBook
edition on February 26, 2013 and has 352 pages.
Explore it on
Goodreads
or
Amazon
., 
Barnes & Noble
, 
Kobo
.
Eighth in the Walker Papers urban fantasy series about a former Seattle cop who has been learning the ropes as a mage/shaman and battling Irish goddesses — some of whom are family!
My Take
Whoa…! It's gotta be old home week for Joanne these days. In Raven Calls, 7, it was a family reunion with her mom's side of the family. This time around, we're finding out more about Dad and his background. One that Joanne comes to regret for all her lost opportunities as she learns the truth behind their nomadic travels, the truth to why her dad called her Jo.
Poor Jo. Most of the previous stories have found her learning that she missed a lot as she was growing up, mostly due to the chip she's been hauling around on her shoulder. And Mountain Echoes is no different; it's merely exploring a different angle of Jo's past. I thought what Joanne learned about her mother and her maternal side of the family was pretty intense, and in my opinion, it's got nothing on what Jo learns here about her father. If only because she spent most of her life around her dad.
On the positive side, each story has found Jo learning more and more, gaining in strength, power, and knowledge, preparing her for each story as it arrives. She'll need everything she's learned…and will learn more in this one. The one lesson she never seems to learn is to stay prepared beyond the end. I also enjoy Jo's real approach to her shamanism. She may be a late learner but she's also a grateful one who leaves the ceremony at the door. And sometimes taking too long to learn can be detrimental to your health.
It's also a treat for Jo to be in a town where people simply accept what she is and what she can do without question. Of course, there always has to be a negative, and the town may accept that her abilities are natural, but they sure aren't accepting Jo.
And thank god Jo finally gave it back to that stupid, jealous bitch, Sara. Her husband is missing and this is what she chooses to focus on?? Nor can I believe that Sara is that insecure about her husband. I'm with Jo on this one, silly cow. I know I should feel bad for how Sara is treated; the reasons she's shunned now are wrong. I'd shun the twit for how she behaved all those years ago and how she behaves toward Jo now.
Lol, I did enjoy Lester's perspective on the former stoner now being a cop! I did like him. Too bad Michael shows up. Well, for Lester anyway. Ya gotta love Michael Morrison if only for how accepting and supportive he is of such a metaphysical area. I'm disappointed that Shaman Rises, 9, will be the last in this series, I've enjoyed the characters. And wait'll ya read what Morrison gets up to in this story! Omigod, you may possibly pee your pants laughing. What a turnabout!
As Murphy points out, it's The Neverending Story out there where Lucas and Jo's dad have disappeared into the great nothingness. It makes sense as well when Jo so quickly realizes what's causing the mountains to scream, what's sending the despair radiating out. And the despair deepens as Jo discovers what this despair is tied to, the history, the past of all Native American peoples.
Fun reference to Dr. Who as well as a reference back to our teen years when we made out in cars, lol.
Ooh, that sexual visual Jo has of Morrison cross country.
The Story
She hasn't recovered from the battle with the Morrigan and the Master when she gets an emergency call from her father's people, specifically from her high school nemesis: . Seems her dad and her baby daddy are missing.
Healer, savior, killer. Will the real Joanne Walkingstick stand up?
It's a battle against pure Evil…
The Characters
Joanne Walker, aka, Siobhán Walkingstick, is half-Irish and half-Cherokee and a shaman, but no longer a detective on the Seattle PD. Morrison is quite pleased about this! Her spirit guides are Raven who guides Jo between life and death; Rattler provides healing, fighting, speed, and shapeshifting while Renee, the walkingstick, is timeless. Petite is Jo's "beloved 1969 Boss 302 Mustang" that she's been restoring for years.
Gary Muldoon is her seventy-four-year-old best friend, a taxi driver, her companion in this whole new shamanic world of Jo's, and he carries a totem spirit, a tortoise. His late wife was Annie.
Coyote gets a cry for help in this, and big Coyote shows up as well. Captain Michael Morrison is Jo's former boss and now her intended lover — they haven't had a chance to hook up yet! Sheila MacNamara was her mother who gave herself over and over into death to protect her daughter.
Special Agent Sara Buchanan Isaac had been Jo's best friend in high school until Jo took Sara's statement too literally. Lucas Isaac is Sara's husband, and Joanne's children's father. Oopsies.
Qualla Boundary, Cherokee Reservation, North Carolina
The Qualla Boundary is where Joanne spent her high school years. Cherokee County Sheriff Lester Lee was the high school troublemaker, and it seems he had a crush on Joanne back in the day. Carrie Little Turtle is Lester's grandmother and was one of the three elders who gave Joanne her drum; she's married to an older Lester. Daniel Little Turtle is another grandson and very belligerent.
Ada Monroe adopted Aidan Monroe, Jo's surviving twin son, a very powerful boy oozing with contempt for his birth mother. Yep, he's his mother's son all right.
The Master is an evil godlike being whom Joanne has been battling, or rather, whose minions she's been battling for months now. Before Joanne, it was her mother. The Executioner is a product of the Nothing. His wights besiege the mountain.
The Lower World is "where the Native peoples of America were born".
The Cover
The cover is kinda painful. It's a beautiful background of purples and greens of the Carolina forests, but I'm exhausted looking at the tank-top-clad Jo in her jeans as she appears to hover in a reclined position over a tree trunk — with nothing supporting her back.
The title is a result of the mountain screaming for the Mountain Echoes the atrocities.
Related Posts