I received this book for free from the library in exchange for an honest review. This does not affect my opinion of the book or the content of my review.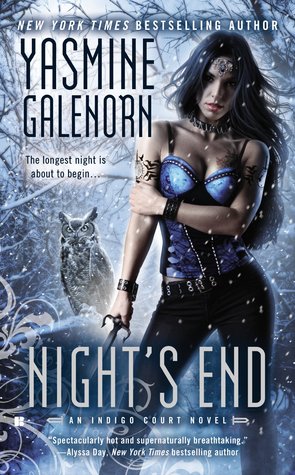 Night's End
by
urban fantasy
in
eBook
edition that was published by
Berkley
on July 1, 2014 and has 275 pages.
Explore it on
Goodreads
or
Amazon
.
Other books by this author which I have reviewed include
Hexed
,
Witchling
,
Changeling
,
Never After
,
Darkling
,
Demon Mistress
,
Dragon Wytch
,
Bone Magic
,
Night Huntress
,
Harvest Hunting
,
Blood Wyne
,
Courting Darkness
,
Shaded Vision
,
Shadow Rising
,
Haunted Moon
,
Night Myst
,
Night Veil
,
Night Seeker
,
Autumn Whispers
,
Night Vision
,
Priestess Dreaming
,
Panther Prowling
,
"Flight From Hell"
,
Flight From Death
,
Souljacker
Fifth in the Indigo Court urban fantasy series and revolving around Cicely, the Queen of Snow and Ice, and her family and friends who live in New Forest near Snoqualmie, Washington.
It's been a month since Night Vision, 4, and it's been two months since Cicely returned to Veil House at the start in Night Myst, 1.
My Take
Oh, brother, this is one of Galenorn's off days — she is such an uneven writer! I gagged my way through this juvenile writing, wondering why, and knowing it was only because I wanted to know if this series would end — please god.
Can you say melodramatic? The way Cicely whines on about getting lost within her wind powers, how tragic it would be, and she keeps stepping into it. Rhiannon reminds her that if she learned to use it, she could use it in greater safety. So, why hasn't she worked at this? Why aren't both girls out on the front lines using their tremendous powers to take out the bad guys?
She whines on about Myst, her past, her far past, the negatives and positives of her new powers. She just whines and whines and whines about everything. For the salacious aspect, she whines about how she needs Lannan, that he allows her to be vulnerable with Grieve. The sex thing feels shoved in…yeah, yeah, yeah, I didn't mean it that way!…as if Galenorn figured she needed sex in the book to get people to read it, so it gets dumped in. And just in case, she hints at this threesome possibility [not three at a time, but Cicely with Lannan and Cicely with Grieve] with Cicely whining about how she loves being with them both. Get off the pot, Galenorn! Either go for it or stop. It's just annoying.
Cicely does have a lot of learning experiences in this. She must become colder and more detached. She must accept the "growth spurts" as she becomes accustomed to the new powers her crown gives her. She must learn what it is to truly wield power, the horror of it.
In this story, as Cicely whines about her childhood, she talks about Veil House as if it was refuge, a place she couldn't wait to return to. So…why did it take so long for her to return once her stupid mother died?
There is more back history in this about Cherish, her life with Myst, and the first glimmerings of rebellion on her part. It also provides the detail about Cherish and Shy. How they met, some of their courtship, their escape, and most important, the manner in which they bound their souls.
One of the few real things in this story is Peyton's and Luna's reactions to Kaylin's invasion of their minds.
Galenorn goes on and on about how they have to get the policemen back into the police station. Why? What's so important about the police station? Wouldn't any secure building work? In fact, with all this magic around, why didn't the vampires and the fae put together wards and enchantments to protect people? To protect the town?
From Cicely's memories, it sounds like Myst was a psychopath. As for Violet, I can understand the need, the reason they need to merge, and it's both sad and wonderful. So the two of them and a select group of others go after Myst's great secret and figure she'll have traps up. Why does it never occur to any of them that Myst might have warnings set up as well?
There's an epilogue at the end which takes place 25 years after that last battle. Now, trust me on this, borrow it from the library. Don't waste any money. Unless you do read it and decide you like it. Each to her or his own taste…
The Story
It's a harsh thought with a brutal action to follow. Someone is spying on Cicely and her court and the shamans must torture every single person in the burrow to be sure they are true. It's a torture that will not be reserved for the fae alone.
The Characters
Cicely Waters has magic, a gift of wind control as well as the ability to shift into an owl through her connection with the Uwilahsidhe. Violet is one of Cicely's incarnations. Ulean is her Wind Elemental, bound to her by Grieve, who was the Prince of the Court of Rivers and Rushes — and is a Vampiric Fae of the Indigo Court. He's also Cicely's husband. Hunter is Cicely's grandfather and Wrath's father, a Uwilahsidhe. Krystal had been her waste of a mother. "Uncle" Brody had taught her to survive the streets. Andy Chase is a little boy who is the only survivor.
The Court of Snow and Ice
The court resides within the Eldburry Burrow. Check and Fearless are Cicely's personal guards; Olrick leads the first brigade. Druise is her lady's maid. Silverweb is the treasurer; Strict is Cicely's chief advisor. The shamans guard the magic of the court; Thorn is the Elder. Van is another of the shamans.
The Snow Hag is one of the Wilding Fae and has become a friend of Cicely's. Dorthea is a dead spirit, Luna's great-great-grandmother, who will aid them all with Luna's help, but she asks a steep price. Townspeople who come out to help include Trevor Grant.
The Court of Rivers and Rushes
This court resides within the Marburry Burrow. Rhiannon Roland, Cicely's cousin, the Amber to her Jet, is queen to Chatter's king — and Grieve's best friend and cousin. She has a Gift of Fire and is also half Cambyra Fae. Edge is Rhiannon's court advisor. Lanuile is the former queen and Rhiannon's and Grieve's aunt.
Their magic-born friends…
…are now living in Rhiannon's old home, Veil House. Her mother (and Cicely's aunt) was Heather Roland. Kaylin Chen shares his soul with a night-veil demon, and he's a dream walker with the skill of a martial arts sensei. Luna Saunders is a powerful Yummani bard who has taken over Wind Chimes, the magic shop Cicely had planned to open. Zoey is Luna's sister and a member of the Akazzani, a secret society. Peyton MoonRunner is half werepuma and half magic-born with a Gift for divination who wants to open a magical private investigation agency, Mystical Eye Investigations, that will operate from Veil House. Anadey was Peyton's traitorous mother. Rex MoonRunner was her Native American father and a werepuma who was killed in Night Vision. Ysandra Petros is a prime member of the Consortium, a Yummanii, and a powerful witch who has the Gift of sound, energy, and force.
The Vein Lords…
…are true vampires, and they are the true rulers of New Forest. Lannan Altos is the new NW Regent of the Vampire Nation, a perverse vampire who wallows in hedonism. He's Regina's brother and her lover and works as a professor at the New Forest Conservatory. Due to earlier events, Cicely must have sex with him on a regular basis. Regina Altos can appear and function better in society and is the emissary for the Crimson Queen. Crawl is the Blood Oracle, created by the Crimson Queen. He's lost all sense of any scrap of humanity and is the sire of Regina and Lannan. Dakota is the day-runner Lannan appoints. Mort is a vampire Lannan pulls in for the mission to Myst's life-giving secret.
Geoffrey was the previous regent until he betrayed his true colors. Leo Byrne was a day-runner for Geoffrey and Rhiannon's fiancé and betrayer.
The Indigo Court…
…is named for the color their skin becomes when Fae are turned into Vampires and become the Vampiric Fae. Myst is queen and mother of the Indigo Court, turned by Geoffrey centuries ago — and mother to an earlier incarnation of Cicely known as Cherish. The daughter who fell in love with the enemy, Shy. Shadow Hunters is another name for Vampiric Fae. Snow weavers are supernatural spiders.
The Uwilahsidhe are the Owl people of the Cambyra Fae. The Consortium is ruled by the Elder Council and appear to be the hidden rulers of the world. The Wilding Fae are independent, obligated to no one, feral. Everything with them is a bargain, carefully negotiated. The Yummanii are humans. Ice Elementals simply exist. They have no feeling either way about who they serve or if they serve. The Bat People are the children of the night-veil demons. A paralaxium is a creature from a plane of Ice and can kill with a touch.
The Cover and Title
The cover is blue lavenders — soft and peaceful with a snowy night in the forest, an owl perched on a fallen log, and a sexy Cicely in black jeans, deeper lavender bustier, a choker, and a jewel in the middle of her forehead.
The title is a foretelling, for it will be Night's End.
Related Posts