I received this book for free from the library in exchange for an honest review. This does not affect my opinion of the book or the content of my review.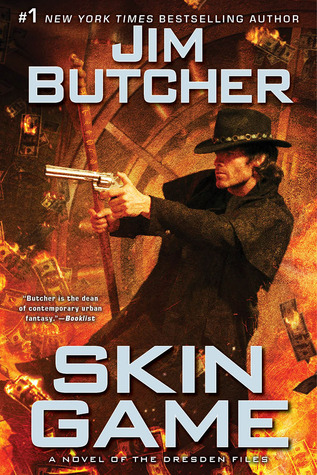 Skin Game
by
It is part of the
The Dresden Files #15
series and is a
urban fantasy
on May 27, 2014 and has 454 pages.
Explore it on
Goodreads
or
Amazon
.
Other books by this author which I have reviewed include
Mean Streets, Changes, Side Jobs, Ghost Story, Dark and Stormy Knights, Aftertaste, Hex Appeal, Welcome to the Jungle, Dangerous Women, Storm Front, Grave Peril, Summer Knight, Fool Moon, Cold Days, Blood Rites, Death Masks, Proven Guilty, White Night, Small Favor, Shadowed Souls
Fifteenth in The Dresden Files urban fantasy series based in Chicago and revolving around Harry Dresden, Winter Knight and private investigating wizard. It's been a year since events in Cold Days, 14. If you're interested, there is a chronological listing of the The Dresden Files books on my website.
My Take
It always scares me how easily and coldly Mab works her wiles around the promises she makes. I'd be terrified to make a deal with the fey until I'd had a team of vicious lawyers lookin' it over! And this jerking around she's done with Harry this time? Jesus. It's gotta be that evil Winter side that Mab enjoys so much.
And it doesn't stop with Mab's interference but continues on with her threats to Harry's family and friends.
In addition to Harry's usual worries and concerns, he's got to deal with the effect of the Winter mantle on him and the parasite growing in his head. The more he uses the powers of Winter, allows his negative emotions to rule, the closer he comes to becoming a Winter thug like Lloyd Slate.
It's curious to watch as Harry tries to restrain the murderous instincts of his teammates. I'd'a thought that criminals, smart criminals, would already have the idea that the less advertising they do of their presence in town, the longer they can operate without the attention of the law.
Whoa, very important theory Butters expounds upon. And it may well be the rescuing of Harry in the end, if he can avoid his usual heroic streak!
I am curious. If Nick has never betrayed allies before is that because he didn't leave them alive to tell?
This story is full of betrayals upon betrayals interspersed with great heroics from Harry, Butters, Karrin, Uriel, and Michael. It's about faith and trust. It's also one in which Harry starts to get to know his daughter.
The Story
The greatest betrayal by Mab, forcing Harry to work with Nicodemus. A favor for a favor. And it proves useful to have a long memory for detail and an ability to read between the lines.
It's robbery and will anger two powers while setting Harry up to fail in too many ways to count.
The Characters
Harry Dresden is still Mab's Winter Knight, a private investigator, a wizard, and a dad. Maggie is the daughter he had with Susan and whom he and friends saved in Changes, 12.
Karrin Murphy is not a cop anymore. And I'm curious as to how she's paying the bills these days. Mister was Harry's cat, and now he's living with Karrin. She still has the two swords of the Cross as well, one of which is Fidelacchius, the Sword of Faith. Sanya is the only Knight of the Sword these days. Waldo Butters is still moonlighting to fix Harry's wounds and has possession of Bob, the talking database of a skull. Andi is part of the Alphas, a werewolf pack headed up by Will and Georgia Borden, and she and Butters are together. Rawlins was Karrin's partner in Special Investigations.
The Carpenters
Molly Carpenter is the new Winter Lady, and she hasn't told the folks yet. Mouse is a Tibetan Guardian dog, and he's Maggie's now. Maggie is living with the Carpenters and under the protection of the Guardian angels. Michael Carpenter was a Knight of the Sword until events in Small Favor, 10. Charity is his wife and quite pleased that Michael is, or was, out of the smiting business. She's also changing her attitude toward Harry. Uriel is the archangel. The sword Michael has wielded in the past is Amoracchius. His children include Molly, Amanda, little Harry, and Hope the "Hobbit".
Mac owns McAnally's pub with the best home-brew. It's also a neutral spot for different factions to meet safely. Gentleman John Marcone is a Baron under the Unseelie Accords, and he owns the Capristi Building. He also had the castle for the Brighter Future Society built on the land once occupied by Harry's boardinghouse. Skaldi Skheldson is one of the Einherjaren, Viking warriors with centuries of experience.
Mab is the terrifying Queen of Air and Darkness. Kringle is his fae form while Donar Vadderung is the CEO of Monoc Securities. Harry suspects he's actually Odin.
The Knights of the Blackened Denarius
Nicodemus Archleone, the host for the fallen angel Anduriel, the Master of Shadows, from Death Masks, 5, is the Black Knight. Dierdre is his loving daughter, ick.
Brother Jordan had a tongue. Polonius Lartessa hosts Imariel; she's also Nicky's wife and a sorceress.
The crew
Hannah Ascher is a warlock who has partnered up with Ernest Armand Tinwhistle, a.k.a., Binder. Goodman Grey is a mega-shapeshifter. He also knew Harry's mother. Anna Valmont is excellent with security (see Death Masks). The Genoskwa is a mega-evil Big Foot.
Hades is the Lord of the Underworld and a collector. Cerberus, a.k.a., Spot, is his three-headed dog. Harvey Morrison is "an investment banker, financial advisor, and economics securities consultant".
Warlocks are rogue wizards, wanted by the Wardens. The Nevernever is an alternate plane of existence and contains Faerie and the Ways. The Fomor are bad guys, supernatural bad, who have been tearing up Chicago since Harry died. Harry likes to call this one type octokongs. Justin DuMorne was Harry's first teacher. Paranoid Gary the Paranetizen is all that his name says, paranoid and crazy but not wrong. Thorn manacles inhibit magical ability. Mordite will disintegrate anything it touches.
The Cover and Title
The cover is orange and black with Harry in his trademark trenchcoat and fedora, gun in hand, staff in the other, as he dashes sideways in front of a bank vault, money falling through the air. The title and author's name is in an embossed holographic silver.
My guess is that the title is from an 1971 western comedy called Skin Game as it involves conning people, and that's what Harry is doing left, right, and center.
Related Posts