I received this book for free from the library in exchange for an honest review. This does not affect my opinion of the book or the content of my review.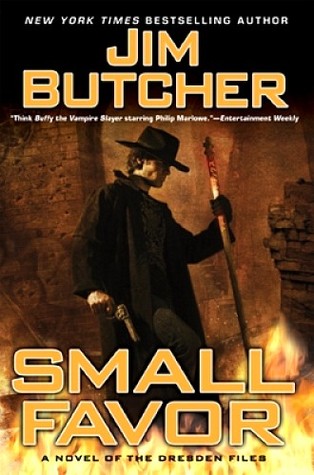 Small Favor
by
It is part of the
The Dresden Files #10
series and is a
urban fantasy
in
Hardcover
edition that was published by
ROC
on April 1, 2008 and has 420 pages.
Explore it on
Goodreads
or
Amazon
.
Other books by this author which I have reviewed include
Mean Streets
,
Changes
,
Side Jobs
,
Ghost Story
,
Dark and Stormy Knights
,
Aftertaste
,
Hex Appeal
,
Welcome to the Jungle
,
Dangerous Women
,
Storm Front
,
Grave Peril
,
Summer Knight
,
Fool Moon
,
Cold Days
,
Skin Game
,
Blood Rites
,
Death Masks
,
Proven Guilty
,
White Night
,
Shadowed Souls
Tenth in The Dresden Files urban fantasy series revolving around a supernatural detective with the powers of a wizard. If you're interested, there is a chronological listing of The Dresden Files books on my website.
My Take
It's one manipulation after another — and Butcher is rich in the details and the twisted thoughts in this twist on hardboiled noir. What has he been reading? And talk about manipulation! The way in which Harry redeems the pledge of Summer . . . quite clever, lol, and a classic fae move. Butcher keeps it light with humor and fantasy mixed in and more battles and chases than you can shake a stick at . . . not that Harry is reluctant with that stick of his!
What younger siblings wouldn't love this opportunity for revenge against an older sibling? Oh, yeah, it's Molly under siege — and for good reason, lol.
It's bad at SI. The politicos have cut their budget so bad that the cops at SI are pooling the coffee money for the day they absolutely have to hire Harry. Ooh, and Harry gets his comeuppance when Karrin reminds him of her lack of prospects and the hurt it's put on the whole SI department. And it's bad with the Little Folk — hey, you know it's bad when Toot turns down a doughnut!!
You'll crack up so hard when you read Harry's description of Thomas' Hummer: "took the monorail to the other side . . . ", "echoing clatter", and denigrates such luxuries as heated leather seats. C'mon, who wouldn't prefer a CD player and heated seats over armored sides and bulletproof glass?
Butcher has such a way with words, lol:

"The various beatings I'd received the night before had formed a corporation and were attempting a hostile takeover of my nervous system."
Harry requests the Archive as an Emissary and doesn't realize until too late and the most amazing reveal of power what the trap is. There are consequences to treating people like individual persons. The Knights complain about missing files . . . don't they know about the Archive? 'Cause it sure sounds like she's got it all neatly filed away when you listen to her tick off Tessa. I loved it.
"Tiny, but fierce."
It's the most amazing battle and Michael is euphoric — eleven coins have been recovered, for now. And it gives Harry his idea. One that will betray everything.
"He has a teddy Glock."
Butcher has so much fun with this series. It's terrifying, it's scary, and it's full of snark as Butcher pokes fun and takes the piss at just about everything.
The Story
A snowball fight goes awry when the supernatural attacks, and life descends quickly from there. You know how bad it is when Mab appoints Harry her Emissary. He must find and rescue Baron Marcone. And a gutted Gard insists that Harry call challenge. Just before the Denarians attack!
It's a multi-way siege with Denarians, the fae, and Torelli's goons coming after them. It's also the story in which Luccio comes on to Harry . . . va-va-va-voom!
The Characters
Harry Dresden is a wizard, a private investigator, a once-upon-a-time consultant to the Chicago PD, and a Warden based in Chicago. The multicolored, vintage Blue Beetle is Harry's go-to vehicle. Bob is a spirit entity who resides in a human skull and knows more about magic than most wizards combined. Thomas Raith is a White Court vampire, Harry's half-brother, and a very successful hairstylist, successful enough to afford that flashy Hummer. Justine is Thomas' lost lover. Mister is Harry's 30-lb. cat while Mouse is a Temple dog who adopted Harry. And he's damned handy to have around!
Molly Carpenter is Harry's apprentice, under a Doom of Damocles, with a strength for the finer aspects of sensitive magic including neuromancy, mind magic, whereas Harry is excellent at the psychic stresses of real combat. The rest of the Carpenter siblings include little Hope (whom Harry gravely thanks, lol), Daniel, and baby Harry. Charity is Michael's wife. Michael, of course, is one of the Knights of the Cross (Harry refers to him as the Fist of God) and carries Amoracchius. This is the story in which Michael gets so shot up that he has to retire. Sanya, an agnostic and descendant of Salahuddin, is the only other Knight of the Cross alive, and he carries Fidelacchius. He also carried a coin, Magog, until he renounced it.
Sergeant Karrin Murphy, one of Harry's best friends, still has her job at Special Investigations (SI), a division within the Chicago PD that deals with the weird. Now that John Stallings is in charge at SI, he's gotten a promotion to lieutenant. Rawlins is Murphy's partner. Jared Kincaid, a.k.a., the Hellhound, is half-fae, is the Archive's guardian and had a thing going with Murphy. The Archive is all the world's knowledge from the world's beginning to now houses in the body of a child. Harry calls her Ivy.
Toot-toot is one of the lesser fae whom Harry keeps sweet with weekly deals of pizza, hence their name for him: the Pizza Lord, a.k.a., the Za-Lord. After events in White Night, 9, many of the Little Folk have joined the Za-Lord's Guard.
The White Council of Wizards
The White Council is the ruling body of the supernatural world of humans. The Wardens are their policing agents, and Captain Anastasia Luccio is their commander; this is the story in which Harry and Luccio get together. Morgan is Luccio's second-in-command, and he hates Harry with a passion. Other Wardens include Chandler and Kostikos.
Gentleman Johnnie Marcone is the top gangster in Chicago, and he's signed the Unseelie Accords — call him Baron. It's a deal he made with Harry in White Night. Sigrun Gard, a.k.a., the Chooser of the Slain, is a supernatural and a security consultant from Monoc Securities hired by Marcone. Executive Priority is the new Velvet Room. Billie is one of the assistants. Hendricks, a.k.a., Cujo, is Marcone's bodyguard and chief enforcer. Helen Demeter, a.k.a., Helen Beckitt, is the manager and Marcone's lover. She's also the one who betrayed his safe house. Torelli is a bully boy beating his way into taking over Marcone's interests. Bart is cheap muscle for hire; he should really pay attention.
Faerie
Mab is the Queen of Air and Darkness, the queen of the Unseelie fae and Winter, and she's been after Harry for some time to become her new Winter Knight, a mortal champion with great power. It's that or fulfill the remaining two favors he owes. Grimalkin is her mouthpiece in this story. Lloyd Slate is still the Winter Knight, absolutely mad from the torture Mab has inflicted on him. Hobs are both Summer and Winter fae, although the hordes at the train station are beholden to Winter.
The Billy Goats Gruff may sound like a fairytale, but they're Summer's enforcers, and Titania hasn't gotten over events in Summer Knight, 4. Tiny is one of the bigger gruffs and learns respect for Murphy. The Eldest Gruff is a surprising size. Fix is the suddenly belligerent Summer Knight.
The Vampires
Vampires of the White Court feed during sex or any time they can induce desire. Vampires of the Red Court have gone to war against the White Council.
Knights of the Blackened Denarius, a.k.a., the Nickleheads
The Denarians are humans who choose to pick up one of Judas Iscariot's silver coins and take in the fallen angel housed in each coin, and they are in town and hunting. Long-lived with incredible power, they're a tremendous force to go up against. Nicodemus Archleone is their leader and Tessa's husband; Tessa, a.k.a., Polonius Lartessa; Imariel, Tessa's second; Dierdre is Nick and Tessa's daughter; Akariel; Rosanna enticed Sanya til he came to his senses; Anduriel; Spinyboy, a.k.a., Thorned Namshiel; and, Mantis Girl.
Carol is the customer service rep at the train station who's incredible under pressure. Joe is a janitor at the station whom Harry knows. Jake is the janitor at the hospital. He's also the Watchman of the archangels, Uriel.
MacAnnally's Pub is a bar that has been accorded neutral status where the supernatural gather. Mac runs the place and brews his own ale. The Paranet is a web-based network of contacts for middle-class practitioners, an early-warning system for weaker supernaturals that was put up by Harry and Elaine with weregild from events in White Night. The Nevernever is an alternate plane of existence and contains Faerie and the Ways. Myrk is matter from the Nevernever that covers up light. Soulfire is the opposite of Hellfire and is used to create matter.
The Cover & Title
The cover is a'glint in gold, gold foil that is — in the bricks, the door, and Harry's face as he stands in profile to us in his signature duster and fedora, staff in hand with its runes glowing. Or is it the flames at his feet casting that glow upward? Let's not forget that Harry is also holding a modern accoutrement to the arts, a pistol.
I suspect the title is all about a freshly made Chicago doughnut, Small Favors, that could save a life.
Related Posts