I received this book for free from the library in exchange for an honest review. This does not affect my opinion of the book or the content of my review.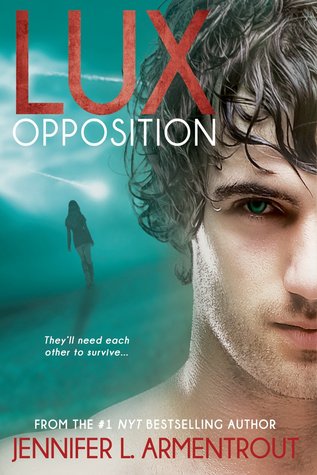 Opposition
by
romance
,
science fiction
that was published by
Entangled Teen
on August 5, 2014 and has 500 pages.
Explore it on
Goodreads
or
Amazon
.
Other books by this author which I have reviewed include
Obsidian, Onyx, Opal, Origin, White Hot Kiss, The Cage, "Ice Cream", Obsession, Stone Cold Touch
Fifth and last in the Lux science fiction romance series for young adults and revolving around Daemon Black and Katy Swartz, his family, and their friends.
Opposition picks up where Origin, 4, left off.
In 2014, Opposition was nominated for the Goodreads Choice Award for Young Adult Fantasy & Science Fiction.
My Take
Think Invasion of the Body Snatchers…eeeeek. Jesus, Armentrout had my heart in my throat as she kept throwing out all sorts of doom-and-gloom. I had no idea how she'd manage to pull off any kind of happily-ever-after, especially after "meeting" the Luxen. I mean, I knew there had to be an HEA, right? I certainly can better understand why Dr. Roth said they were the cause of the war between themselves and the Arum. What a nasty bunch of people!
It's an intriguing switch Armentrout introduces with Dee's reaction to the Luxen mind so different from Dawson's and Daemon's. A terrifying one that contributed to that heart-in-the-throat reaction. Another welcome switch was Luc's announcement that "most of the hybrids and older Origins" weren't thrilled with the Daedalus treatment. No kidding, and at least they could make up their own minds! For such a "smart" woman, Husher is really stupid.
"You're not their mother. You aren't anything but a monster to them."
I'm surprised that the newscaster doesn't make the obvious connection between the amateur video of a Luxen assimilating a man and political leaders.
The point-of-view switches between Katy and Daemon, and despite Armentrout heading each chapter with who is speaking, it's still somewhat confusing. The other negative, a slight one, is the number of clichés Armentrout employs. The positive is that she does twist 'em up.
The are some scenes with despised tropes that made my eyes roll around — not enough to get dizzy, fortunately. Three in particular are the ones in which Katy absolutely insists on heading out to the store and absolutely must join in the fight and save the child. Then there's the captive-versus-dissimulating-lover scene, another eye roll. Yes, there are more tropes, but I enjoyed those. So, sue me. I liked those because Katy was smart in them.
I did enjoy the confrontations between the general and Daemon. I'm not sure I trust that general.
Armentrout tortures us with that scene after Kat encounters the army of Luxen. I thought for sure this was the end for them. Then she sets up another end. Yep, I cried. Then, there's another ending…
While the overall story is intense, there is also a focus on Daemon and Katy making love — in fact, I feel as though the story was split in half. Half was the invasion and how the humans and our Luxen are dealing with it, and the other half is on how Daemon and Katy feel about each other. It is sweet, but it also got a bit tedious in how intensely passionate they got…again and again. No, it wasn't so much the, ahem, ins-and-outs, but of the emotions and the touching. So parents don't really need to worry about anything explicit.
The Story
The world is ending. The Luxen have invaded, beings of light dropping from the skies, assimilating, killing critical people within the human population. And Daemon, Dawson, and Dee have disappeared to be with their fellow Luxen.
The Characters
Katy Swartz, a book blogger and reviewer, is of high-school age, and yet she has been through so much: a government experiment, torture, death and resurrection. She's also married. To Daemon Black, a Luxen, whose race is the focus of the series.
Dawson and Dee are his siblings; they're triplets. Dawson has bonded with the human Beth as Daemon has to Katy.
Origin are…
…half-Luxen and half-human hybrid, the result of government experimentation and abuse. They are incredibly powerful and can read minds. Luc is Origin, and as young as he is, he's very powerful and is owed a LOT of favors! Nadia is a human he loves. Archer is also Origin and was undercover as one of Katy and Daemon's guards at the government compound. He's also in love with Dee. Micah was the little Origin boy who helped Daemon and Katy escape Daedalus (see Origin).
Malmstrom Air Force Base
General Jonathan Eaton is the "highest-ranking officer in the United States Air Force". Doctor Ramsey treats Beth.
The Arum are…
…a race created to control the Luxen, by eating their energy. Where the Luxen are born as triplets, Arum are quadruplets: one female and three males. Hunter is an ostracized Arum who owes Lucas a favor. Serena is a human woman who is in love with Hunter and he with her. Lore is the brother who stands with Hunter while Sin is the brother who has remained with the Arum. Lotho is their totally crazy leader.
The invaders are…
…arrogant and cold alien beings composed of light and capable of great feats and of great strength. Rolland Slone is the name of the mayor of Coeur d'Alene whom the Luxen leader assimilates. Sadi is a sadist, and Origin. She's been on earth awhile and was a Luxen spy. Quincy is one who is too taken by Katy.
Ethan Smith is the earth colony's Luxen Elder — and hiding the rest of his identity. Project Eagle is his baby.
Hybrids can't get sick and are fast and powerful; if they die, or the Luxen who saved them dies, both will die.
Daedalus is a Department of Defense government project that forced male Luxen to mate with mutated hybrid-humans to create more powerful Luxen-human hybrids. It was run by a single-minded, brutal, sadist: Nancy Husher. Dr. Roth was one of their medics.
PEP weapons are pulse energy projectiles, and the only known weapon humans have to kill Luxen, hybrids, or Origins. ARP is the Alien Registration Program.
The Cover and Title
The cover is turquoise with streaks of light shooting down from the sky. It's half of Daemon's face staring out at us, his dark hair mussed, a stubbled jaw, and that green eye watching. Katy is in the background, walking.
The title is the focus of the story, the Opposition that rages against the invasion.
Related Posts