I received this book for free from the library in exchange for an honest review. This does not affect my opinion of the book or the content of my review.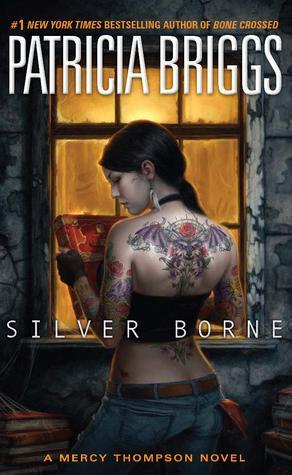 Silver Borne
by
It is part of the , series and is a
urban fantasy
that was published by
Ace Books
on March 30, 2010 and has 342 pages.
Explore it on
Goodreads
or
Amazon
.
Other books by this author which I have reviewed include
When Demons Walk, Steal the Dragon, Home Improvement: Undead Edition, Fair Game, Frost Burned, Night Broken, Shifting Shadows, Dead Heat, Bone Crossed, River Marked, Hunting Ground, Iron Kissed, Cry Wolf, Fire Touched, Silence Fallen
Fifth in the Mercy Thompson urban fantasy series revolving around a VW mechanic who happens to shift into a coyote. If you're interested, there is a chronological listing of the Mercy Thompson and Alpha & Omega books on my website.
In 2010, Silver Borne was nominated for the Goodreads Choice for Paranormal Fantasy.
My Take
Briggs doesn't disappoint with Silver Borne. It's action galore, underhanded plots, surprising betrayals, and loyalty, all nestled within a warm cast of characters and an intriguing heroine with an unexpected career choice. You don't often find a girl mechanic, let alone one who is the primary protagonist. Makes for a nice twist in an urban fantasy.
Mercy is a strong, independent woman who has her weaknesses, and I adore how Briggs keeps Mercy feisty despite her vulnerabilities, how Mercy works through it. She's secure enough to admit to her faults, which to my mind, only makes her stronger.
Mercy has realized the truth behind Samuel's staying with her, and it has her concerned. I suspect Bran is also worried. Another troubling development (or should I say undevelopment?) is the mate bond she has with Adam as it flickers in and out. It's a connection she's gotten used to and wishes would be consistent. Complicating matters are Mercy becoming pack. It's unheard of and wolves are nothing if not traditionalists. It was bad enough that she and Adam became mates, but pack as well? It does not bode well.
More complications stem from Mercy's rape in Iron Kissed, 3, with Adam being oh-so-gentle, so respective of Mercy's personal space. It's overhearing a phone call that creates even more doubt and worry for Mercy.
Briggs is providing more information about Adam's ex-wife, Adam's memories of his past interactions with Mercy, of her kindnesses to an enemy, depressing news about old werewolves, and Ari's back history. There's the Sandoval pride when Gabriel insists that his sisters will clean for Mercy in exchange for using the Bug.
I can't believe the gall of that TV crew. They pull a gun on the Sandoval children and then expect everyone at the garage to be okay with that??
And, yes, it gets worse. Samuel is suicidal, and his wolf is terrified.
And all of these complications make for a fascinating story. Authors do amaze me — yes, even the bad ones, as it does take imagination and perseverance to produce a book.
The Story
It's a clever cheat, bribing Jesse to let Mercy know ahead of time what her father's date plans are for her. And they're having fun on their date, until Mercy is overwhelmed with an urge to recklessness, a rash action that could kill.
Worse? Samuel is suicidal, and his wolf doesn't want to die. By Samuel's hand or the Marrok's. The only way Wolf can stay alive is by refusing to allow Samuel to take control of their body. And if Wolf stays in control, his lupine nature will take over.
Then it gets worse, a bounty hunter has a warrant for a rogue wolf, and someone kidnaps someone dear to Mercy.
The Characters
Mercy Thompson is a walker who shifts into a coyote, an ability that also makes magic erratic around her. She's half Blackfoot, and to earn a living, she owns a garage where she works on Volkswagens. Medea is Mercy's Manx cat. Dr. Samuel Cornick is still Mercy's roommate, a lone wolf, an ER doctor, and Bran's son. He longs for children, a family; it's why he deceived Mercy so long ago.
Adam Hauptman is the Alpha of the Columbia Basin Pack and technically mated to Mercy. He's also the CEO of a security contracting firm for government agencies. Jesse is Adam's daughter, and she's sweet on Gabriel. Darryl is Adam's second; Auriele is his mate. Warren is his third. A controversial position for him within the pack as he's gay, and many of the wolves want him gone. He and Peter, a submissive wolf, have been alive since the 1800s. Kyle is Warren's boyfriend, a ruthless divorce lawyer, and Warren investigates for him. The foul-mouthed Ben has been exiled to America after a series of, um, incidents in England. Paul, Henry, and George are more wolves in the pack. Mary Jo is a fireman and a trained EMT, which makes her the pack medic. So she has no excuse for not knowing better.
Gabriel Sandoval is Mercy's seventeen-year-old office manager. Sylvia, a police dispatcher, is his mother with a Buick that should be retired. His sisters include Martina ("Tina"), Rosalinda, Sofia, Sissy, and Maia.
Kennewick PD
Tony "Monty" Montenegro is an undercover policeman secretly in love with Sylvia. Holbrook and Green are officers. Judge Fisk is supposedly the one who signed the warrant. Jack is the policeman who "saved" Samuel.
The Fae
Zee Adelbertsmiter, the Dark Smith of Drontheim, is Mercy's old mentor and worried about her since events in Iron Kissed, 3. He's fae, a metalworking gremlin, and he sold Mercy the garage when he was forced to come out to the public. Tad is Zee's son and half-fae, who is going to college on a full scholarship. Hey, fae are a minority. Phineas Brewster owns a used bookstore and had loaned Mercy a book on the fae back in Blood Bound, 2. Phin's grandmother is Alicia Brewster, and she smells like Gray Lord kind of fae. The Gray Lords rule the fae. Cross them at your peril. Ariana (Shifting Shadows: "Silver", 0.0001) has some iron-kissed fae in her background.
Bran Cornick is the Marrok, the "most überwerewolf of them all". When Mercy had lived with the Marrok's pack, Bryan had been her foster father. He committed suicide by walking into the river when his mate, Evelyn, died. Charles is Bran's other son, his Enforcer, and he's mated to Anna, an omega wolf.
Kelly Heart is one of those TV bounty hunters. Tanya is one of his assistants. Daphne Rondo is the producer and the one who produced the warrant for Heart to pursue.
Jody is the nurse at the hospital. Dr. Rex Fournier treats Adam. David Christiansen is a friend of Adam's from their military days. He was changed when Adam was, and he is now a mercenary whose troop specializes in hostage rescue. Because of one spectacular rescue, the Marrok chose David to be the first werewolf to reveal himself (Wolfsbane and Mistletoe: "Star of David").
Thralls are slaves, and their keeping has been forbidden by the Gray Lords. There are three types of witches: Wiccan is a religion and some have a spark of power; white witches are those who have chosen to do no harm and aren't very powerful; and, black witches who are very powerful because witch magic gets its power from death, pain, and sacrifice. An Elphame is an elf home.
The Cover and Title
The cover is dark with Mercy in front of a gilded window, standing with her back to us, her head in profile as she looks down at a pile of books. If it weren't for those piles of books on either side of her, I'd think she was outside as witnessed by the peeling paint around the window frame and the boards on either side of the window. Mercy herself is as sexy as ever in her hip hugger jeans, a wide belt through its loops, an oily red rag tucked into a back pocket. She's wearing her signature feather earrings, a black halter top which frames the elaborate tattoo on her back and those on her arms, and fingerless black gloves which grasp an elaborately detailed book with brass clasps, the Magic Made, that she must keep safe.
The title reflects a treasure desired by the fae, the Silver Borne.
Related Posts