I received this book for free from the library in exchange for an honest review. This does not affect my opinion of the book or the content of my review.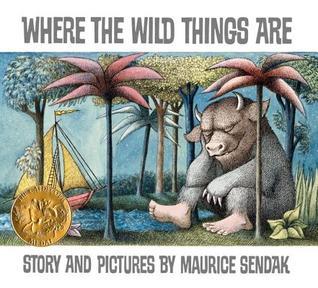 Where the Wild Things Are
by
fantasy
in
Hardcover
edition that was published by
Red Fox
on 2000 and has 27 pages.
Explore it on
Goodreads
or
Amazon
.
Other books by this author which I have reviewed include
Chicken Soup with Rice: A Book of Months
,
In the Night Kitchen
,
Bumble-Ardy
A children's fantasy book that won the Caldecott Medal in 1964 and entered the Indies Choice Book Award for Picture Book Hall of Fame in 2009.
My Take
Oooh, I want the forest in my bedroom! Hmmm, actually, that could be fun for my kittens. They'd love being able to run around the ceiling, lol.
This is the first Maurice Sendak I've ever read, and it must be the pictures that won the awards, as the story is pretty obtuse for little kids. Then again, it did end up feeling like a dream sequence, as if Max dreamt his way to a different world where he got to rule and tell everyone what to do.
Sendak does leave it wide open to interpretation with no real conclusion other than "there's no place like home". I suspect it could be a useful book for parents to talk about behavior, but there's no real lesson in here. It will require a lot of thinking on a parent's part to discuss what their child thinks it means.
I've started writing a children's book and have been curious about language, word choices, text length, and the images in a variety of children's books. The emphasis in this one is on the images with extremely few words.
The Story
It's a naughty Max who gets sent to bed without his supper — a "Wild Thing" his mother calls him. And that's just where Max goes: to find more of the Wild Things so he can be king.
The Characters
Max is a naughty little boy who pushes his mother too far. The Wild Things are horrible, horrible monsters with claws and fangs and look quite troll-like.
The Cover and Title
The cover has a surreal feel with its soft colors and very tall tree trunks with their toppings of leaves. A sailboat is moored on the opposite shore while the "Wild Thing" appears to be snoozing as he sits under those oddly leaved trees.
The title is all about Max and his journey to Where the Wild Things Are.
Related Posts