I received this book for free from the library in exchange for an honest review. This does not affect my opinion of the book or the content of my review.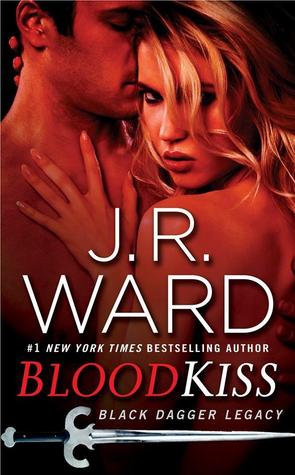 Blood Kiss
by
paranormal romance
that was published by
Signet
on December 1, 2015 and has 397 pages.
Explore it on
Goodreads
or
Amazon
.
Other books by this author which I have reviewed include
Dark Lover, Lover Eternal, Lover Awakened, Covet, Crave, Lover Revealed, Lover Unbound, Lover Enshrined, Lover Avenged, Lover Mine, Lover Unleashed, Envy, An Irresistible Bachelor, His Comfort and Joy, Lover Reborn, Rapture, Lover at Last, Possession, The King, The Shadows, The Bourbon Kings, The Beast, Blood Vow, The Chosen
First in the Black Dagger Legacy series, a spin-off from the Black Dagger Brotherhood paranormal romance series and revolving around the younger generation of vampires who will train under the Brothers. The couple focus is on Paradise and Craeg.
My Take
This was an excellent blend of moving from the Brothers to adding in the next group of characters. Ward introduces us to the new cast being trained by the old, and she balances it beautifully so you're not even aware that we're in a new series. It'll be interesting to see how Ward blends the next in the series.
There are a number of conflicts in the story with the primary two being Paradise's experiences in the training room. Having been cosseted for so long, she's learning what she's capable of as well as what she really wants in her life. None of which would be acceptable to the glymera. Or her father! I do like Paradise's character. She's independent and wants to break out of her rut, and she also acknowledges those moments when she would like to lapse back into it. To let a male do the heavy lifting.
Craeg simply wants to train. He has no time for females. And his intellectual goal is failing, lol. Be warned, Craeg has all the involuntary responses of any normal young man with a dick that won't quit. Poor guy.
"— and there's some porn I'm going to watch. Which is another, more fun version of solitaire."
For as surly as Craeg is, he's such a romantic. When he gets serious, he becomes such a lover: "Every day, after we'd hang up the phone, I would sleep with the fucking thing on my chest. Like maybe part of your voice, part of you was still in it." How can you not fall in love with him?
"I know damn well that the need to diminish others when one is threatened is the mark of a coward, not a hero."
It's a personal crisis between Marissa and Butch that leads to both learning about themselves and each other. We learn that all sorts of cages can exist: the social ones of the glymera, the desire for family approval, and the purity pedestal upon which Butch has placed his mate. It's Mary who forces Marissa to understand that PTSD can crop up anywhere and isn't limited to war. She also insists that it will be easier for Marissa to set goals for herself. To identify her issues and then plan to tackle them. Yep, hosting that Twelfth Month Festival Ball is definitely a goal, nasty, but a tricky one. I certainly hope Ward plans to give us the feedback on how it works out for her in the next story!
"She wanted to say … [I love you] … back to him, but somehow they didn't go far enough.

So she said the one thing that would mean even more to him. 'Oh honey…go, Sox.'

Yup, I love you could be said in many different combinations…"
I loved the girls having a girls' night and how out of sorts it made the boys, ROFL.
It's funny that Marissa thinks the people and their extreme actions in the sex club seem so normal, so nice. Butch is having other ideas. Oh, not about sex. He's always, ahem, up for that. No, he's thinking of all the ways the vampires need to re-think policing.
I am surprised that Ward didn't have Paradise think about the class differences between herself and Craeg when he reveals how much he hates the glymera. Yeah, I realize it would be trope-ish, but it would also be more realistic.
Speaking of tropes, Ward does use the I'm-not-good-enough trope, but manages to give it a nice twist with Craeg struggling between lust, desire, and respect.
Oh man, LMAO, it's one of the many things I adore about Ward's vampires. How supportive and caring they are. There's one scene in which Butch is wildly pantomiming hugging, and I couldn't help but laugh.
It's a story of characters who learn about themselves and must find the courage to communicate with one another.
The Story
As part of his new policies, Wrath has opened up the opportunities to apply to the Brotherhood and both civilians and females can apply. A chance Paradise, daughter of Abalone, can't resist. Anything to break out of the narrow role into which her aristocratic upbringing has jammed her.
It's also a chance for a working-class male, Craeg, to train. To learn how to fight and get revenge for his family.
The Characters
Paradise hates the restrictive cage placed around her simply because she s the blooded daughter of Abalone, of the Founding families. She has already taken her first step out of that cage; her second is applying to the training program with the Brothers. Abalone is the First Advisor to the king. Fedricah is their butler; Vuchie is a maid.
Craeg is a civilian, not an aristocrat, taking advantage of the king inviting anyone to apply for training with the Brotherhood. Brahl, a floor layer, was his father.
The rest of the applicants include…
…the spiky haired, tattooed, and pierced Axewelle "Axe" with some very kinky interests (his father was a brilliant carpenter); Princeps Peyton, who is Paradise's best friend, is a drug-using playboy; Anslam is a distant cousin and as much of a player as Peyton; Novo is the only other female applicant; and, Boone is the class hand popper.
Allishon is Peyton's cousin.
The Black Dagger Brotherhood is…
…composed of a small group of handsome, extremely well-developed, black leather-wearing vampire aristocrats lethal with fighting skills. Beth is mated to Wrath, son of Wrath, sire of Wrath, King of All Vampires (Dark Lover, 1). Marissa is mated to Butch "Dhestroyer" O'Neal, a former cop with an unexpected ancestor (Lover Revealed, 4). Mary is mated to Rhage (Lover Eternal, 2). John Matthew is a mute soldier mated to Xhex, Trez's security chief (their story is in Lover Mine, 8). Doc Jane is mated to Vishous (Lover Unbound, 5). Dr. Manny Manello is a human mated to Payne (Lover Unleashed, 9). Bella is mated to Zsadist (Lover Awakened, 3), and they have a little girl, Nalla. Autumn (mated to Tohrment in Lover Reborn, 10), Cormia (mated to Phury in Lover Enshrined, 6), and Layla all get a mention.
Lassiter is an angel with a filthy mind and a caring heart. Trez is a Shadow (The Shadows, 13). Fritz is the primary doggen, the butler, in the king's household.
Safe House was…
…started by Marissa as a haven for abused female vampires and their children. She's the executive director. Rhys is an intake supervisor. Doc Jane and Ehlena (mated to Rehvenge in Lover Avenged, 7) lend their aid.
Dr. Havers, the race's primary healer, is Marissa's brother who threw her out of the house just before dawn. Cannest is his head nurse.
A hellren is the male half of a married couple; a shellan is the female. Glymera are the nobles of the vampire court with their strict rules and snobbish attitudes. The Scribe Virgin is similar to a god for the vampires; the Chosen are like her priestesses, and they feed the Brotherhood. Doggen are lower-class vampires, the servants to the glymera. Mahmen means mother.
The Cover and Title
The cover is a metallic red of the naked torsos of Craeg and Paradise, with Paradise looking at us over her shoulder.
The title is waaay accurate, for Paradise and Craeg experience the forbidden, a Blood Kiss that cannot, must not, go anywhere.
Related Posts