I received this book for free from the library in exchange for an honest review. This does not affect my opinion of the book or the content of my review.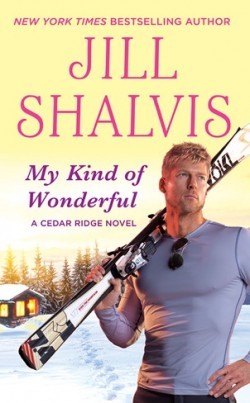 My Kind of Wonderful
by
contemporary romance
in
Paperback
edition that was published by
Grand Central Publishing
on December 22, 2015 and has 368 pages.
Explore it on
Goodreads
or
Amazon
.
Other books by this author which I have reviewed include
Instant Attraction
,
Instant Gratification
,
Instant Temptation
,
The Night Before Christmas
,
"Under the Mistletoe"
,
Animal Magnetism
,
It Had to Be You
,
Simply Irresistible
,
The Sweetest Thing
,
Animal Attraction
,
Rumor Has It
,
Rescue My Heart
,
It's in His Kiss
,
Head Over Heels
,
Lucky in Love
,
He's So Fine
,
At Last
,
One in a Million
,
Forever and a Day
,
Second Chance Summer
,
"Wrapped in You"
,
Get A Clue
,
The Trouble with Mistletoe
,
Chasing Christmas Eve
,
"One Snowy Night"
Second in the Cedar Ridge romance series and revolving around the combined Kincaid family. The couple focus is on Bailey Moore and Hudson Kincaid.
My Take
Shalvis keeps pounding it in about the big fight between Hud and Jacob, and it drove me crazy as she kept pulling out the details. It feels like it takes forever until we finally learn why Hud feels so guilty, but it's just under a third of the way in. And I do not get why Jacob doesn't understand that it is different now. Er, then.
There certainly are some interesting ski patrol stories, like the pantsless girl they have to rescue. That doesn't take into account the stupid tricks the people on his police beat get up to.
I do adore the interaction amongst the siblings…and that Penny…*shakes her head, laughing*. Those women have the boys all whipped. Then there's the bet between the boys, and some of those underwear choices are pretty, um, interesting.
I do like Hud, but he drives me nuts with his guilt. One I don't think he deserves. And why should it preclude him having any fun, a relationship? He does suffer, however, from foot-in-mouth disease. Another trope. As for Carrie, I don't know. She keeps slipping in and out of her dementia that it's hard to know when she's in it or only partially in.
Okay, okay, I know it's a trope — and a pretty clichéd one at that — but I do enjoy it when the shoe is on the other foot, and it's the guy who wants more than a one-night stand. Of course, Bailey does bug me with her want-to/don't-want-to attitude. Annnd, it is cute how it's always "just one more night". Of course, the rest of the Kincaids are all pulling for Bailey.
I do adore Bailey. She is so determined to live life as fully as possible. It's a celebration of having a life.
I absolutely adore the sound of that mural: 3D figures that move that reflect each member of the family in the perfect pose for that person.
The Story
Bailey Moore has an agenda: skiing in the Rockies, exploring castles in Europe, ballroom dancing in Argentina. Now that she has a second lease on life, she's determined not to miss a thing. What she doesn't realize is that item #1 comes with a six-foot-one ski god hot enough to melt a polar ice cap. She doesn't want to miss out on him either, but Hudson Kincaid isn't the type of guy to love and let go. And as gorgeous as Cedar Ridge is, she's not planning to stick around.
As head of ski patrol at his family's resort, Hud thinks he's seen it all. But never has he run into someone like Bailey. She might look delicate, but her attitude is all firecracker. And her infectious joy touches something deep within him that he's been missing far too long. Now he'll just have to convince Bailey to take a chance on her biggest adventure yet…something rare and all kinds of wonderful.
The Characters
Bailey Moore is making her list and checking it twice on that reverse-bucket list of hers. She's also a graphic designer about to paint her first gigantic mural. Her mother is a nurse who also works as the building super for an apartment building. Aaron is the friend, then boyfriend, now friend again, who stood by her through it all. Scott is a client and Aaron's brother.
Hudson Kincaid is head of ski patrol at Cedar Ridge; he also works ten shifts a month as a cop.
Cedar Ridge is…
…a family-run ski resort with a huge balloon payment coming due. Gray is the oldest and head of their board. He's married to Penny, and their sexual proclivities have the rest of the siblings groaning. Aidan is another son; Lily Danville is his fiancée (Second Chance Summer, 1). Their mother is Char, the first wife. Marcus is the equipment manager and Char's boyfriend. Kenna had been a professional snowboarder who earned a LOT of money. She's a half-sister who wants to contribute, even though she mostly sits around playing Candy Crush since the incident. The missing Jacob is Hud's twin brother, and their mother is Carrie, a patient suffering from dementia who's in care; she also leads the other patients in wheelchair exercises. Richard is their two-, no, three-timing father who mortgaged the ski resort to the hilt and beyond.
Jenny is the nurse who works with Hud's mother. Terrance (who doesn't wear pants) is another of the patients.
Mitch is another ski patroller, a friend of the Kincaids, and a firefighter in the off-season. Sydney is the blonde at the checkout. Sean is an injured snowboarder. Emma is the overenergetic cutie pie who challenges Hud.
Max is an old friend of Hud's helping him keep tabs on Jacob. Maggie and Quinn, a chef at the resort, are old girlfriends who walked away from Hud. Donna is the girl with whom Aaron cheated. Stevie was a little boy in Hud and Jacob's childhood who had a lasting influence on Hud.
The Cover and Title
The cover is a snow scene with a lit-up cabin in the background, footsteps leading back to it against a backdrop of evergreen trees with a pale yellow sky. It's obvious that Hudson — wearing a gray micro shirt, sunglasses hanging from the crewneck, and carrying skis over his shoulder — just came from it, as evidenced by the tracks behind him.
The title is Hudson's idea of My Kind of Wonderful, and he's determined that Bailey will see it as well.
Related Posts