I received this book for free from the library in exchange for an honest review. This does not affect my opinion of the book or the content of my review.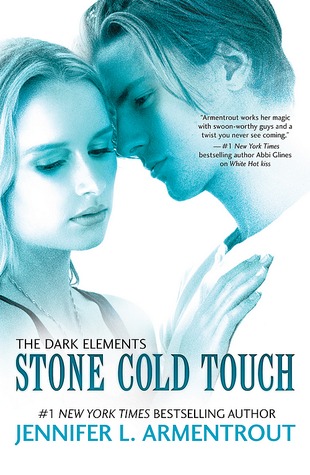 Stone Cold Touch
by
urban fantasy
in
eBook
edition that was published by
Harlequin Teen
on October 21, 2014 and has 464 pages.
Explore it on
Goodreads
or
Amazon
.
Other books by this author which I have reviewed include
Obsidian
,
Onyx
,
Opal
,
Origin
,
White Hot Kiss
,
Opposition
,
The Cage
,
"Ice Cream"
,
Obsession
Second in The Dark Elements urban fantasy series for young adults that is set in Washington D.C. The focus is on Layla, Zayne, and Roth.
In 2014, Stone Cold Touch was nominated for the Romantic Times Reviewers' Choice Award for Young Adult/Middle Protagonist.
My Take
Hunting down the Lilin is the lesser conflict in this with the confusion and pull Layla feels over Zayne and Roth the major conflict. It's Roth's crushing news that devastates Layla, which makes it all the more confusing [for the amazingly clueless Layla] when he needles Zayne — yep, it's the self-sacrificing trope.
It's an interesting dichotomy between Abbott of yesterday and of today, as well as that amongst the Wardens in Stone Cold Touch and raises questions for me. I would like to know why Abbott did keep Layla alive. I'd also like to know the reasons for those differing Warden choices at the end. Why is Abbott so nasty and vicious when others aren't? I swear, if one of the Wardens got a hangnail, Abbott would blame it on Layla. Is it strictly because Zayne loves Layla or is there something underlying this?
Layla has made promises to Zayne, she's lied to him in the past, she knows she's attracted to Roth which angers Zayne, and yet she makes these annoying choices. Why does she put her relationship with Zayne, whom she claims to want, in jeopardy? Of course, Roth was damned annoying as well the way he was pushing at Zayne ALL. The. Time. To be honest, this conflict feels so contrived.
I do like that Roth trusts Layla to take care of herself. Wrongly, as Layla continues to make stupid choices.
Cayman has an interesting point about the humans who make it down to the demon bar about their being sinners. He reckons demons do a service by getting them out of the gene pool.
We finally get a bit of history on how the Wardens found Layla.
Hmmm, Layla is somewhat demonic. Look at how she's affecting Danika's outlook about action in the field.
The Story
Now that Layla knows that most demons are harmless, she's stopped tagging them for the Wardens. Of course, when she loses her ability to see auras, souls, she can't do it anyway. And Layla worries that this shift in what the Wardens sense about her, may mean a change for the worse.
It doesn't help when the Wardens learn a Lilin is on the loose. It will force an uneasy alliance between the demons and Wardens with all the evidence pointing to her.
The Characters
Layla Shaw is a seventeen-year-old high schooler who is half-demon and half-Warden and struggles constantly with the need to drink down souls. Bambi is the demonic snake tattoo, the familiar, Roth pushed onto her. Mr. Snotty was the teddy bear Zayne had given her when she first arrived. Stacey and Sam are her best friends.
Layla has been in love with Zayne, a Warden, for the longest time. Roth calls him "Stony".
Roth, a.k.a., Astaroth, is a Crown Prince of Hell and had sacrificed himself in White Hot Kiss, 1. Cayman is his wingman, an infernal ruler as a sort of middle management demon who works as a bartender. Bluebelle and Flower are Roth's hellhounds; Nitro, Fury, and Thor are his demon kitten tattoos.
Wardens are…
…gargoyles who can look human and were created by the Alphas to battle demons and Lilin. Abbott is their leader, Zayne's father, and he has been a father figure to Layla whose real dad is Elijah, another Warden, who kept trying to kill Layla. Petr, another Warden, had been her half-brother. Well, until he died in White Hot Kiss. Morris is the clan chauffeur and handyman who treats Layla nicely; Nicolai; and, Geoff is the resident techie who's into gadgets.
Some of the Wardens in D.C. are visiting from the New York clan. Jasmine (a healer) is married to Dez; they have two-year-old twins, Drake and Izzy. Danika is her younger sister whom Zayne is supposed to marry. Tomas, the one who won't listen; Maddox; and, Donn are more of the New York Wardens.
School
Mrs. Cleo is the biology teacher; the hot and young Mr. Tucker is her substitute. Mr. Blunt is the principal. Coach Dinkerton is hopeless with the football team. Gerald Young is a janitor and a witch with information. Fellow students include Dean McDaniel (his mom is worried), Keith, Eva Hasher is one of the mean girls, and Gareth is Eva's on-again, off-again boyfriend.
The Lilin are demons, Lilith's first and most powerful children, who steal souls with a single touch, turning them into wraiths that will linger on Earth, stuck, with an increasing hatred for humans. Lilith is also Layla's mother. Seems witches keep under the radar as they have some demonic blood, and the Wardens would kill them if they found them. The crone has good, if obtuse, information for Layla and Roth. Paison is the demon from White Hot Kiss who loved Lilith and wanted her free.
Poser demons have a bad habit of biting people; Fiends like to mess with things; Hellions; Nightcrawlers carry a venom they spit which paralyzes their victims; Rack; and, Terriers are a cross between an ostrich and a raptor. Ricky is obsessed with Angela who wants him to be financially stable. Sister and Brother are a succubus and incubus seducing Layla. Roth calls 'em Sucky and Inky.
Alphas are mean-ass angels who will wipe out the Wardens if they don't think the Wardens are doing their job. Khaki Guy is one of the really nasty Church of God's Children fanatics. Vanessa Owens was the first human whose soul Layla fed on.
The Cover and Title
The cover is pure in its white background with its turquoise shading, creating Layla and Zayne in a touching embrace, Layla looking away, her hands on his chest while Zayne gazes at her with love, his forehead touching her.
I think the title is about Zayne and what the Warden clan does to Layla, for it's a Stone Cold Touch that destroys her world.
Related Posts