I received this book for free from the library in exchange for an honest review. This does not affect my opinion of the book or the content of my review.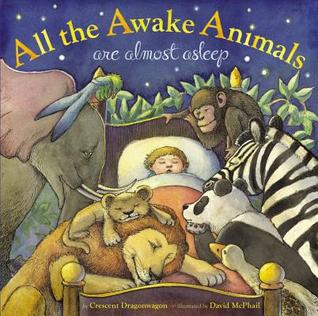 All the Awake Animals are Almost Asleep
by
picture book
in
Hardcover
edition that was published by
Little Brown Books for Young Readers
on October 2, 2012 and has 40 pages.
Explore it on
Goodreads
or
Amazon
.
Illustrator:
David McPhail
A bedtime picture book story that is introduced by antonyms and slides into rhythm.
My Take
McPhail's watercolor illustrations are warmly detailed and fill each page, as Mom lulls her son to sleep with unique tales of different animals — many of them mother and child — in this lyrical animal ABC book.
It's sweet as Dragonwagon includes a brief mention of each animal's habitat and appearance in a soothing sleepytime rhythm of alliteration, a useful literary device parents can play with as they read with their children.
I don't know how sleepy your kids will be at the end of the story, but zebra and lion sure crashed, lol.
I did empathize with Otter wrapped in his "O", *grin*
Hmmm, here's a test: find an animal that begins with "x".
The Story
My little one, lay down your head. It's time to doze, it's time for bed.
You tell me, "I'm not sleepy now."
"Just try," I say.
The Characters
A mother settling her son for sleep.
The Cover and Title
The cover is so cuddly in its soft blues, browns, and oranges with the child asleep in his bed, his blond head lying on his flannel-covered pillow and a night sky with its fuzzy stars in the background, plants sprouting up behind the headboard. There's a parrot, an elephant, a lioness and her cub, a panda, a goose, a zebra, and a monkey crashed out with him too. The title archs across the top with the initial cap letters in orange and the lowercase in yellow and the last half of the title in white script. The author's and illustrator's names are teeny tiny at the bottom in a golden yellow.
Dragonwagon does describe animals who slumber in the day, so Mom is truthful about how All the Awake Animals are Almost Asleep.
Related Posts