I received this book for free from the library in exchange for an honest review. This does not affect my opinion of the book or the content of my review.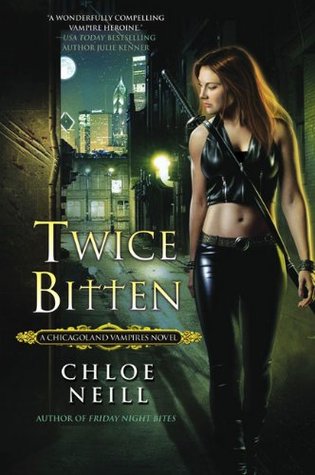 Twice Bitten
by
urban fantasy
that was published by
New American Library (NAL)
on July 6, 2010 and has 355 pages.
Explore it on
Goodreads
or
Amazon
.
Other books by this author which I have reviewed include
Some Girls Bite, Friday Night Bites, Hard Bitten, Firespell, Hexbound, Drink Deep, Charmfall, Biting Cold, House Rules, Biting Bad, Kicking It, Blood Games, The Veil, Midnight Marked, Dark Debt, The Sight, Blade Bound, The Hunt
Third in the Chicagoland Vampires urban fantasy series for young adults based in Chicago and featuring Merit, the Sentinel of Cadogan House.
In 2010, Twice Bitten Goodreads Choice Award Nominee for Paranormal Fantasy.
The Story
We meet Gabriel Keene, the Apex of the shifters, their King so to speak, and his very-pregnant wife, Tonya, when an all-shifters convocation is headed to Chicago and tensions are high between and amongst vampires and shifters. It's Merit who makes the speech, which appears to sway Gabe's decision to put the question to his people: do they retreat to Alaska or stay and help the vamps face the war that he has foreseen coming?
Ethan is terrified they'll run just as they did in the Second Clearing when vampires were slaughtered and the shifters stood aside. The animosities between shifter and vampire stem from that avoidance with neither side trusting the other. Ethan wants to change this. He wants to show the shifters that if they stay, they can count on the vampires to assist them. To this end, Merit and Ethan agree to stand security for the pre-Convocation meeting as well as the Convocation itself.
Both meetings are eye-opening events for Ethan and Merit and create opportunities in which Merit proves that friendship with Ethan and Cadogan House are in the shifters' interest. More, Merit becomes intrigued by the "debt" to which Gabe continually refers. A debt he believes he owes her, something about family.
The Cover
Merit really seems to like her leather as she cautiously strides down a Chicago alley, her katana strapped to her back.
Related Posts