I received this book for free from in exchange for an honest review. This does not affect my opinion of the book or the content of my review.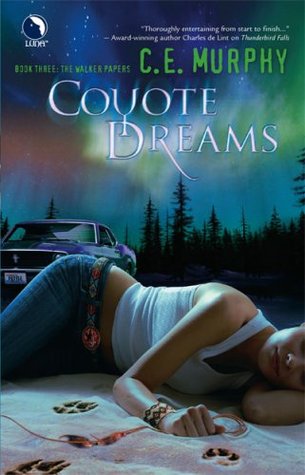 Coyote Dreams
It is part of the
Walker Papers #3
series and is a on May 1, 2007 and has 417 pages.
Explore it on
Goodreads
or
Amazon
.
Third in the Walker Papers urban fantasy series revolving around Joanne Walker, a cop in the Seattle Police Department, who is also a shaman.
My Take
I do love how Joanne envisages her healing powers, using her experience as a mechanic to re-inflate lungs, smooth out the dent in the exterior skin, ease out that air bubble in the line, lol, handle the dehydration in that overheated engine… I just can't help laughing as well as enjoying the imagery.
I'm feeling so relieved that the steps Joanne took in Thunderbird Falls, 2, and continues to incorporate into her daily routine, are helping Gary get past his heart attack.
It's like watching a video of Joanne's teenhood, as we discover what Joanne already knows, and I'm curious, and hoping Murphy goes into more detail in a future story, about whether Joanne was approached by tribal elders and how she reacted. We learn more about Gary as well.
There are lots of revelations for Joanne in this, including the depth of her feelings for various people; what she discovers about her childhood, her relationship with her dad, her schooling, and why she sees cars as a refuge; her early exposure to Coyote; a different perspective on events in her past; the reasons why she lost her touch when she was young — and it makes a warped sense; the truth about Coyote; and, why she is a new soul as well as a different facet I hadn't considered about being someone with no past lives.
Yep, overt confirmation that Joanne used to be a mechanic in the police garage a year ago; now she's walking a beat — after the department sent her to cop school.
There's the overall stupid trope in this. The one in which the protagonist with power doesn't want to acknowledge it and when they finally do, they dilly-dally their way along, refusing to learn how to use it. It's a sudden realization on Joanne's part that facing up is not the same as accepting. Tongue-in-cheek, we need heroes who are more well-read. Who'll understand that only disaster occurs when you put off learning what you need to learn. And, now I'm trying to figure out what I'm screwing up. What am I ignoring in my life?
It's all about balance – people living and dying because they knew Joanne. Although, it seems Thunderbird Falls is inspiring people, so it can't be all that bad. Barb's pursuit of Morrison is also inspiring Joanne, in a decidedly possessive and jealous fashion. In other words… She. Blows. Up. Most interesting. So is Joanne's trip into Morrison's garden; who knew it would be so amazing! It's so at odds with his public persona.
There's a variation on the Noah's ark and Flood theme as well as a look at Dine beliefs.
A few niggles… What road was Joanne supposed to travel that caused her mother to will herself to die on a particular day? Is this something Murphy will reveal in a future installment or ??? And what is Joanne thinking that she doesn't immediately and thoroughly check out anyone new in her orbit? I do get confused as to what's happening when Jo finally does confront the bad guy. It's not well described.
That ending was beyond sad. A positive in many ways, and yet, sad. I do wish Murphy had milked this more. It feels sadder to me than I suspect it does to Joanne, and it should be sadder for her. We should also feel good about her accepting the other offer. Murphy needs to get more show into her stories. Wreak my emotions, make me cry and not merely sad. I want to feel what Joanne and Morrison feels.
The Story
Oopsies, Joanne gets stinkin' drunk at the party and wakes up to a gorgeous man who can cook! How awful…*grin*… Only, it does get bad when Morrison turns up with the news that Billy is in hospital in a coma.
When Robert calls Joanne — she did chase the Thing out of the kitchen after all — to tell her that his mom won't wake up, Joanne is forced to slip into Melinda's mind, into a confusing dream with an odd cast of characters, Freudian possibilities, and terrifying truths.
Coyote is trapped, caught by forces awakened by Joanne. Saving the world is, again, up to a half-taught shaman. And so is the Seattle Police Department, caught, forced into comas.
And the Navajo wake up, preparing for the End of Days.
The Characters
Officer Joanne Walker, a.k.a., Siobhán Walkingstick, is a new soul, all shaman, and half Cherokee, who works as a police officer in Seattle. Petite is her vintage Mustang. Sheila MacNamarra was her mother. The seventy-three-year-old Gary Muldoon is a taxi driver who has become Joanne's mentor and main supporter in so many things. Most of her friends think she's having it off with him. The gift of a medal becomes one of her shields with the Nuada-rapier she got from Cernunno, a Celtic cross pendant from her mother, and her copper bracelet. Annie is Gary's dead and beloved wife. Coyote is her spirit guide, missing for the past two weeks.
The Seattle PD's North Precinct
Captain James Michael Morrison is her boss, and Joanne is very attracted to him. Co-workers include Ray, Bruce (his wife, Elise, makes the luscious tamales), and Detective Billy Holliday, who is a cross-dressing friend. He's also a True Believer who can see the recently dead, a man whom Joanne used to razz. She knows better now. Melinda is his witchy wife; Robert, Erik, Clara, and Jacquie are Billy and Melinda's bright kids. Dr. Bradley Holliday is Billy's anti-metaphysical brother. Jen Gonzales is in charge of Missing Persons.
The Seattle PD garage
Nick Hamilton is Joanne's old boss; Nathan one of her former co-workers in the garage. Edward "Thor" is Joanne's replacement, and he wants to take her out clubbing!
The too-cheerful Mark Bragg is a hunkalicious man (and English major) Joanne found at the department's Fourth of July party. Woohoo. His va-va-va-voom twin sister, the bossy Barb, hooked up with Morrison. They worked on Project Rainbow, a physics experiment about dimensions.
The coven from the fiasco of Urban Shaman, 1
Jen. Colin Johannsen, and Faye Kirkland are mentioned. The angry Garth is still furious. Marcia Williams, the Crone, and Thomas still believe in the Goddess, in balance.
Ashley is a little girl who was a victim of heat stroke in whom Joanne has taken an interest. Allison Hampton is her mother. Keith is Gary's dispatcher. The determined Laura Corvallis is with Channel Two News. Lucas, a.k.a., the First Boy, is the boy young Joanne thought was fair game. Ayita was born second; Aidan was born first.
Phoebe is a friend who teaches Joanne fencing. After events in Urban Shaman, Joanne needs to know how to wield a sword.
Begochidi is the god who has awoken per Navajo legend, the Maker of the world.
The Cover and Title
The cover is a subtle rainbow of blues, green, and red in a forested sky in the background, an angled Petite between the woods and a Joanne who is relaxed and lying stretched out on the desert sands. I suspect she's lying low as she waits for Coyote.
The title is how Joanne learns, or rather remembers, so much of her past, through her Coyote Dreams.
Related Posts