I received this book for free from the library in exchange for an honest review. This does not affect my opinion of the book or the content of my review.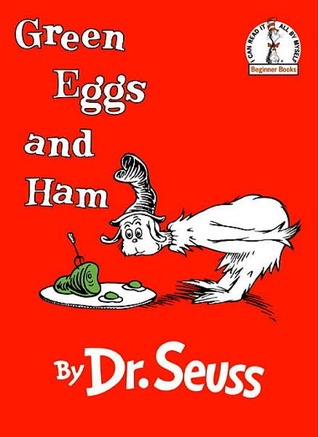 Green Eggs and Ham

by Dr. Seuss
is a Fantasy
This edition was published by Random House for Young Readers on 1988 in hardcover and has 62 pages.

Explore it on Goodreads or Amazon..


A child's beginning reader of great charm and fun.
My Take
Lol, it's a parade of O Sam-I-Am with an unhappy father annoyed by this child. An irrepressible child poking back. Sam is all the children who annoy us, even as Sam is merely pushing his father into trying something. In the most tiresome, troublesome, bothersome way.
That scene in which Dad looks with dismay at the green egg on the end of his fork, all the shipwrecked passengers staring on with anticipation and awe…lol…
The rhyming in this is great fun, and the kids will love all the silliness as well.
I never did get around to reading the Dr. Seuss books when I was little, and now I'm making up for it. Partly as research for the children's book I'm writing now.
The Story
It's a persistent Sam-I-Am who wants his father to try this delectable breakfast.
The Characters
Sam-I-Am is a young lad with an irrepressible urge who collects all sorts of characters as he chases his father all over the house, the yard, the countryside.
The Cover and Title
The cover has a bright orange background with the black outlined title in white as is the plate of green ham and two fried eggs with green yolks sitting upon it. There's a Who all in white with black detailing bending over the plate.
The title is a simple thing, just try a taste of Green Eggs and Ham to please Sam-I-Am.
Related Posts