I received this book for free from my own shelves in exchange for an honest review. This does not affect my opinion of the book or the content of my review.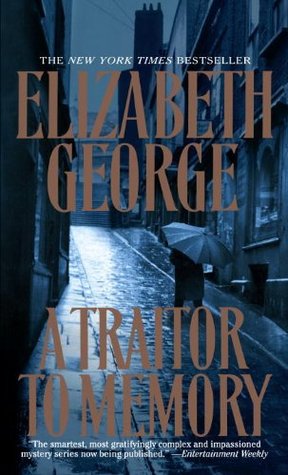 A Traitor to Memory
by
detective mystery
,
mystery
in
Paperback
edition on August 27, 2002 and has 1,009 pages.
Explore it on
Goodreads
or
Amazon
.
Other books by this author which I have reviewed include
A Great Deliverance
,
Payment in Blood
,
Well-Schooled in Murder
,
A Suitable Vengeance
,
For the Sake of Elena
,
Missing Joseph
,
In the Presence of the Enemy
,
Deception on His Mind
,
In Pursuit of the Proper Sinner
,
A Place of Hiding
,
Playing for the Ashes
Eleventh in the Inspector Lynley mystery series based in London at Scotland Yard and revolving around policemen.
My Take
This is a gawd awful depressing story but an essential read if you prefer to follow your characters chronologically. There is so much in here that you need to know. I think.
I had a hard time reading this story. It was well-written [I do have a few quibbles about the timeline George followed, see below]; but, its topic was so incredibly tragic. Such a waste. Such an argument for having issues out in the open. We think the story is about Gideon Davies, a brilliant violinist who suddenly freaks out. In truth, the underlying story is about Richard Davies, his father. The desperate need that Gideon's father has to prove his worth to his father, the man who adopted him. So many lives destroyed because of one man's expectations of another.
Although the initial impetus is Gideon's inability to play, George uses the topical conflict between Gideon and his father to fuel Gideon's hunt to restore his memories of the crucial night when everything changed for all who lived or worked in the house of Gideon's childhood as well as to demonstrate the "stage mother" that Richard is. Flashbacks are the memories reawakening and providing us with the backstory; it also provides the clues that tell us which character was the initial murderer while the foreshadowing George includes very subtly prepares us for the end. In some ways, Gideon's journey back in time provides him with a realization as to his self-absorption even though he is incapable of relating it to Libby's observations.
George splits the story in both perspective and how she presents the flashbacks. I don't object to flashbacks, but it is frustrating when the past itself is broken up into so many different times; it's like she cut the chapters up, threw 'em in the air, and then reassembled the manuscript according to how it ended up on the floor. We read the events of November 20th in a number of different places and then all of a sudden the next chapter is on November 16.
So many questions, so much unhappiness. The majority of the story is Gideon's current-day struggle. In between, we get bits and pieces of the regular cast of characters until we get a third of the way through the story when they begin to come into their own again. The only positive in the entire story is Lady Helen. I feel rather desperate to move on to A Place of Hiding to discover what has happened to Webberly.
The Story
The Archduke is Gideon Davies' Achilles heel, and he freaks out at a concert at which he is to play it. In his struggles to find out why he froze and can no longer play his violin, he unearths a 20-year-old family history of repression surrounding the murder of a two-year-old sister he didn't remember. A mother he forgot. An entire family and staff blanked out.
Today, we find DCI Eric Leach in charge of the brutal hit-and-run of a middle-aged woman. When he learns the identity of the victim, he quickly alerts his old partner, Webberly. Leach has remembered a past indiscretion of Webberly's, and luckily for most of the people involved, Webberly assigns Detective Inspector Lynley and Detective Constables Barbara Havers and Winston Nkata to help DCI Leach with this hit-and-run which quickly appears to have a connection to more hit-and-runs, which are all tying back to that 20-year-old murder. It seems obvious that the nanny convicted of the murderer must be behind their deaths as she was recently released from prison.
The Characters
Detective Inspector Thomas Lynley and Detective Constables Havers and Nkata are working as a team here. Lady Helen is Tommy's wife with an interesting condition, and we get a bit of Deborah and Simon St. James.
DCI Eric Leach is in charge of the initial hit-and-run. When he learns the identity of the victim, he quickly alerts his old partner, Webberly. Leach has his own home drama with his about-to-be ex-wife, Bridget, and his daughter, Esmé. Detective Superintendent Malcolm Webberly and his wife, Frances, are celebrating their 25th anniversary. Probably the high point of the story as it goes decidedly downhill from here. Just ask their daughter, Miranda. Assistant Commissioner David Hillier and Lady Hillier are related through the sisters; Hillier is an ass but he seems to appreciate Webberly.
Gideon Davies is a world-renowned violinist. A child prodigy. Richard Davies is Gideon's father and the adopted son of Jack Davies. Eager for his father's approval, Richard sacrifices everything and everyone to Gideon's future. All for the sake of his whacked-out dad. Eugenie Davies ran out on her husband and son shortly after the death of their daughter Sonia and has been paying penance ever since. Sister Cecelia is a Catholic nun to whom Eugenie turned for comfort. J. W. Pitchley, a.k.a., James Pitchford, a.k.a., James the Lodger, a.k.a., Jimmy Pytches, the poor sod. His only crime? Reinvention. Jill Foster is the very pregnant, current fiancée of Richard Davies. Ralphael Robson is Gideon's musical instructor and paid companion; a part of Gideon's life since childhood and with his own secrets to hide. Sarah-Jane Beckett was Gideon's teacher with her own bone to grind. Liberty "Libby" Neale is an American struggling to escape her marriage to a drug-dealing jerk while trying to help Gideon through his frustrations.
Yasmin Edwards and her son, Daniel, are currently living with Katja Wolff, the nanny who spent 20 years behind bars for Sonia's murder. Yasmin and Katja met in prison where both learned not to trust the law.
Dr. Rose is the psychiatrist whom Gideon sees as a last resort and whom Richard insists is a waste of time. Yeah, and we find out the real reason he hates her! I feel so sorry for Major Ted Wiley; I do hope that Havers or Lynley clue him in at the end.
Hadiyyah and her father, Azhar, don't appear at all.
The Cover and Title
The cover is as dark as the story with its wide paving-stoned walkway with a dark figure hiding behind a huge, black umbrella as he trundles down the hill, the only light coming from the flight of stairs behind him.
The title is too, too accurate, as the truth is indeed A Traitor to Memory.
Related Posts