I received this book for free from the library in exchange for an honest review. This does not affect my opinion of the book or the content of my review.
This book may be unsuitable for people under 17 years of age due to its use of sexual content, drug and alcohol use, and/or violence.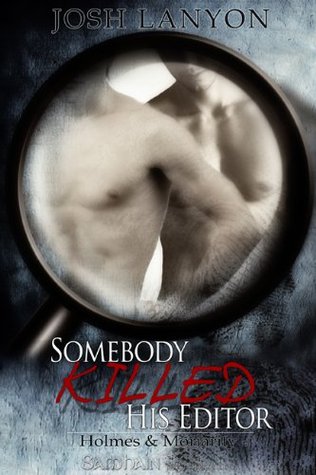 Somebody Killed His Editor
by
amateur sleuth
,
erotica
that was published by
Samhain Publishing
on June 16, 2009 and has 272 pages.
Explore it on
Goodreads
or
Amazon
.
Other books by this author which I have reviewed include
Fatal Shadows, Death of a Pirate King, A Dangerous Thing, The Hell You Say, Dark Tide, Fair Game, Fair Play
First in the Holmes & Moriarity mystery series about two gay authors involved in crime.
My Take
I must confess that I started reading this thinking this was going to be an Adrien English, so it was confusing until I checked it out on Goodreads. Lanyon incorporates the same sense of humor as Adrien displays…I do so love his quips! But it lacks a homeyness that the Adrien English series has. Of course, it's quite possible that's because I was freezing throughout this story.
Christopher's writing conference starts out chilly with the discovery of a body after he's tried to jump over a washed-out bridge and finally makes it to the lodge, soaking wet. With all the power outages and shunning, it's not surprising this was an icy read!
It's an angst-ridden weekend with Christopher panicking over his future while people are being murdered. I'm not sure if I actually like Christopher. He's such a coward and quite selfish in it. Then there's J.X. That weekend between Christopher and J.X. all those years ago is bringing up even more anxiety. All mixed in with Christopher's snarky attitude and his fear that his next book will be written from prison.
If Peaches wrote a bestseller last year, why is Espie noted as having written some three novels since then that failed??
Writers will empathize with the debate over how to single out a theme on which to base a series as well as the emphasis on the package: the look, platform, and marketability issues of publishing a book.
Mystery-wise, the story is all over the place with its contrived clues and is heavily influenced by Agatha Christie's And Then There Were None with the isolation of the guests, the sense of being picked off one by one, the motives that crop up throughout, and the big "drawing room denouement" at the end. The story's real purpose is to introduce Holmes and Moriarity, toss the snark all about, and have sex. All while making fun of authors and their issues.
The Story
Christopher Holmes' agent insisted he come to this writing conference to pitch a new series idea to the editor of his publishing house. Seems his old tried-and-true series about a Miss Marple-like detective just isn't making the list these days and he's about to be cut loose.
The Characters
Christopher Holmes has been writing about Miss Butterwith for years and making a decent living at it. David is the ex who ran off with Christopher's personal assistant, Dicky Dickison hmmm, any Freudian insinuation here???.
Julian Xavier "J.X." Moriarity is a former cop with the San Francisco PD who has been writing best sellers for about ten years now. He and Christopher had a brief fling.
Rachel is his agent with a number of issues she's hid in her past. Steven "Satan" Krass is the jerk of an editor at Wheaton and Woodhouse. Peaches Sadler wrote a bestselling novel last year. Espie Real is a fun person who writes and was friends with Rachel and Peaches. Mindy is an older author with a boy toy, George.
Edgar and Rita Croft own the lodge in the California wine country where the conference is taking place. Debbie is their college-age daughter.
The Cover and Title
The cover is a nod to Conan C. Doyle's Sherlock Holmes with our view of two nude male torsos through a magnifying glass against a grey-black background.
The title is true enough, Somebody Killed His Editor, and it's a crap shoot as to who it is…I suspect they'll throw a party for 'em later.
Related Posts