I received this book for free from in exchange for an honest review. This does not affect my opinion of the book or the content of my review.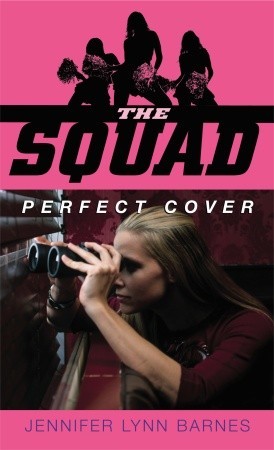 Perfect Cover
in
Paperback
edition on February 12, 2008 and has 275 pages.
Explore it on
Goodreads
or
Amazon
., 
Barnes & Noble
, 
Kobo
.
First in The Squad fictional spy series for Young Adults and revolving around the unsocial Toby Klein, the furthest possible candidate for cheerleading you can imagine.
My Take
This is humorous and pokes fun at and uses our perceptions of cheerleaders as witless, social mean queens for the Perfect Cover. It's the anti-makeover makeover with a Toby who gets "elevated" to cheerleader status, and she moans and groans all the way through. She doesn't want this "honor", and yet she slowly comes to understand the truth underneath it all.
I do love the twist Barnes puts on all the usual expectations. It's a serious topic — status and popularity at school — and Barnes has all sorts of fun with it as she makes her point. And it's both sad and funny to watch as Toby gets submerged in what she doesn't want. Very nicely done. I'm anxious to see what Barnes has done in Killer Spirit.
I'm not buying it that Toby is this hacker extraordinaire. I don't see anything special about what she does. I do like her character, don't get me wrong. She's angry, inclined to hit first, and I love her obsession with patterns and numbers. It's too funny to read her inner monologue on how annoying her sudden — and ridiculous — elevation in status is.
Yeah, Toby whines her way through this, but she also picks up on how petty her whining is as she discovers what lies beneath, and she changes. It's nicely done with Barnes using the opportunities to fill us in on the other girls' backgrounds.
It's secret lairs, tricky gadgets, and the fate of our world at stake with perky cheerleaders in tiny skirts and parties as the ultimate saving-the-world event.
The Story
Raised from obscurity by the approval of the varsity cheerleaders, Toby fights every step of the "indoctrination" into being a perky, pink-sequined, tiny-skirted ditz.
To maintain cover, she'll have to dress the part and flirt with, ugh, football players…
The Characters
Sixteen-year-old Toby Klein, a.k.a., Malibu Toby, is a new transfer to Bayport High School, and she's hoping to blend in and avoid any issues with her computer hacking. Her younger brother, Noah, fancies himself a ladies' man, and he's charmingly, funnily obnoxious with it.
The God Squad, a.k.a., the cheerleaders
Brooke Camden is the squad captain, raised to be in charge. Chloe Larson is her second-in-command with a thing for gadgets and an eye to a coup. Brittany and Tiffany are twins and in charge of prettifying; they're really good at infiltration as well. Zee is their profiler with a PhD. Tara Leery is a British transfer and their linguist specialist with fluency in nine languages and functional in twelve others. She also has a perfect ear for accents. Lucy is their weapons expert; she does love to blow things up. Bubbles is the contortionist.
They get their assignments from the Big Guys Upstairs, the Boss Guys.
Hayley Hoffman is a bitchy JV cheerleader who gets rejected for the varsity. Chip, student body president and football player, thinks he's all that. Jack Peyton, orgeous with a love-hate relationship with cheerleaders, is John-John Peyton's son.
Mr. Jacobson is the vice-principal with a blind spot where the cheerleaders are concerned.
Peyton, Kaufman, and Gray is a law firm for the wrong side of the law, working for all sorts of über criminals. Jack's father, John-John Peyton is the current head of the firm. Alan is Jack's uncle. Infotech Limited is a technology company specializing in security and weapons defense.
Heath Shannon is a playboy middleman for terrorists.
The Cover and Title
The cover has an old-style feel to it with the fuchsia background and a group silhouette—very Charlie's Angels-ish—above a black bar with "the" within it and "Squad" below. Below that is a photograph of a young blonde intently focused on viewing something through her binoculars and the title in white at the top of the photo. Below the graphic is the author's name.
The title is ideal as being undercover as cheerleaders in high school is indeed the Perfect Cover.
Related Posts