I received this book for free from the library in exchange for an honest review. This does not affect my opinion of the book or the content of my review.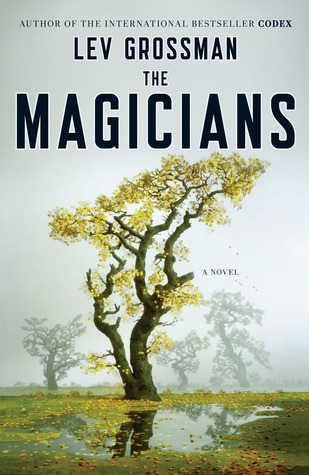 The Magicians
by
urban fantasy
in
Hardcover
edition that was published by
Viking Adult
on August 11, 2009 and has 402 pages.
Explore it on
Goodreads
or
Amazon
.
Other books by this author which I have reviewed include
Dangerous Women
,
The Magician King
First in The Magicians urban fantasy series for young adults and revolving around Brakebills and its student magicians. The focus is on one particular group: the Physical Kids.
In 2010, The Magicians won the ALA Alex Award, and in 2009, it was nominated for The Kitschies for Red Tentacle (Novel) and the Goodreads Choice Award for Fiction & Fantasy.
My Take
The Magicians and the Fillory and Further series are thinly disguised Narnias — Grossman at least puts a modern twist on his The Magicians — which put me off somewhat. It didn't help that the story went on forever. I want to say there was a lot of whining, but it wasn't the whining I usually encounter. It's more like teen angst amongst the nerds. There's a Harry Potter tie-in as well but with a major difference with the parents not knowing the truth about Brakebills' purpose. I do think the classes are easier at Hogwarts. There is so MUCH to remember in doing spells the Brakebills way.
It's a small group of misfit kids, ranging from the supremely confident to the nerd who is the voice of perspective. The story follows the Physical Kids from the start of their first year of meeting, into graduation, and beyond. Way beyond.
It's really a story about Quentin and his constant search for satisfaction and never achieving it; the others have their parts as well and encompasses hopeless love and desperate love. Quentin does have his moments of growing up, of realizing things about himself, and those that Alice shoves down his throat as well. You can tell how determined Alice is when you read of her ordeal to get to Brakebills.
That test they all have to pass before they are accepted is scary hard! I can't believe it only took him two hours. Heck, the language portion alone would have taken me weeks…with a computer!
There's a confusing bit at the start in which Fogg talks about closing the school and finding someone that is never explained. It's also very sad with so many kids whose parents ignore them. I'm also confused as to why they would advance Quentin a year when he seems to believe he's flubbing it. I do wish Grossman would have provided more evidence that it's smart to move him. The bit about time being different at Brakebills was weird too. The school let them out for Christmas some two months after Christmas in the real world, and somehow the parents don't realize it??
The incident when Penny hit Quentin made no sense at all. And Grossman never followed up with it; it was an isolated case that went nowhere. And no, I don't count the encounter they have after they've graduated. What was the purpose of the foxes getting it on? What was the point of the final exam?
Grossman notes that when they graduate, the students go into public service, govern magical society, travel, create art and wargames, and do research. That the school supports them in anything they want to do — Quentin mentions they're supported for a year. Including doing nothing but drugs, drinking, and sex… I would like to know why the school is okay with this kind of gap year.
I can't decide if I like it or what. I like that it's a very odd school with teachers who encourage breaking the rules, but I don't like the slacking off; the drink and drugs (okay, I do keep forgetting that they're in college); the impression that once you're in, you don't have to pass any tests; the reason for the Cacodemon; the betrayal; the point of the Quest?; Emily's diatribe against the school, and more. The stupid sex bits. Why bother mentioning the D/s, the centaurs getting it on with the wild horses, if Grossman isn't going to go anywhere with this? What was the point? Was Grossman trying to sex it up?
I do wish the interchanges in Fillory, when the kids travel there, had been more adult and not so juvenile. Or at least that we see the kids grow while they're there. Maybe that happens in The Magician King.
It's like Grossman came up with a thought and had to throw it in. The kids are stupid too. Why leave the winter jackets behind? What? They're so heavy??
I'm not sure I'd recommend it for teens, as there is so much drinking in this.
The Story
Like everyone else, precocious high school senior Quentin Coldwater assumes that magic isn't real, until he finds himself admitted to a very secretive and exclusive college of magic in upstate New York. There he indulges in the joys of college-life — friendship, love, sex, and booze — and receives a rigorous education in modern sorcery.
But magic doesn't bring the happiness and adventure Quentin thought it would. After graduation, he and his friends stumble upon a secret that sets them on a remarkable journey that may just fulfill Quentin's yearning. But their journey turns out to be darker and more dangerous than they'd imagined.
The Characters
Quentin Coldwater mastered magic tricks, has neglectful parents, and has never gotten over the Fillory and Further series, which he uses as an excuse. His father is an editor of medical textbooks, and his mother is a commercial illustrator who wants to paint. James and Julia have been Quentin's friends through most of their school years as they've been thrust into the same genius classes. It's Julia on whom Quentin has such an unrewarded crush.
Brakebills College for Magical Pedagogy is…
…a school that teaches magic and is hidden from the public. The mohawk'd Penny (took him 20 minutes to do the test; he'll be doing an Independent Discipline later). The shy, brilliant Alice Quinn has an eidetic memory and wondered why an invitation to attend was never sent to her, as she believes she is as talented as her brother, Charlie Quinn. Surendra (the son of a rich Bengali-American computer executive) is Quentin's lab partner.
The Second Years include…
…Eric who is in a D/s relationship with Eliot. Amanda Orloff is a star pupil (and the daughter of a five-star general) which puts Alice in her place. Gretchen becomes Alice and Quentin's first friend.
The Third Years find…
…the kids separated into Disciplines in their Third Year: Physical, Naturals, Illusionists, Knowledge, and Healing. Emma Curtis knew the story about Emily Greenstreet, a student who voluntarily left Brakebills. The Physical Kids include the bizarre, sartorially obsessed Eliot who first encountered Quentin and does the cooking. The nasty Janet Way will sleep with anyone; her parents are Hollywood lawyers. Magic does not come easily to Josh Hoberman who prefers the camouflage of no one taking him seriously. The earnest Richard and Isabel just graduated last year.
The Fourth Years
Georgia is the daughter of a receptionist at a car dealership; her Discipline is Healing. Beatrice becomes a prefect.
Henry Fogg is the dean. Professor Melanie Van der Weghe took over teaching Penny. Professor March is tough, and he and Professor Heckler teach Practical Application. Professor Pearl Sunderland teaches upper-level courses. Witch Petitpoids teaches second-years. More professors include Moretti, Brzezinski, Foxtree, Meerck, and Bigby who is the Physical Kids' unofficial faculty advisor and a pixie. Professor Mayakovsky is the teacher at Brakebills South; his father had been the most powerful magician in the 1930s and 1940s. Chambers is the college butler. Woof is a fountain in the Maze.
Christopher Plover's Fillory and Further is…
…a series of five books in which children visit back and forth, battling evil and becoming kings and queens. Sound familiar? Book one is The World in the Walls, then A Secret Sea, The Flying Forest, __4__, and The Wandering Dune. The children are Martin Chatwin, the oldest; Rupert is the goofy brother; Helen; Fiona is the pretty one (she might be a princess in Fillory and not a sibling); and, Jane is the pretty one. Prickleplump was a hedgehog who helped Jane. The Cozy Horse is a velvet-hoofed horse with a back so broad you could sleep on it.
Fillory is…
…the fantasy land the Chatwin children visit. The Watcherwoman is the evil antagonist stalling time in the series. Sir Hotspots is a leopard. Ember and Umber are the rams who enforce the rules. Humbledrum is a modest brown bear. Farvel is a birch sapling. Dint and Fen (she practices inc aga) are the guides who take the Physical Kids to Ember's tomb. The centaurs are healers at a Fillorian monastery, the Retreat. Alder Acorn Agnes Allison-fragrant-timber is Quentin's doctor. The Questing Beast plays a part.
The Neitherlands is a waystation between earth and Fillory.
There's an old man who does alumni interviews for Princeton. Ricky runs a shop that sells magic supplies; he taught Quentin the tricks. Lovelady is a bric-a-brac dealer who stops by Brakebills to sell charms, fetishes, and relics. Turns out the major rivers all have dragons hibernating in them. Doris was a girl in the fountain. Alice's parents are weird, hate each other, and ignore Alice. Her father does architectural magic and is always changing their house around. Mom does fairy orchestral compositions. Whether she writes them or studies them, I don't know. The Plaxco team at Grunninbgs Hunsucker Swann provides jobs to graduates.
A Cacodemon is a demon that is imprisoned in the backs of graduating students, available on a one-time basis to fight the student's battle. What the point is, I don't know this either. A niffin is a spirit of raw, uncontrolled magical energy, created when a magician loses control. Welters is a game of magic and strategy like chess that is meant to replace dueling. Anaïs is a French magic student and the captain of a French welters team; she knows a lot of useful people.
The Beast is way too powerful.
The Cover and Title
The cover doesn't seem particularly related, unless it's meant to reflect the fantasy series all the students adore: Christopher Plover's Fillory and Further. There's a dreamy quality to its misty, foggy landscape and huge reflective puddles scattered with leaves from the also-scattered, tall, twisting trees with their clusters of pale yellow leaves.
The title is the start and the series name, The Magicians.
Related Posts