I received this book for free from the library in exchange for an honest review. This does not affect my opinion of the book or the content of my review.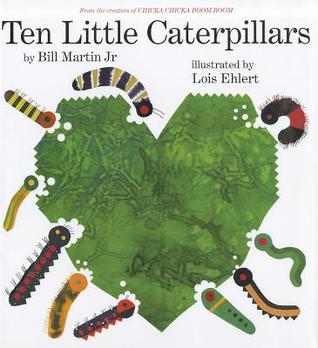 Ten Little Caterpillars
by
picture book
that was published by
Beach Lane Books
on August 30, 2011 and has 40 pages.
Explore it on
Goodreads
or
Amazon
.
Illustrator:
Lois Ehlert
A standalone picture book for ages 2–6 that involves counting and natural history about caterpillars and flowers.
In 2012, Ten Little Caterpillars won the Wisconsin Library Association Outstanding Book Award.
My Take
The pages are simple with one line per spread with the succeeding line rhyming with the first, using an A-B rhyming scheme. It makes me understand why Martin used bower in one of the lines.
Very cool. Martin provides the names of flowers and critters as you read, and then includes a glossary about the caterpillars, what they eat, and the type of butterfly or moth they turn into. Very useful in a discussion with the kids about nature.
That said, Ten Little Caterpillars is rather gruesome, if realistic, in Martin sending each caterpillar on its way into safety or danger with that last page spread an evolution.
Ehlert's graphics are a fabulously colorful mix of awkward and realistic lines and is consistent with this in its compositions. Some of the watercolors look as if Ehlert painted the paper and then cut it up for its shapes — check out that cabbage, the toad AND the chicken! Some look as if the shapes were simply put loosely on top of another piece of paper while that muskmelon looks as if it were pieced like a quilt.
I'm tellin' ya, you could have so much fun trying to replicate Ehlert's techniques! A great opportunity for art with your kids. Color images directly on paper or let the really young ones color the paper and the older ones cut them into shapes to create flowers and bugs and butterflies…fun!
The Story
Ten little caterpillars are out and about in our big, wide world, discovering the joys and dangers. Come see what can happen!
The Characters
A mourning cloak, buckeye, cabbage looper, yellow bear, yellow-necked, monarch, painted lady, woolly bear, common wood nymph, and tiger swallowtail caterpillars.
The Cover and Title
The cover is fun with its white background providing great contrast for the huge "tie-dyed", heart-shaped leaf being nibbled into by caterpillars that look more like colorful graphic geometrics created by children. There's a deep orange info blurb at the very top while the large title is immediately below it in black. The author's and illustrator's name are below that, also in black.
The title is an "adventure" tale in the trials and tribulations of Ten Little Caterpillars.
Related Posts