I received this book for free from the library in exchange for an honest review. This does not affect my opinion of the book or the content of my review.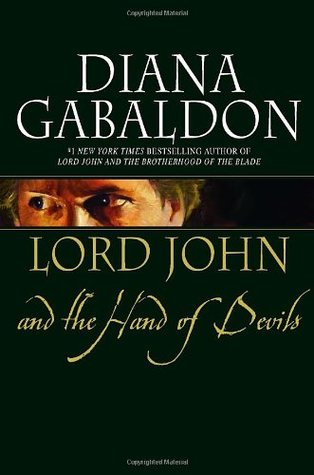 Lord John and the Hand of Devils

by
It is part of the , , series and is a This historical mystery, short stories is a paperback edition that was published by Delacorte Press on November 27, 2007 and has 302 pages.

Explore it on Goodreads or Amazon.

Other books by this author which I have reviewed include
The Scottish Prisoner, Dangerous Women, The Mad Scientist's Guide to World Domination, Seven Stones to Stand or Fall
Three short stories in the historical mystery series about Lord John Grey, an important peripheral character in Gabaldon's Outlander series. The first two are a blip in his life while the second takes a much longer view.
Series
Lord John and the Hellfire Club" (0.5)
"Lord John and the Succubus" (1.5)
"Lord John and the Haunted Soldier" (2.5)
The Stories
It's 1756 during "Lord John and the Hellfire Club" and occurs just after Lord John returns from running the prison in Scotland where he met Jamie Fraser. An encounter with Harry Quarry incurs a meeting with Quarry's cousin Robert Gerald who reminds John of Jamie. It seems there may be something more to Gerald as well but the opportunity is cut short for Gerald, but it does spur John on to investigate what could be a political assassination.
This was a mere blip in John's life, and I still don't understand what happened. Gabaldon must have been in a rush when she wrote this one. I am being generous with a "2".
"Lord John and the Succubus" is an intriguing encounter for John with possible romantic possibilities with the Princess von Lowenstein and Captain Stephan von Namtzen, Landgrave von Erdberg, while the French-Austrian forces are gathering on the other side of the hill. As they await the enemy, it seems there is a succubus on the loose killing soldiers; the men are dreaming if they should fall asleep and desperately doing what they can to not fall asleep as well as deprive the succubus of any essence. Then there's the kidnap attempt on the young prince and ghosts crying in the night.
This is a somewhat longer blip, and I'll give it a "3".
"Lord John and the Haunted Soldier" is the best of the three, which isn't fair to it, as it is a good story, even if Gabaldon doesn't really pay it proper attention. She has all sorts of ghosts popping up, and I don't really see the point in them. That said, it's a case of sabotage for most unexpected reasons. One hand depriving the other and a demonstration of thwarted love. The one having a secondary use as a political ploy to disgrace Lord John and his family while firming up the opposition while the second is a horrible mish-mash of love gone awry, a father's fanatical pride, and the anger of a discarded lover.
Yup, it's pretty busy for a short story!
The Cover and Title
The forest green cover has something to hide with its peep border at eye level as Lord John takes a glance through.
The title refers to Lord John and the Hand of Devils who interfere in each of the three short stories.
Related Posts