I received this book for free from in exchange for an honest review. This does not affect my opinion of the book or the content of my review.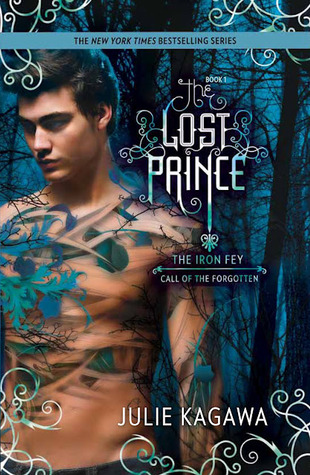 Lost Prince
on October 23, 2012 and has 377 pages.
Explore it on
Goodreads
or
Amazon
.
First in the Call of the Forgotten, a spin-off series from the Iron Fey urban fantasy series for young adults.
This concentrates on Ethan, Meghan's little brother. (It could be considered the sixth of the Iron Fey series.)
My Take
This was a weird combination. Both exciting and eye-rollingly loaded with clichés…! Kagawa has done so well with the earlier five books and then this. The bullying crap and how the principal deals with it is annoying. Then there's all the threats Ethan makes and doesn't follow through on with Todd. Kenzie is the typical pushy teen made even more brazen by the lack of time available in her future. The whole deal with the forgotten's approach to Ethan. Meghan's reaction to Ethan's trip to Nevernever. Annwyl running off into peril, closely followed by Ethan. I mean, how lame was that move? And what's with Kierran's reaction to the Dark Lady?
It's like Kagawa doesn't feel she needs to make this believable and instead pulls out one old chestnut after another.
On the plus side, I did like Kenzie's reaction to the fey. There was a very real quality to it, and she certainly makes a good case for her choices. Meghan's attitude is also well-balanced between the loving sister and the worried queen, although she should have taken the time to talk to Ethan.
The final escape is clever too. Nice job on the Dark Lady's chat with Ethan. She sounded so reasonable.
The Story
Another new school and another opportunity to hope his notoriety hasn't spread this far. Only something new is stirring in the Between, one that threatens Ethan and those he holds dear. When that threat becomes an attack, Ethan has no choice but to escape into the Nevernever. And to take Kenzie along as the forgotten think they know her relationship to Ethan.
Only his reunion with sis doesn't go so well and it's out of the frying pan and into the fire for Ethan and friends — hey, if Kagawa can go with the clichés, I don't see why I can't!
Leanansidhe wants to know why the exiles are disappearing, and Ethan is on his high horse determined to protect everything he hates.
The Characters
Ethan Chase is seventeen and labeled a wild child in the school districts he has hopscotched through. His attempts to avoid the fey have gotten him into a deal of trouble and he doesn't expect to reach eighteen. Meghan Chase is his half-sister, the Iron Queen, and he hasn't seen her in years. Ethan hates her husband Ash, believing he's the reason she no longer visits. Mag Tuiredh is the seat of her power in the Iron Realm.
His mother worries about Ethan fitting in, of his avoiding the fey. His father, Luke, has completely forgotten their threat. Ten years ago, the family moved from the country to the city in the mistaken belief it will help Ethan avoid the fey.
Kenzie St. James is one of the popular girls in his new school and, although Ethan does his best to avoid her, she refuses to accept his behavior. Alexandria is her half-sister.
Todd is a half-blood, who makes witless contracts with the fey, including his piskie friends Violet, Thistle, and Beetle. With all the info available on Google, I'd'a thought he'd know a lot more than he does about the fey. Brian Kingston is a bully and on the football team. Yeah, you can guess how his bullying is treated by the teachers.
Guro Javier is Ethan's kali instructor and, yup, another cliché in that he knows there is more to our world. Only Kagawa doesn't use this well. Guro's aid is more of a toe in the water. Chris Redding is Ethan's prank-playing partner.
The Fey
The Forgotten are a different and unexpected breed of fey with an extremely dangerous quality; the Dark Lady leads them. Grimalkin is a cait sith who makes promises to Meghan, and he's just as annoying as ever. Glitch is Meghan's First Lieutenant. Keirran is a young fairy with an out for Ethan and Kenzie. Razor, a gremlin from the Iron Queen is his constant companion. Annwyl is an exiled Summer fairy in love with Kierran. Leanansidhe is the Queen of the Exiled Fae, running a market from her home Between. She's got a deal for Kenzie. Puck shows up.
The Cover and Title
The cover is scary! It has a deep turquoise blue background with leafless trees and a shirtless Ethan standing to the left. Shirtless to better display the organic bindings that are replacing the skin and muscles on his peach-toned chest. There's plenty of scrollwork in whites, blues, and greens to continue that particular aspect of previous covers.
I think the title would have been better as The Unexpected Prince rather than The Lost Prince as Ethan is never lost but simply doesn't see himself as a prince. Although, then again, I suppose that could be interpreted as lost.
Related Posts