I received this book for free from in exchange for an honest review. This does not affect my opinion of the book or the content of my review.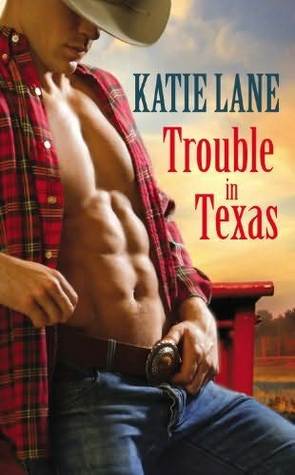 Trouble in Texas
on December 18, 2012 and has 352 pages.
Explore it on
Goodreads
or
Amazon
.
Fourth in the Deep in the Heart of Texas romance series. The couple focus is on Brant Cates and Elizabeth Murphy in the town of Bramble, Texas.
My Take
Love that sign! "Trespassers will be Prostituted". Makes a nice change from the usual. And be sure to take time out to read the Henhouse rules at the beginning of each chapter…too funny. Right along with "dip into her like a tortilla chip into hot salsa".
Whoo-whee…Lane has definitely caught my attention. I was getting pretty sleepy and thought I'd open this up just to take a peek. Well, I'm wide awake now and anxious to read.
Lane has done a nice twist on the romance with Brant as the unsure, fumbling man and Elizabeth as the realistic one somewhat annoyed with his initial approach. I just loved Elizabeth's reaction when Brant calls up to find out what she's doing this weekend. L.O.L.
I also appreciate how low key she is with the cowboy/business angle. You never forget these are cowboys or that Brant is a ruthless businessman, but Lane doesn't shove either down your throat. The rest of her characters are people you want to know and will never forget. Beau is such a sweetheart and when I learned how ill he is, I just wanted to weep. I do love his plans for Miss Hattie's! That should be fun! The hens are a hoot and a half and Baby has some pretty interesting stories about the Miss Hattie's very few people know about. And those stories are not about sex, but rescue. Lane doesn't put much time into the townspeople. It's more of an acceptance that y'all already know the people. They're not important to the story, but they do provide for a few laughs. I'm already looking forward to book 5 if only to see Elizabeth's transformation from frumpy old maid to Brant's sexpot! Hmmmm, I should probably mention that I meant her visual transformation. Brant's already discovered how sexy the old maid is!
Lane also does a good job on the tease, eventually revealing the circumstances behind Brant's family's deaths, his worries and concerns. The truth behind Minnie as well as the slow reveal on Harriet.
For a bit, I was getting frustrated with all the misdirection as to just when Brant's great-great grandfather died, but the end takes care of that. And it all makes sense.
Lane just keeps surprising me. I have got to go back and start reading this series!! Going Cowboy Crazy, here I come!
Thank Yous from the Reviewer!
Thank you for the "who"…! It just seems so much more respectful of people than "that".
Thank you for knowing how to use "whup"!!
The Story
It begins, in this century anyway, with a stop at Miss Hattie's Henhouse, a shot, drugged brandy, and handcuffs. A revelation that horrifies the prim and proper librarian when she discovers him. She can't avoid the wedding and she can't call the sheriff.
Now every woman in Bramble is aching to get Elizabeth hitched ever since she caught that bouquet.
Elizabeth is determined to sell Miss Hattie's and the last three hens are equally determined to not allow it. And if it takes helping Brant Cates in his determined search to learn what really happened to his ancestor in 1898, why, they'd just be too pleased to help.
And Brant has been having some pretty disturbing dreams about a woman with amber eyes.
The Characters
Branston William Cates, president of C-Corp, is hunting for answers to the Cates Curse. It's the curse he blames for his wife's and son's deaths. And he intends to destroy Bramble in response to it. Buckley (another reason Brant thinks the Curse haunts him), Billy (he's marrying the widow Dalton), Beauregard (has cancer), and Beckett are his brothers; Brianne is his sister.
Elizabeth Murphy is the librarian in Bramble, Texas. Her cat is Atticus and she owns the house that is Miss Hattie's Henhouse. The hens can't afford the utility bills and Elizabeth is determined to sell the place. She's also the great-great granddaughter of Miss Hattie Ladue, the original madame. Harriet Murphy is her embittered mother.
Moses Tate is the man who claims William Cate was shot at Miss Hattie's.
Minnie is wheelchair-bound and purty particular about strangers. Baby is an ancient petite blonde who graduated from Cornell, magna cum laude, and Sunshine is still living in the heyday of the 1960s. Starlet Brubaker claims she's won every talent show in Mallory County and she thinks she sings like Barbra Streisand.
Of the townspeople…
Kenny Gene is using the library to avoid getting caught by Twyla. Sheriff Hicks is unlikely to be pleased by the hens' latest activities. Sheriff Winslow, married to Myra who's thinking of hooking Lizzie up with her cousin Jethro, ain't lettin' Lizzie get away without the bouquet she caught — oughta make Kenny happy! Mayor Harley Sutter makes his appearance. Darla, her brother Bud, and Rachel Dean are mentioned. Colt Lomax is Shirlene's brother and he's married to Hope; they have a baby daughter, Daffodil. Cindy Lynn wants to hook Lizzie up with her Uncle Wilbur. Slate Calhoun was another one of the bad boys of Bramble until he married Faith, Hope's twin sister, and they had Daisy. Elmer Tate has a bad habit of losing track of which house is his when he comes home drunk; his wife, Wilma, is the town gossip.
The Cover and Title
Well, that is one suggestive cover, mmm-hmmmm. A white cowboy hat tipped forward as Brant looks either asleep or contemplative as he casually leans back against his red pickup, a red plaid flannel shirt completely open to display that incredible six-pack and the thumb of his left hand hooked behind his belt buckle…ever so laid-back as the weight of that hand drags the waist of his blue jeans well below his belly button indicating the way to the promised land.
Oh yeah, there's Trouble in Texas all right. The hens intend to restore the Henhouse to its former glory, and Brant Cates intends to shut down Dalton Oil.
Related Posts