I received this book for free from the library in exchange for an honest review. This does not affect my opinion of the book or the content of my review.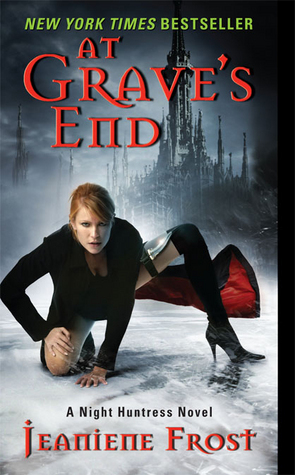 At Grave's End
by
urban fantasy
that was published by
Avon Publications
on January 1, 2009 and has 342 pages.
Explore it on
Goodreads
or
Amazon
.
Other books by this author which I have reviewed include
Halfway to the Grave, First Drop of Crimson, Death's Excellent Vacation, One Foot in the Grave, Jeaniene Frost, Destined for an Early Grave, Unbound, This Side of the Grave, One Grave at a Time, Once Burned, Eternal Kiss of Darkness, Twice Tempted, The Beautiful Ashes, Bound by Flames, Into the Fire
Third in the urban fantasy series, Night Huntress.
My Take
This is a bridge novel taking us from One Foot in the Grave, 2, to Destined for an Early Grave, 4. Yes, there is a lot of action: the engagement that goes nowhere; Bones makes good on one of his promises to Don, which leads to some interesting suspicions; and, he and Mencheres make an alliance that's making Ian very unhappy.
But this uplift of support doesn't last long when an ages-old enemy attacks Bones, his death assured and Cat's only thoughts are of suicide.
I do adore Bones…I can see why all the readers rave about him! Besides being good in bed, he has such a wicked sense of humor. The way he takes on Cat's mum…snicker, heck, maybe even a guffaw…telling her that Cat has said "yes":
"…didn't just ring you to chat about what an undead murderer I was…right, degenerate whore as well. Did I ever tell you my mum was one? Oh, blimey, I come from a long line of whores, in fact…called to give you the good news…Now, do you want me to call you Mum straightaway, or wait until…"
Bones is so protective and, even though he's a several hundreds-year-old "man", he works very hard at accepting Cat as an equal.
Cat, however, is pissing me off. She's such a stubborn, childish thing. I don't understand why she doesn't see how hard Bones tries to protect her and their future together.
The Story
Information uncovered while on one of their government missions leads to a nightmarish recreation of an event from Cat's past and both Cat and Bones learn that someone is behind all the assassins Cat is encountering. Information thrust at them from the most hated individual in Cat's life.
The kicker is the New Year's Eve gathering with a magical ghoul attack.
The Characters
Catherine "Cat" Crawfield-Russell is a half-vampire in love with Bones, a several hundred years old vampire. Justina is Cat's mom. Mencheres had been a Patraoh back in the day before he was turned into a vampire. Now he's Bones' honorary gradsire and friend. Vlad Dracul Tepesh is the original Dracula. Denise MacGregor is a friend of Cat's. Spade and Ian have been mates with Bones since their convict days in Australia. Randy.
Patra is Mencheres' wife.
Don Williams heads up the government unit for whom Cat and Bones work; he's also Cat's uncle. Tate Bradley is one of his agents.
The Cover
Oh yeah, this is a much more Cat-like pose — cocky with a challenge as she stares us down, one knee bent on the ice the other leg cocked at a 90-degree angle, ready for action.
Related Posts