I received this book for free from my own shelves in exchange for an honest review. This does not affect my opinion of the book or the content of my review.
This book may be unsuitable for people under 17 years of age due to its use of sexual content, drug and alcohol use, and/or violence.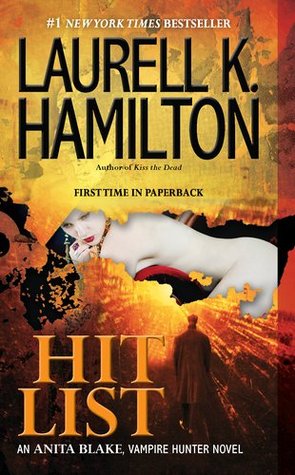 Hit List
by
erotic romance
,
horror
,
urban fantasy
that was published by
Berkley
on May 29, 2012 and has 312 pages.
Explore it on
Goodreads
or
Amazon
.
Other books by this author which I have reviewed include
Bloody Bones, Killing Dance, Burnt Offerings, Narcissus in Chains, Obsidian Butterfly, Bite, Incubus Dreams, Micah, Danse Macabre, The Harlequin, Blood Noir, Skin Trade, Flirt, Bullet, Never After, Kiss the Dead, The First Death, Affliction, Guilty Pleasures, The Laughing Corpse, Circus of the Damned, "Shutdown", A Kiss of Shadows, Lunatic Café, A Caress of Twilight, Seduced by Moonlight, A Stroke of Midnight, Mistral's Kiss, A Lick of Frost, Blue Moon, Dead Ice, Jason, Crimson Death
Twentieth in the Anita Blake, Vampire Hunter erotic, urban fantasy series set in a contemporary St. Louis, Missouri, although, in Hit List , almost all of the action takes place in Seattle.
My Take
Three-quarters of Hit List was excellent. Lots of police interaction — including a long run-in with another insecure Marshal. Ted takes a hit this time on his credibility when he and Anita…well, you'll just have to read the book to find this out. Olaf/Otto brings his own particular charm when he escalates in his psycho behavior. Even worse when he suffers two separate injuries — one from Anita and the second from a werelion attack.
The last quarter was just too easy. Gimme a break. Anita's kidnappers give her up that easily?? In fact, the whole ending was just lame and frustrating.
The Story
Harlequin loyal to the elusive Marmee Noir are killing clanless weretigers across the country requiring that Anita, Ted Forrester, Bernardo Spotted-Horse, and Otto are brought in to hunt them down. Fortunately, for Anita who is experiencing control issues with the ardeur, a new law allows her to appoint deputies, which enables her to bring her own snacks.
The Cover and Title
The cover is gorgeous with its jagged golds and the white carefully covered female nude with the sense of the Orient about her. I can't figure out what relevance the nude has with Hit List. Nor do I understand how the overcoated alien refugee from Buckaroo Banzai fits in.
The title. Hmmm, the title. I can't figure out how this fits in with the story either. Obviously, Anita is on a Hit List, but list tends to indicate more than one.
Related Posts