I received this book for free from the library in exchange for an honest review. This does not affect my opinion of the book or the content of my review.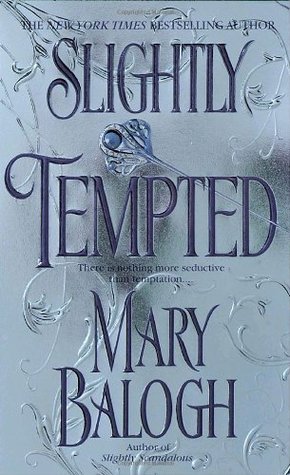 Slightly Tempted
by
historical romance
that was published by
Dell
on January 2004 and has 356 pages.
Explore it on
Goodreads
or
Amazon
.
Other books by this author which I have reviewed include
Slightly Married, Slightly Wicked, Slightly Scandalous, Slightly Dangerous, A Summer to Remember, Simply Unforgettable, Simply Love, Simply Magic
Fourth in the Bedwyn Saga historical romance series set in the Regency England of 1815 and revolving around the Bedwyn siblings.
My Take
It's a tale of revenge and how it can backfire. Hmmm, I wonder if there is meant to be a parallel between Napoleon's defeat at Waterloo, and Gervase's situation?
I do like Lady Morgan for her insistence on wanting love, no matter what people may say. Of course, it does help that her brother is a duke, and people are more likely to simply tut-tut.
Balogh tortures us with the back-and-forth of love and betrayal as well as the torturous worry about loved ones in battle.
The Story
It might have been another life, that frivolous, yet boring round of parties and balls, picnics and dinners as Lady Morgan assists in caring for the wounded from the ongoing battle between Wellington and Napoleon. Making this madhouse even more frightening is that her brother, Alleyne, has been lost somewhere on the battlefield. The only bright spot is the support provided by the Earl of Rosthorn. A support he is quite willing to exploit, fanning the rumors of Morgan's ruin.
Revenge will be sweet.
The Characters
Lady Morgan Bedwyn is the youngest of the Bedwyn siblings but certainly not the least as she is strong in character and firm in her resolve to marry for love.
Gervase Ashford, Earl of Rosthorn, has revenge in his soul. A deep-seated desire to hurt Wulfric Bedwyn, Duke of Bewcastle, for the wrong done him nine years ago. A wrong that saw Gervase exiled from his home, Windrush Grange, and his country. Henrietta is a poor relation taken in and treated as one of the Ashford family.
Lady Marianne Bonner was the unwitting Wulfric's partner all those years ago that resulted in the banishment of her childhood friend, Gervase.
Captain Lord Gordon is in love with the idea of being married to Morgan. An attachment approved by his parents, the Earl and Countess of Caddick, and his sister, Lady Rosamund Havelock. Approved until the countess' demands are thwarted that is.
The Cover and Title
Ooh, shiny. The cover has a very metallic blue background with an embossed wallpaper effect composed of scrolls and what appears to be a filgreed hatpin. The title is a bit understated in how Morgan reacts to Gervase's flirtation, for the Lady Morgan is more than Slightly Tempted.
Related Posts