I received this book for free from the library in exchange for an honest review. This does not affect my opinion of the book or the content of my review.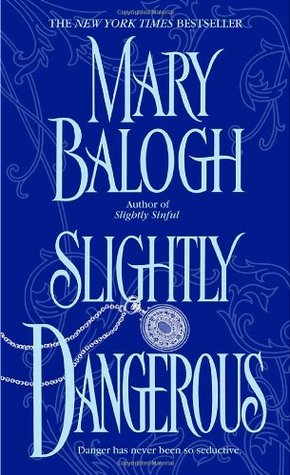 Slightly Dangerous
by
historical romance
in
Paperback
edition that was published by
Dell
on March 1, 2005 and has 365 pages.
Explore it on
Goodreads
or
Amazon
.
Other books by this author which I have reviewed include
Slightly Married
,
Slightly Wicked
,
Slightly Tempted
,
Slightly Scandalous
,
A Summer to Remember
,
Simply Unforgettable
,
Simply Love
,
Simply Magic
Sixth and last in the Bedwyn Saga historical romance series set in the Regency period. The couple focus is on Wulfric Bedwyn, Duke of Bewcastle, and Christine Derrick.
In 2005, Slightly Dangerous won the All About Romance Annual Reader Poll for Best European Historical Romance AND Best Hero.
My Take
Oh yeah! The friend who recommended this series was, oh, so right, this is the best of the series, and if I could give it a "6", I would. I was barely one-fourth of the way in and it was so satisfying that it could have ended there and I'd've been happy. But it kept going and going and just got better and better.
It's a case of damning with faint praise and the entire story is a nice change and deftly done with the heroine wanting a true relationship and the duke discovering a need for warmth. Life.
I liked how Balogh had Bedwyn insisting that he wanted a respectable wife with all the expected airs and graces even as he despised those same respectable ladies along with the so-called despicable behavior of the merry and vivacious Christine Derrick. As well as the tension and depth, Balogh drew out the mystery as to just what occurred in Oscar's last years, especially that last day of his life. Balogh also did well with the denial of both parties' attraction to the other.
Balogh made her heroine much more interesting with Christine's intention to be a quiet mouse in the corner and instead becoming the life of the party. Accepting her sensual desire and not expecting anything in return. At war with her dislike for Bedwyn versus her desire for his prowess in bed.
It's a slow process of evolving love as each comes to realize that the negatives they perceive in the other are the attraction. Balogh takes her time over this and, other than a few over-the-top bits, does a lovely job of writing. I certainly enjoyed the summing up of the entire Bedwyn family.
What a sweet relief from the shallow, in-your-face plots!
The Story
Lady Renable insists upon Christine filling out the numbers at her upcoming house party to celebrate her sister's betrothal to Sir Lewis Wiseman. It seems that Hector invited the lonely Bedwyn, and it's created an imbalance of gentlemen to ladies. Unable to say no, Christine resigns herself to a miserable two weeks.
It's not until he arrives at the , that the duke realizes he's been horribly misled, and the sound of a gaggle of giggling young ladies is just the cap on his anticipated nightmare. Unbeknownst to the duke, it will become worse when the young ladies of the party make a bet that one of them will hold him in conversation for one hour.
Even worse, Bedwyn finds himself attracted to Mrs. Derrick. She is not good ton. Has no clue as to how to behave in society. And yet, she intrigues the duke who has sworn off love.
The Characters
Wulfric Bedwyn, Duke of Bewcastle since he was 17, has had a very circumscribed life. Taught to eschew emotion since he was young, he's finding it difficult to identify his unhappiness now that all his siblings are happily married and raising children. Rose, his mistress of ten years, has just died.
Christine Derrick, the life of any party, vivacious, joyful, and intelligent, is the young widow of Oscar Derrick, the younger brother of Basil, Viscount Elrick. Basil's wife Honoria, Viscountess Elrick. Oscar's death resulted in a disastrous quarrel with Basil and Honoria, and Christine fled home to Hyacinth Cottage after the funeral. Eleanor is her spinster sister, with a very dry sense of humor. Mrs. Thompson is Christine's mother.
Melanie, Lady Renable, is Christine's friend and cousin-in-law with a country house, Schofield Park, in Gloucestershire. Lord Renable is an easy-going gentleman. Hector, Viscount Mowbury, and Justin Magnus are Melanie's brothers and Audrey is her younger sister newly engaged to Sir Lewis Wiseman.
Members of the house party include…
…Sir Clive and Lady Chisholm with their daughters, Beryl and Penelope; Lady Sarah Buchan and her brother George Buchan with their father, the Earl of Kitredge; Miriam Dunstan-Lutt; Rowena Siddings; Harriet King; and, the twins, Anthony and Ronald Culver.
The Bedwyn family currently consists of…
…Lord Aidan Bedwyn and his wife Eve enjoying their newly arrived first child, a daughter. Lord Rannulf Bedwyn has stayed in Leicestershire with his wife Judith and their son and daughter. Freyja and Joshua, the Marquess of Hallmere are hoping for a daughter to go with the son. Lord Alleyne Bedwyn and his wife Rachel and their twin girls are staying in the country to keep an eye on Rachel's uncle, Baron Weston. Morgan and Gervase, the Countess and Earl of Rosthorn, are home in Kent with their sons. Aunt Rochester has the misguided idea of pairing Bedwyn up with Amy Hutchinson.
The Cover and Title
The cover has a deep blue metallic background with raised tone-on-tone tracery and the author's name and the title in a raised silver font with a pocket watch tossed across the front. I should have thought a quizzing glass would have been more appropriate.
The first half of the title follows the trend set for the series while the second half refers to the danger of encountering the Duke of Bewcastle, for Wulfric Bedwyn is indeed Slightly Dangerous to know.
Related Posts