I received this book for free from in exchange for an honest review. This does not affect my opinion of the book or the content of my review.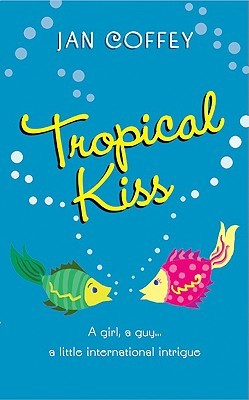 Tropical Kiss
in
Paperback
edition on May 10, 2005 and has 352 pages.
Explore it on
Goodreads
or
Amazon
.
This will appeal to those who fantasized about an "older man" while they were in high school. I can remember back to my high school years…dating a college guy was hot stuff.
My Take
Very much a young teen romance with an irritating heroine. She is rude, self-absorbed, crude, and such a child. Ah, well, I guess you could say she's a typical teen and I shouldn't condemn the story for that.
And stupid. God, she's dumb. It's more as though Coffey couldn't really be bothered to work at this and just took the easy way out. Too bad for Morgan. The shower scene? Oh, duhhh. Morgan is just such a stupid bitch. I wanna smack her with her own crutches. She takes off without saying a word to Cy that first day, and he ends up…nope, no, you'll have to read it for yourself. If you can be bothered. She leaps to erroneous conclusions faster than a crooked journalist, and seems to think she can smack anyone and anything with no regrets. She whines and complains about how awful the Callahan track record is with relationships and proceeds to fulfill all of her whiny complaints.
Of course, dad isn't the brightest tool in the shed either. Since Aruba is so safe, obviously his daughter is too. Yup, uh-huh…and I got this bridge I'd like ta sell ya…
Gag…"Every inch of Morgan's body was tingling, and she couldn't understand why."
Parents will appreciate Morgan's morals; Coffey is very careful to keep the sex out of this story. Oh, there's plenty of kissing and fumbling. And talk of desire. But she also has Morgan and Cy carefully taking those cold showers.
What's with that mom? She doesn't trust her kid herself, but she expects Philip to have complete trust in her.
It was sweet to read of Philip and his hopes and worries for his daughter.
This is a juvenile story with a juvenile heroine; and I mean it in the tackiest way.
The Story
Forced to spend the summer with the father she hasn't seen in three years, Morgan is positive she'll simply be closer to ignore.
The Characters
Morgan Callahan is seventeen years old, a klutz, a cold fish, and one of the rudest characters I've come across who is supposed to be the heroine of the piece. I'd like to drop her off the end of the pier with a few anchors tied to her feet. Philip Callahan has spent his working career moving from country to country, pushing paper as an official in the U.S. Department of Energy, ignoring his daughter. Jean is the mother who has just remarried. Kabir Shuklah Shah teaches engineering at MIT and is a perfect counterpoint to Morgan's mother.
Cyrus Reed is the son of an old friend of the family; his dad, John, was best man at the Callahans' wedding. Cy's interning with Morgan's dad in Aruba.
Jack is the ex-boyfriend, annoyed because Morgan wouldn't put out. Becca is Morgan's best friend.
Kate Leicester and her pack of Lizards: Liz, Beth, and Ellie have it in for Morgan. They're determined to prevent anything happening between her and Cy. Mackenzie is the antithesis to the Lizards. A nice person interested in Nick.
Lorenzo the Chin is the jerk Morgan first met at the airport who has some Colombian connections. Tony and his partner are hired goons.
The Cover and Title
The cover is a solid colonial blue background with cartoonish graphics of two fish meeting up as though to kiss, bubbles swirling up and about, framing the title and author's name.
The title is accurate enough as they do share more than one Tropical Kiss.
Related Posts