I received this book for free from the library in exchange for an honest review. This does not affect my opinion of the book or the content of my review.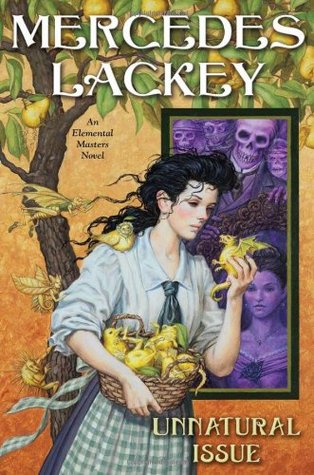 Unnatural Issue
by
It is part of the
Elemental Masters #7
series and is a
urban fantasy
in
Hardcover
edition that was published by
DAW Books
on June 7, 2011 and has 361 pages.
Explore it on
Goodreads
or
Amazon
.
Other books in this series include
Elementary: All-New Tales of the Elemental Masters
Other books by this author which I have reviewed include
"The River's Gift"
,
Finding the Way and Other Tales of Valdemar
,
Foundation
,
Intrigues
,
Gwenhwyfar: The White Spirit
,
Owlknight
,
Charmed Destinies
,
Changes
,
Beauty and the Werewolf
,
Invasion
,
Home From the Sea
,
Dead Reckoning
,
Conspiracies
,
Bedlam's Edge
,
Crown of Vengeance
,
Redoubt
,
Harvest Moon
,
World Divided
,
Elemental Magic: All New Tales of the Elemental Masters
,
Sacrifices
,
Steadfast
,
Burdens of the Dead
,
Bastion
,
Victories
,
Blood Red
,
The House of the Four Winds
,
Games Creatures Play
,
Closer to Home
,
Born to Run
,
Wheels of Fire
,
When the Bough Breaks
,
Chrome Circle
,
Changing the World: All-New Tales of Valdemar
,
Under the Vale and Other Tales of Valdemar
,
Arcanum 101
,
A Tangled Web
,
Winter Moon
,
Moving Targets and Other Tales of Valdemar
,
Elementary: All-New Tales of the Elemental Masters
,
No True Way: All-New Tales of Valdemar
,
From a High Tower
,
Hunter
,
Closer to the Heart
,
Silence
,
A Study in Sable
,
Elite
,
Closer to the Chest
,
Tempest: All-New Tales of Valdemar
,
A Scandal in Battersea
Seventh in the Elemental Masters paranormal magic series based in England with this one set at the start of World War I.
Although, the book itself claims to be the sixth in the Elemental Masters series. I wonder if the series is being re-numbered chronologically since there are already six [or seven!] Elemental Masters stories out there.
Fire Rose
Serpent's Shadow
Gates of Sleep
Phoenix and Ashes
Wizard of London
Reserved for the Cat
Unnatural Issue
My Take
Oh! Another fabulous tale from Mercedes Lackey! I love the history and settings Lackey provides in her Elemental Masters series and Unnatural Issue does not disappoint with its very descriptive feel for the countryside, the people, their interactions, and Lackey's depiction of war in the trenches.
I particularly loved the similarity of the stance Puck and the Kerridges took on poaching as well as caring for the earth. It has such a homey, warm, comforting feel to it with a tremendous sense of the practical.
As I read, I kept subconsciously inserting "Wimsey" into the text — this Lord Peter seems to be modeled upon Dorothy Sayers' own Lord Peter. The same appearance. The same approach to detecting. The same ruthlessness. I must confess when Susanne first encounters Peter and Charles Kerridge, I kept wanting her to end up with Peter, but Susanne fell in love with Charles… Lackey put an interesting twist on the whole love resolution — I did not expect the ending Lackey gave us.
I really hate that I'll have to wait for Home From the Sea to possibly find out how things turn out for Susanne. In fact, there were so many characters whose stories I've read in earlier installments that I may just have to go back and re-read them…before the next book appears as their lives seem to intertwine so much. It'll give me something to do while I'm waiting…impatiently so.
The Story
Called away to aid the Circle in London, Richard Whitestone is anxious to return home to his pregnant wife, but he returns too late to help. Three hours earlier, Rebecca had gone into labor. And died. In a rage, Richard repudiates his daughter never wanting to see her again. And for 20 years, he does not. The servants raise his daughter while Puck teaches her the use of her earth magic. A magic she uses to keep the lands around them healthy and productive.
But a chance discovery sets Richard onto a new tack. Raising his wife from the dead.
The Characters
Susanne Whitestone, Earth Master, is the unacknowledged daughter of Richard Whitestone. Strong in her power yet kindly in its wielding, Susanne attracted the attention of the Puck and gathers strong elemental allies around her wherever she goes.
Richard Whitestone is an Earth Master happily anticipating the birth of his daughter, the dreams he and Rebecca have of many children dancing through their home, swirling in his thoughts. His loss causes him to withdraw from all society leaving his daughter to the care of the servants, the land to anyone's care.
Lord Peter Almsley, a Water Master and the younger son of a duke, is an undercover agent for the Old Lion, the leader of the magical community in England, and now he wants Peter to investigate uneasy rumors emanating from Yorkshire.
Charles Kerridge is the son and heir of Michael and Elizabeth Kerridge, all three Earth Masters living at Branwell Hall. A happy estate where all are aware of their magics.
The Cover and Title
The cover is easily related to the story with the beautiful Susanne gathering a basket of elementals out in an orchard with yet more elementals clustering around her in her colorful servant's garb while in the background there's a mirror showing her mother and the skeletal dead behind her. Amazing how many stories that cover tells!
While I'm not sure just what the title refers to — certainly her father's reaction to her birth is unnatural, and as his child, Susanne is his issue. Then of course you could always argue for her father's obsession as an Unnatural Issue.
Related Posts