I received this book for free from the library in exchange for an honest review. This does not affect my opinion of the book or the content of my review.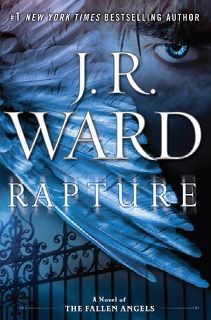 Rapture
by
urban fantasy
in
Hardcover
edition that was published by
New American Library (NAL)
on September 25, 2012 and has 502 pages.
Explore it on
Goodreads
or
Amazon
.
Other books by this author which I have reviewed include
Dark Lover
,
Lover Eternal
,
Lover Awakened
,
Covet
,
Crave
,
Lover Revealed
,
Lover Unbound
,
Lover Enshrined
,
Lover Avenged
,
Lover Mine
,
Lover Unleashed
,
Envy
,
An Irresistible Bachelor
,
His Comfort and Joy
,
Lover Reborn
,
Lover at Last
,
Possession
,
The King
,
The Shadows
,
The Bourbon Kings
,
Blood Kiss
,
The Beast
,
Blood Vow
,
The Chosen
,
Blood Fury
Fourth in the Fallen Angels urban fantasy series revolving around Jim Heron and the game he's playing with the Devil. The one upon which humanity's survival hinges. Based in Caldwell, New York. The romantic focus is on Melissa Carmichael and Jim's old boss, Matthias Hault.
There is some cause-and-effect crossover with the Black Dagger Brotherhood although only Beth Randall is mentioned (Dark Lover).
My Take
Oh man, this took forever to get started. It was pretty funny reading Devina's thoughts, though. All those worries normal people have, but in reverse. And she has to couch it in terms that don't send her therapist screaming into the streets.
The impotency is a first for me in a hero. It's kind of hard…oops, wait, it's not hard, but, hey, Matthias can still, um, rise to the occasion and satisfy his woman. Too funny with a rather sad effect later on. For Adrian at least.
For the most part, it's a fairly standard guns-and-violence shoot 'em up with Matthias trying to piece his memory together and avoiding the mercenaries hunting him, the man with the cane and one eye, while protecting Mels. From himself. From them. We do get some flashbacks to Matthias' early life, which helps provide some background on why he turned out as he did.
Mels is awfully accepting of Matthias at the start. I suppose it could be the guilt at running him over.
It was about three-quarters of the way in that Mels began to have her own epiphany about her life and she has a nice heart-to-heart with her mom. I'm not too sure just where Ward is going with Jim and Devina. For all his protests…
Ward, you may want to fix that "instantantly" in chapter eleven.
The Story
Luckily, God agrees that Devina cheated in Envy which results in Matthias being thrown back into life. His soul is still forfeit to the bad guys, but he does get to escape the torment and torture. With luck, this time around he'll make the right decision and put a tick on the side of the angels…and he'll get to skip an eternity in Hell.
It's Fate that brings Matthias into Mels' path. When she mows him down that dark night with Fifi. Poor guy has come back with all the injuries he had suffered in life, he's impotent, and his memory is shot although events along the way shock loose bits and pieces as he puts it together and remembers who he was before (and what happened after) he died.
Now he's being targeted by Devina, Jim, and XOps. It all depends on Mels. Her influence. Her goodness. Can it be enough to counter the scheming, lying, scum Matthias was in life? Can Jim keep her alive to have an effect?
The Characters
Melissa "Mels" Carmichael is a reporter who retreated from New York City when her father died, leaving her mother alone. FiFi is her twelve-year-old Honda Civic. Dick is her jerky boss, the editor at the Caldwell Courier Journal. Tony is a colleague at the paper from whom she borrows a car in exchange for Mickey D's.
Matthias Hault was Jim's boss at XOps who died in Crave after making the wrong decision. Isaac Rothe was another former XOps operative who got out.
Jim Heron was an XOps mercenary who died (Covet) and came back as an angel. Chosen by both sides, his task is to persuade the current soul in the game to choose a direction. Whichever side wins, gets it all. Adrian is, well, he's technically an angel even if he does look more like a Hell's Angel with all the leather, combat boots, and piercings. Eddie's dead and tucked behind a door in the attic which Dog guards with his life. Seems that even Dog has a secret identity. It's a sure bet that Eddie's death has really messed up Adrian.
Devina is the devil with an OCD compulsion. Much to her victims' dismay. Luckily, her human therapist seems to be good at helping her otherwise she'd be joining the collections. Unfortunately, that's the only area in which Devina holds back. She's the devil. She'll play on anyone's emotions, their dreams, or their hopes to achieve her own ends.
Nigel and Colin are two of the angels who are watching the contest.
Suraj is a friend of Tony's who works at the morgue. He's also good with photo analysis. Jason Conneaut is a cop friend of Tony's who can do a ballistics check. It does help that Mels' dad was a cop who died on the job. Sissy Barten is the blonde Devina "collected" in Covet. She's left a big impression on Jim. Monty the Mouth is a big-mouth cop who likes to leak information.
The Cover and Title
The cover is a collage of soft greys and a beautiful purple in the wings of an angel with someone's blue-purple eye in the upper right corner while a black wrought iron fence from the cemetery angles along the bottom.
I suspect the title is Matthias' Rapture at getting out of Hell.
Related Posts