I received this book for free from in exchange for an honest review. This does not affect my opinion of the book or the content of my review.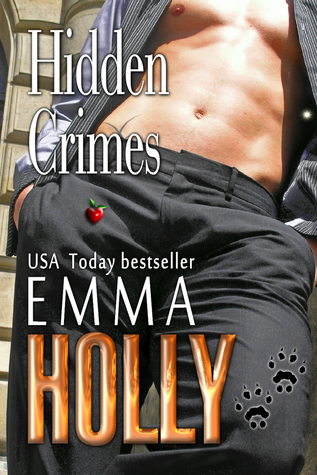 Hidden Crimes
in
eBook
edition on June 1, 2012 and has 193 pages.
Explore it on
Goodreads
or
Amazon
.
Third in the Hidden erotic paranormal romance. The couple focus is on Nate Rivera and Evina Mohajit and takes place in Resurrection, a supe-friendly metropolis in upper state New York.
If you're interested, there is a chronological listing of the Hidden books here on my website.
My Take
I like Resurrection. It's such a homey place where people look out for each other, care for each other. As for the story, it's tense, dramatic, romantic and so very family-oriented. You can't help but love the characters in this story. It's Currier and Ives — with shifters and fae.
I just love this bit:

"Rafi greeted her with a baby's mewl, half asleep and somehow still smelling of little boy."
Holly does keep it fun: you don't Google in Resurrection, you Oogle; a Goblinati is a hot, pick-up car; Elf Barbies abound; and, no Cheerios, but Faerie-O's are available.
Nate's reasons for getting Evina's help are valid, so I don't get why Adam is so averse to her report. Nor do I understand why Evina gets so huffy that first time in the firehouse.
Oh, man, I just love listening to Nate plan how to revamp his loft to accommodate two kitten shifters!
It's a crazy series. Erotic, romantic, and very warm with family and friends.
The Story
It's a baby shower for Adam and Ariana's new baby girl, but hey, they're cops, and they can get called out at any time. When the call comes in that Vasili Galina has been spotted, the men are off and hunting, only to stumble over something horrific.
Later, it's a lucky Nate when Evina needs cupcakes for Rafi's school event the next morning. He needs someone to read a crime scene, and he's researched Evina. She has an ability that could help find out what happened to this child.
Unfortunately, as the case unravels, it seems that this small boy isn't the only victim…
The Characters
Nate Rivera may be a werewolf, but he's a metrosexual one with his sharply decorated loft apartment, his alligator boots, and his pleasure in the company of women. His one problem? He's got an alpha personality in a less-than-beta position at the Resurrection Police Department.
Evina Mohajit is the fire department's youngest-ever station chief, an alpha woman who happens to shift into a tiger and does a decent astral projection. If the cops are almost all werewolves, firefighters are almost all tigers. Abby is her six-year-old daughter; Rafi is her shy twin brother who takes refuge in his tiger form. Gran is her mother, Rita, a willing babysitter, but looking like no grandmother you can possibly imagine.
Lieutenant Adam Santini is Nate's boss and cousin-by-marriage, and he and his wife Ariana (see Hidden Talents, 1) have recently had a baby girl, Kelsey. Tony Lupone is a fellow RPD detective who's recently come out and younger brother to the pack's second-in-command, Rick; their parents are amazing cooks. Maria is their older sister married to Johnny — he works Special Tactics — with a little boy, Ethan. Carmine is a were-cop, older, more experienced, and Dana is their very susceptible dispatcher.
Christophe is/was Evina's beta at the station and currently in hospital after he saved two young kids. Liam is very protective, heck all the firefighters at Company No. 5 are protective of Evina. Freda is Evina's friend.
Max and Sarah are Ari's human friends from Hidden Talents. Grant is a young gargoyle who has taken Adam and his pack to heart. And lives on Adam's roof. Derrick Black is Rita's friend, a news producer at WQSN.
Vasili Galina is mobster Ivan Galina's younger brother. Until the brothers fell out over a woman, Ellen Owen. Hephaesta Erg is a goblin who worked as a nanny in charge of Joel Martin. His parents, Roger and Mrs. Martin, were ashamed of him. Wings of Love Placement Agency arranged adoptions. River Oaks Smoke Shop is a busy place where Blue and Brone, elves, are selling all sorts of things. Mr. White is the accommodating bank manager; Mrs. Norman the bank teller. Dr. Clarence Beaumont provides medical expertise.
Paul is the father of Evina's children, a beta tiger. They didn't marry, but still, when he chose to move on and marry the quarter-fae Liane, it hurt. Malik is their mixed-race child. Iseult Fionn is Liane's half-fae mother.
The Cover and Title
The cover is surprisingly sedate with a man lounging back against some wooden slats, wearing dark dress pants and a dark pin-striped shirt with lavender satin sleeves(?), open to reveal a smooth expanse of abdominals.
The title is true enough as these Hidden Crimes are not the type you want to know about, as much as you will want to expose them.
Related Posts