I received this book for free from the library in exchange for an honest review. This does not affect my opinion of the book or the content of my review.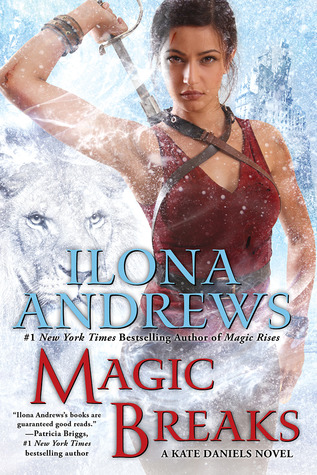 Magic Bleeds
by
urban fantasy
that was published by
Ace Books
on May 25, 2010 and has 384 pages.
Explore it on
Goodreads
or
Amazon
.
Other books by this author which I have reviewed include
On the Edge, Bayou Moon, Must Love Hellhounds, Dark and Stormy Knights, Angels of Darkness, Hexed, Fate's Edge, Hex Appeal, An Apple for the Creature, "Magic Gifts", Gunmetal Magic, Innkeeper Chronicles, Steel's Edge, Magic Bites, Magic Burns, Magic Strikes, Magic Bleeds, Magic Slays, Magic Rises, Burn For Me, Night Shift, Magic Shifts, Burn for Me, Magic Binds
Seventh in the Kate Daniels urban fantasy series in a dystopian setting in Atlanta and revolving around Kate, part goddess, part-warrior, and her furry favorite.
In 2015, Magic Breaks won the DABWAHA Romance Tournament for Best Romance of the Year AND Best Paranormal/Science Fiction/Fantasy; in 2014, it won the Romantic Times Reviewers' Choice Award for Best Urban Fantasy Novel and was nominated for the Goodreads Choice Award for Fantasy.
My Take
YES! Andrews is back! Phew. And is this one ever a doozy!! Most of me loves what Andrews has Kate and Curran doing. It's about time. I can't wait to see how those ungrateful sods on the Council cope now! And I am so looking forward to finding out what comes next 'cause you just know it's a'gonna be interesting, lol.
It starts with Barabas' perspective on the events of Magic Breaks before he slides back to the beginning. It's a tease that starts you wondering. I guess that's why I was a tiny bit annoyed at the history lesson that follows. Don't get me wrong. Barabas provides a very succinct summary of the rise and fall of magic and technology as well as background on the series. It's almost like a battle between Gaia and man as each wants to be king, or queen, of this hill. Andrews set it up nicely so, even though it's an info dump *grin*, it's introduced and believable as simply background. Keep this trick in mind, authors!
It's the Shift occurring in Kate's time that contributes to making the Kate Daniels series so fascinating, right along with the scenarios and characters Andrews has created. You can't help but fall in love.
Lol, parents, you might want to use Curran's argument about going on for a degree with your kids. It's a good 'un.
It's magic. It's warm and caring family and friends. It's time to dream of bridals. Or not, lol. It's vicious politics — Clan Rat is very unhappy "about the current level of disclosure".
'What about the rats?'

'They think you're hiding information from them.'

'I hide information from everyone. Do they think they're special?'
Jesus, Jessica is so pathetic in this. I wanna challenge her! You'll absolutely love the dressing down Kate gives her! Go, baby, go, baby!
It's rare to find a page without some kind of action happenin'. Damn, how come there are so many books that show us the negative results of what we're doing to earth? Has anyone written a book that shows the wonders of technology? That could be an interesting twist, lol.
It's clever, how d'Ambray sets Kate and the Pack up. It's even more clever how the Pack gets around those murder charges and prevents World War X. Whew… And the hits keep on comin'…
In some ways, I can respect Hugh for what he puts the knights through on Kate's behalf. Except when it comes to one of them. That I cannot forgive.
Whoa. I like the way Doolittle is thinking. He's being upbeat and learning from his personal experiences. Now, if we could just get architects to do the same thing…
All it takes is a dunk in some water and Ghastek opens right up. We learn all about his past and why he chose to become a Master of the Dead. What inspired his current name. Some of it was a bit sad, but it was also a treat to read what his parents felt.
Ohh, it's so sweet. Kate has the worst decision to make, and she fights back against the usual trope, and makes it better. It's her mental discussion with herself about Curran that will make you smile and feel tears well up all at the same time. And it's such a crack-up how Curran interprets that I love you, lol.
Trapped by a horde of vampires in the middle of a snow-covered field, huddling around a tiny fire on thin blankets, … drink it in, baby. All this luxury just for you.
Some nasty revelations about Voron, and when you think about it, yeah, it makes sense. What a jerk.
Oh, lordy, it's too funny. Curran is lecturing on at Ghastek about his lack of spies. And it's true, every single word, lol. Poor Ghastek. I gotta say, I'm surprised that such an intelligent man hadn't thought of it.
Damn it, damn it, damn it. Andrews has gone and done it, and I have to wait for the next book to come out! Damn it. What were Roland's true intentions at that Atlanta meeting?? Damn it, I already want to re-read it.
The Story
Lucky for Curran that invitation to go hunting came when it did. Darn, it just happens to fall during the week of Conclave. Guess that means Kate will have to attend in Curran's place.
Unfortunately, this is one Conclave Curran shouldn't have missed as the trap is sprung. It tells Kate that Roland knows where she is.
The Characters
Kate Daniels is the Consort, Curran's mate, and Sharrim, daughter of Roland, the king. Slayer is the saber Kate has carried since she was five; Sarrat Irkalli is another sword that comes to Kate's hand, something of a family heirloom. Kalina was Kate's mother. Voron was the warlord Kalina compelled to run off with her and save her baby. Greg Feldman was the knight who served as Kate's guardian and took care of her after Voron died. Julie is the girl she rescued from the streets back in Magic Burns, 2, who is 100 times better than an m-scanner — she can see magic. Cutting Edge Investigations is Kate's detective agency. Semiramis was Kate's grandmother, a great queen who had ruled ancient Mesopotamia. Auntie Erra (Magic Bleeds, 4), Eahrratim, was Roland's sister, and he still mourns her.
Curran Lennart is the Beast Lord, a lion shifter, and the alpha of the Pack. Kate calls him Your Furriness.
The Pack in…
…Atlanta "is the second-largest shapeshifter organization in the country with over fifteen hundred members" spread out over seven clans. The Keep is Pack headquarters. Barabas Gilliam is part of the bouda family, but is actually a weremongoose. A lawyer, he's employed by the Pack and is a special advisor to the Consort of the Pack. Jezebel is a bouda also assigned to advise Kate. Christopher is an insane mage Kate rescued from a cage in Magic Rises, who can make panacea. Aunt B, the alpha of Clan Bouda, died in Magic Rises and is mourned by many including her son Raphael, the current alpha, and his mate, Andrea Nash, beastkin and a former knight of the Order. Ascanio is young, teenaged, and a know-it-all bouda who is also Kate's intern. What a disaster! I'd like to smack him around. Martina is Ascanio's mother and a licensed therapist. Derek Gaunt is Curran's aide. A wolf shifter, he suffered horribly in Magic Strikes, 3. Doc Doolittle is the Pack medmage, a were-honeybadger; he's been in a wheelchair since Magic Rises. Sean is a nurse. Nasrin is a healer and head of the Keep's recovery unit.
Jim Shrapshire is a werejaguar, the alpha of Clan Cat, and in charge of Pack security. He and Kate go way back. Jim's dad, Eric, had medical magic and knew Doolittle. Myles Kingbury and Sage Rome are renders. Hannah and Agatha are some of Kate's and Curran's guards. Juan is one of Jim's.
Mahon, a Kodiak, and his mate, Martha, are the alphas of Clan Heavy. George is their daughter. Colin Mather is the alpha of Clan Jackal. Robert Lonesco is the alpha of Clan Rat, and he's married to Thomas. Jardin is one of his spies. He's a sweetie. Dorie Davis, a.k.a., Double D, is an accountant with a fetish.
Jennifer is the widowed alpha of Clan Wolf (see Magic Slays, 5). Winona is her sister. Brandon is Jennifer's dumb blond bodyguard. Desandra escaped Europe with the Pack in Magic Rises with her newborn twins, one of whom is a lamassu) and joins Clan Wolf as its beta. She's planning on taking it from Jennifer. Orhan and Fatima ran Clan Wolf before they turned it over to David, Jennifer's deceased mate. The former betas, Foster and Kara Hudson, stepped down to focus on rebuilding their business after an arson fire.
Gene Monroe and his family own the Silver Mountain Mine; they turn into Iberian wolves and are holding out from joining the Pack. He's invited Curran and a few others to come hunting.
The Covens of Atlanta
The witches have allied with the Pack, with Kate. Evdokia is one of the three witches of the Oracle, the Mother. The others are Maria, the Crone, and Sienna, the Maiden. They worship Hekate. Roman is Evdokia's son and a a black volhv; we first met him in Magic Slays, 5. Alina is the witch come to witness with him.
Mr. Walton rents horses and other beasties at the Blue Ribbon Stables where Kate and her team pick up Cuddles, a mammoth jenny, a.k.a., a female American Mammoth donkey (it's worse than it sounds, lol). Naeemah is descended from a long line of shape shifters who work as bodyguards. Hugh had hired her in Magic Bleeds, to save Kate for his intentions. She's imprisoned in Mishmar and they rescue her. Nina is a real estate agent.
The People are…
…necromancers (they call themselves navigators) who control the vampires, mindless, slavering beasts with no mind left at all. The Casino is People headquarters, and their ultimate "king" is Roland, Kate's father. Masters of the Dead Ghastek Stefanoff, a.k.a., Matthew, and Mulradin Grant are currently battling for control of Atlanta. The precious Claire is Mulradin's wife (wonder if she knows about his wolf fucking fetish?). Master of the Dead Rowena is helping Kate unknowingly. Ryan Kelly, another Master, can put a room to sleep in minutes, he's that boring. Meghan is his journeywoman. Jeff and Leonard are a couple of navigators on patrol.
Roland, a wizard-king, practically a god, a.k.a., the Builder of Towers, created vampires thousands of years ago. He's currently based in the Midwest. Who knew the Corn Belt could be so exciting? Commander Hugh d'Ambray is Roland's warlord and preceptor of the Order of Iron Dogs, Roland's elite guard. An A+++-grade sociopath with enormous magical healing power, he wants Kate, and he doesn't understand no. Hibla is Hugh's second-in-command, and Kate's gonna kill her. She d-r-e-a-m-s of how she's going to take that bitch apart. Uath is one of the Dogs. Nick Feldman, a crusader for the Knights, seems to have joined up with Roland. Mishamar is Roland's tower prison in Iowa. Landon Nez is in charge of the Masters of the Dead, the Legatus of the Golden Legion, with an offer for Kate.
The Order of Merciful Aid does…
…provide aid, but it ain't always that merciful or what you want. It's a semiofficial law enforcement agency that deals with magic. And as Barabas says, "they are fanatics, they have a rigid mind-set, and they believe any deviation from your average vanilla Homo sapiens makes you nonhuman" and totally worthless. Crusaders are the Order's troubleshooters and deadly. A knight-diviner acts like an army chaplain. Ted Moynohan is the knight in charge. He's an ass even if he is one of the original Ninety-Eight, a knight-founder. Mauro, one of the few Kate likes, wants to transfer out of Atlanta. It's getting too weird for him. Selena is his wife. Richter, a psychotic liability, and Maxine, the Order's telepathic secretary, are the only old Order left. Steinlein is their medmage. Diana and Towers are the newbies.
The Paranormal Activity Division is part of Atlanta PD, and Detective Gray is ducking Kate's calls. Beau Clayton is the Milton County sheriff. You may remember him from a short story featuring an extremely jealous Andrea and Raphael at a B&B; for the life of me, I can't remember it's name.
Panacea is a drug used to prevent young shifters from going loup. Achieving a warrior form — a blend of human and animal capable of thought and planning — is rare and a good indication of the shifter's strength. Renders are the elite of the warrior form; they are weapons of mass destruction and love it. A hit-'n-split is a sort of whorehouse for those with an itch to engage in bestiality. Politicians never seem to get it, do they?
The Shift is what's happening today in Atlanta, the world, really. Magic and technology sway back and forth with an irregularity no one can plan for. Bernard's is a nice restaurant where the Conclaves, a meeting of the Pack and the People, are held. Uther Stone, an elemental mage whose gift is electricity and was based in Sioux City, provides an example to Kate of what not to do. A black volhv is in service to Chernobog, an ancient Slavic god of dark and evil.
The Cover and Title
The cover is snowy… It's Mishmar, Roland's tower prison, well back of and over Kate's left shoulder while Curran in his lion form is up close behind her on Kate's right, but it's Kate who has all our attention in her snug burgundy tank top, her criss-crossed harness for Slayer high on her chest as Kate reaches back to pull her sword.
I pondered this one for a while, and I think the title is that blood ward when the Magic Breaks.
Related Posts